Ballet flats are the best spring/summer footwear and don't think I'm just saying that to make you read my posts! I've actually went shopping and got two pairs these days which made the number of ballet flats currently in my collection skyrocket from one to THREE pairs, and that's more than I've ever had. Fashion changes -style lasts forever, and I've finally figured I can look nice even without sky-high heels. Sequined ballet flats, for example, can be a perfectly stylish and perfectly comfortable choice so, if you share my opinion and have some shopping of your own to get done, take a look at these 8 cute, sequined ballet flats I've found in various online shops:
---
1

Dune Sparkle Fold up Flats

Price: $35.86 at asos.com
Flexible and shiny, these glitzy ballet flats come tucked inside a sequined pouch, ready to become your faithful ally in the battle against pains and sores. They are a real eye-catcher and thanks to this neutral color, making them an S.O.S-item or a standard footwear choice will be a piece of cake. I totally love them and I especially love the fact that can be carried around and used "in case of emergency" so, if you don't have enough items to fill up your stylish oversized clutch, fold these babies up, tuck them inside their glitzy pouch, slip them in your bag and…. Don't bother with the Band-Aids or protective pads.
---
2

French Sole Cupcake Flats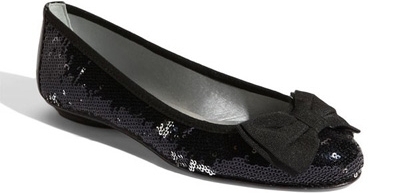 Price: $209.95 at shop.nordstrom.com
Sweeter than the sweetest cupcake, these tasty-sounding flats provide elegant low key glitz ideal for work, school, semi-casual events, fancy outings or any other events you want to attend looking great and feeling even better. Neutral, anything-goes black is just a cherry on top of this cupcake!
3

Kate Spade New York Flash Flats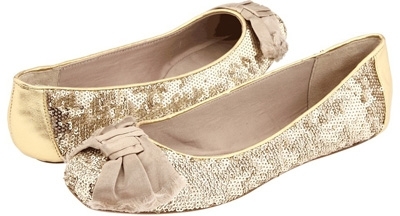 Price: 125.00 at zappos.com
Name says it all – these ballet flats are simply flashy and I mean that in the most positive way, of course. Gold is the perfect choice for summer and updating your wardrobe (or shoe closet) with these definitely means getting the most out of your Caribbean tan. Nope, you won't need plenty of jewelry, totally white, almost bridal and a bit boring style – wear these, find a sequined clutch to match and your work is done!
---
4

Nina Zuri Flats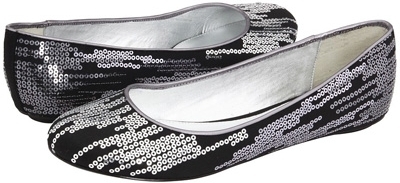 Price: $61.00 at zappos.com
Mustard/Gold, Black/Silver or the combo of both black background and gold and lilac sequins – Zuri flats are ideal for ones preferring to carefully dose their glitz. Choose one of the first two options if you like to play it safe or opt for the third one, in case you feel like adding something new, colorful and interesting to your shoe-closet.
---
5

Not Rated Razzle Dazzle Flats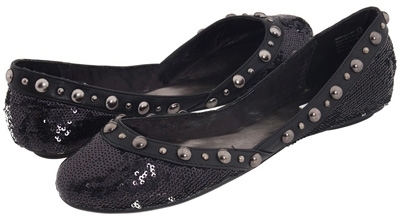 Price: $36.00 at zappos.com
Sequins, studs and cut out side panels make these gorgeous, eye-catching ballet flats an ideal choice for a brave aspiring fashionista or anyone who feels like taking advantage of the power eye-catching footwear has on the overall style and presentation.
---
6

Annie Sally Red Sequined Flats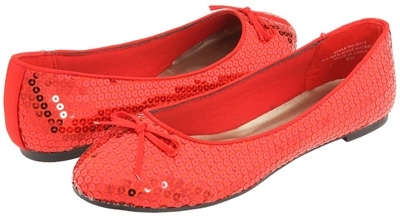 Price: $49.95 at zappos.com
Now these are the definition of glitzy so you must be very careful of how, when and with what you're about to wear them. Summer will be kind to all potential style errors but spring won't, so I suggest wearing them in order to glitz up a plain outfit – not trying to make them work by adding everything red you own. Red is a tricky color and too much of it, especially in daylight, definitely spells tacky.
---
7

Juicy Couture Anita Flats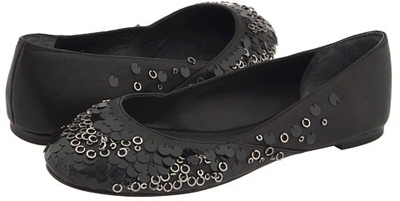 Price: $135.00 at couture.zappos.com
These interesting Juicy Couture flats are cool, stylish, interesting and on SALE so, if you're a ballet flat-loving fashionista looking for a new pair of "babies" to take home, now is your chance to get them for just $135! Now, I know this amount of cash can't qualify as "pocket change" but considering their former price tag of $250, this is a pretty good offer.
---
8

Pour La Victoire Hessa Flats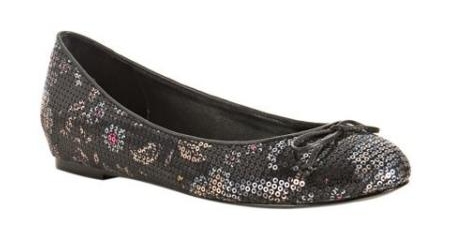 Price: $110.00 at zappos.com
Choose between three different combinations of colors and two different sequined patters, wear these cool, glitzy ballet flats with pride and don't forget to feel great about your fabulous find. I, personally, find this color and pattern the best one because it would work great with most of my wardrobe but, hey, that's just me! So, in case you don't like purple, prefer blue tones or like to keep your glitz low key, do take a look at the other two sequin-embellished styles in blue and black.
Well, now, when I've finally got to fully enjoy all the benefits of looking great and staying comfy I definitely plan to keep up the good work and focus more on ballet flats- both sequined and non-glitzy ones, of course. Do you, ladies, find sequined ballet flats as interesting as I do or you prefer metallic or matte tones?
---
Popular
Related
Recent