First of all, I can assure you that the style "dressy flip flops" is not an oxymoron! You can be comfortable, dressy and cool on your dates this summer. In New York we are blessed with all four seasons and dressing for them can sometime seem near impossible. So wearing dressy flip flops has always been my go-to alternative when I don't feel like strapping on those wedge sandals or peep-toe pumps. Summer brings a slew of wonderful and creative styles, so why not give dressy flip flops a fighting chance? You may be pleasantly surprised at the stylish and airy outcome!
---
1

Coach Sara Sandal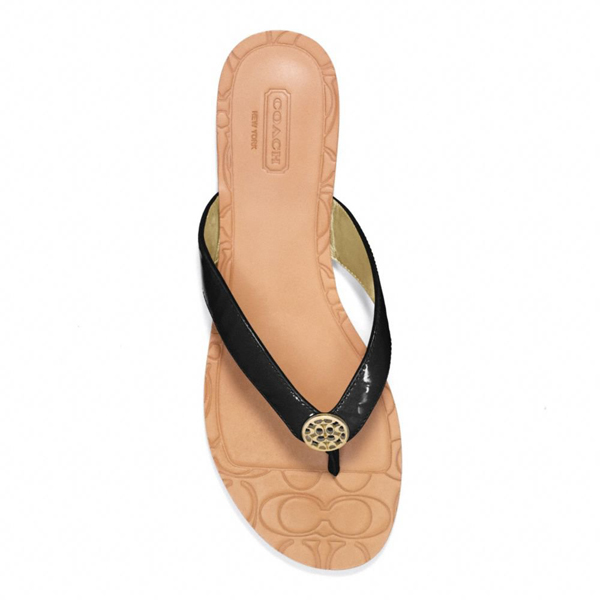 While Coach is usually known to be a fairly expensive brand, this style from last season is on sale at most department stores and local retailers. People think there is no such thing as dressy flip flops, but here is one example to prove everyone wrong! Black and gold scream fancy, and while I wouldn't necessarily wear these to a black tie gala, they are more than appropriate for your next fancy weekend dinner date this summer.
2

Black Michael Kors Flip Flops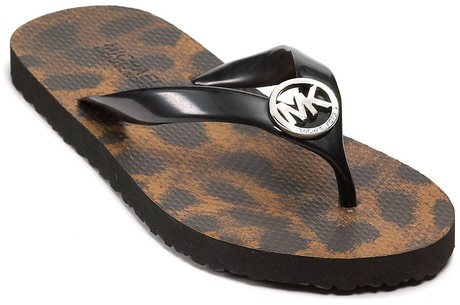 I know Michael Kors is also known to be a pricey brand, but I've seen these flip flops at DSW, not to mention Marshalls, where they've been thankfully marked down to their lowest possible price. Nevertheless, if you are willing to splurge a bit on your first- or fiftieth- pair of dressy flip flops, Michael Kors has put out a bunch of smashing styles this season. Like I mentioned before, black is always classy, elegant and dressy, and I like to think that the beautiful tones on this flip flop perfectly complement all summer dresses.
---
3

Style&co. Kola Flat Sandals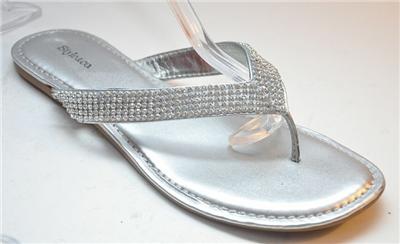 What says dressy flip flops better than silver and crystal? I love the stones on this flip flop, and I would even venture to say that I would wear them to a black-tie affair. Walking in heels isn't practical for everyone, so finding a few dressy flip flops to add to your wardrobe might be just the thing you need to make sure you never see a blister again. I have a pair of dressy flip flops just like these, and I must admit they are so comfortable and supportive of long walks on a beach boardwalk. Don't hesitate to test them out on your next summertime date!
---
4

Alfani Sweetie Thong Sandals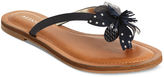 I absolutely adore the applique on these Alfani flip flops! The stunning flower accented by the small silver stones make for the perfect pair of dressy flip flops when you really just want to wear flats. What usually dresses up a pair of ordinary flip flops is the beautiful and unique applique that designers attach onto the toe area, right where the straps split. It's always great to see a pair of flip flops with a dressy flower and stone to complete an equally stunning summertime evening outfit.
---
5

INC Mae Flat Sandals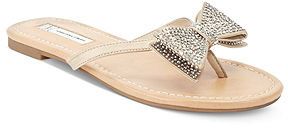 As I mentioned before, what usually dresses up a pair of plain flip flops is the added applique. On this pair of INC dressy flip flops, the designer chose to add a stone studded flat bow. This bow style seems to be a popular trend for summer 2013, but I think I'll be wearing these for years to come. Besides the fact that I love bows, I think this particular style beautifully accents the elegance of this sandal. It's the perfect balance of comfort, femininity, sensuality, and summertime charm!
---
6

Tommy Hilfiger Roxanne Wedge Thong Sandals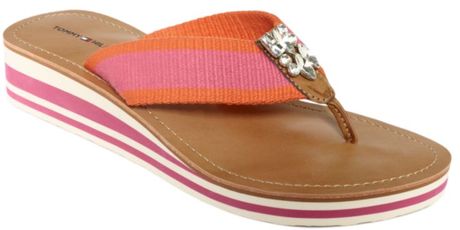 No one ever said all dressy flip flops have to be black or only Earthy and glam tones. This pair by Tommy Hilfiger comes in several pastels with a crystal accent to add that extra piece of style and dressiness. Although most traditional flip flops are known to not have any heel at all, this one is unique in that is has a chunky wedge. Regardless, they are fairly easy to walk in and definitely a heck of a lot easier than platforms or pumps. If you have more of a petite frame, these may be the best choice for you since they have that extra heel you might still want.
---
7

Badgley Mischka Alee Evening Thong Sandals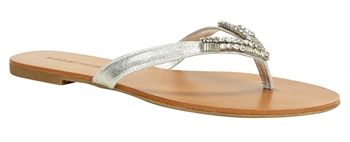 Well, in my opinion, the name says it! With the words "evening thong sandals," how can you go wrong? I'm originally from Long Island, and all over people make fun of Long Islanders by saying we wear flip flops all the time, anywhere, no matter what the weather is. And I have seen it myself, rain, sleet, hail, snow, people will come out in flip flops. Maybe it's our own way of wishing we had better weather all year round. Nevertheless, I think despite what my background is, I would definitely wear these dressy flip flops all year round. I absolutely love the applique and I can appreciate that it's not overdone with glitter and shine like other styles might be.
And there you have it- dressy flip flops to wear on a date this summer! What's your favorite pair of dressy flip flops? After seeing this list do you think you'll choose to wear a pair on your next summertime date? If not, what are your other choices for casual and dressy summer sandals?
---
Comments
Popular
Related
Recent