Forget those tired black pumps and booties, 'cause with emerald shoes on your feet, you'll look as elegant as the ladies of Oz's Emerald City. And with respected color forecaster Pantone calling this "lively, radiant, lush green" the official shade of 2013, you'll feel oh-so-trendy, too! Get inspired by these 8 gorgeous pairs of emerald shoes.
Table of contents:
1

Bobby Leather Lace-up Shoe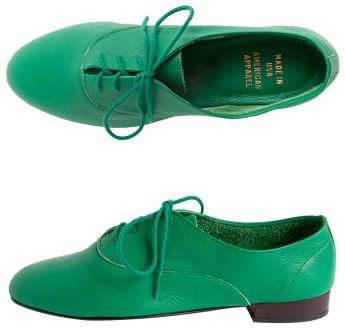 Who said emerald shoes had to be heeled to be fabulous? With these cozy lace-up oxfords on your feet, you'll liven up any neutral winter dress. I'd wear this supple leather pair with a fedora hat, opaque black tights, and a flared skirt for a chic menswear-inspired look. Get them now on American Apparel for $95.
2

Kate Spade New York 'Licorice Too' Pump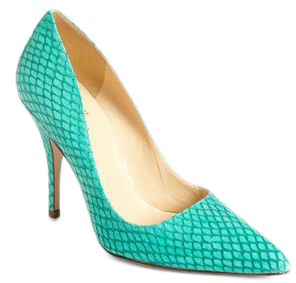 Prep your toes for that next fancy dinner date with these shimmering satin-piped pumps. The 4-inch heel will give you an extra dose of sex appeal (and height!). I'd wear them with a sultry black mini dress and red lip. Expect your beau to swoon. Find 'em now on Nordstrom for $328.
3

The Frankie Pump in Suede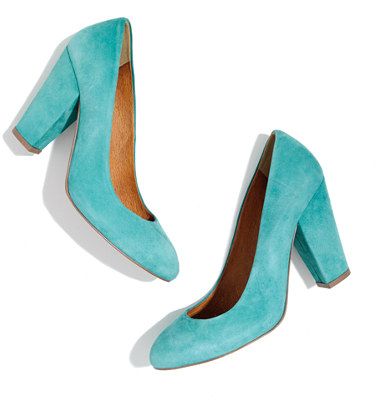 Can't bear to walk the city streets in stilettos? Good, 'cause neither can I! Slip on these chunky heels and hit the town in (pain-free) style. I'd wear them with black skinny jeans and a leather blazer to toughen up my look. Buy these suede shoes now on Madewell for $198.
4

Klub Nico Women's RennaBootie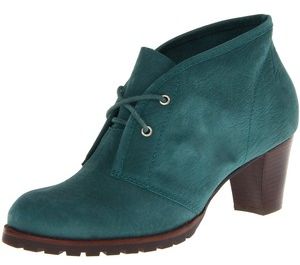 These borrowed-from-the-boys booties feature ladylike updates (including heels and a fresh emerald hue). Wear them on your next road trip with skinny jeans and a vintage sweater. Find them now on Amazon for $124.69.
5

Nova Flat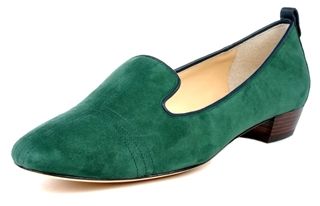 Loafers aren't just for hanging around the house, ladies! With these comfy, stylish emerald shoes on your feet, you'll finish up those errands in no time. I'd wear them with black leggings, a tunic, and an oversized tote bag to complete my casual look. Buy them now on Designs by Stephene for $195.
6

LC Lauren Conrad Platform High Heels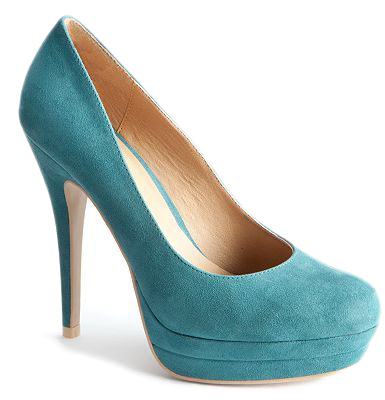 If you're planning to keep it plain and simple (but still pretty!), Lauren Conrad's effortlessly stylish pumps will do the trick! I'd pair them with my printed skirts and dresses for an ensemble that's unforgettable! Buy them now on Kohl's for $39.99.
7

Heart for the Hills Heel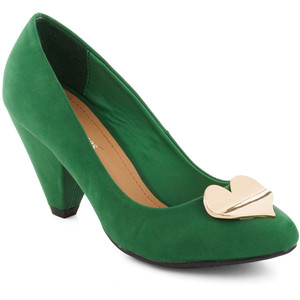 Let your inner girly girl run wild with these adorable heart-adorned heels. Pair them with a silky frock, opaque tights, and a satchel bag for a look that's fit for winter and early spring. I'd even wear them into the sultry summer months (without the tights, of course). Find them now on ModCloth for just $42.99. That wallet-friendly price is something we can really heart!
8

Pecking Border Heel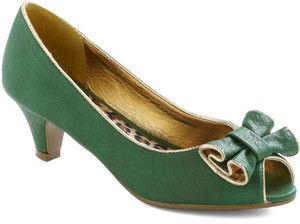 Bows and peep toes and kitten heels, oh my! You'll be fit to join Dorothy and her motley crew in these standout emerald shoes. Wear them with a flared skirt and tailored blazer for a look that's whimsical but still internship-appropriate. Find them now on ModCloth for $69.99.
These are 8 of the most flirty, fun, and fabulous emerald shoes on the 'Net! Which ones are your favorites? Can you see yourself wearing them to your next dinner date or night out with the girls? Do you have any of your own favorite styles to add to the list?
Please rate this article