Jimmy Choo Shoes are some of the ultimate status symbols in the fashion world. The Jimmy Choo brand is well known around the world, and their designs are coveted by women the world over. You'll need a couple of hundred dollars before you even consider buying a pair, but a pair of Jimmy Choo shoes is definitely an investment piece. Take a look at some current pairs of Jimmy Choo shoes below.
1

'Bello' Glitter Wedges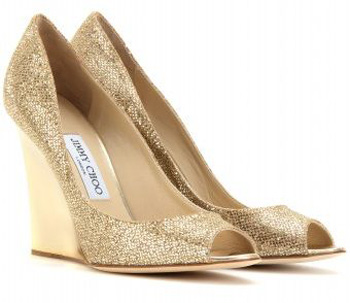 Price: $595.00 at mytheresa.com
Glitter is everywhere nowadays, and these Jimmy Choo shoes are a chic take on the trend. They have a high wedge heel and an open toe design. They are very much disco inspired. Team them with a little black dress for the ultimate party look.
2

'Faye' Zebra Print Sandals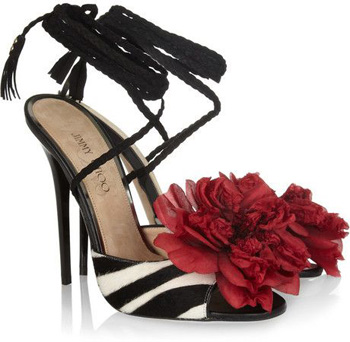 Price: $1795.00 at net-a-porter.com
These zebra print sandals are a flirty option. They feature a large red silk flower appliqué at the toe and have a wrap around ankle strap. These would look super stylish teamed with a cream shift dress and black blazer.
3

'Vamp' Suede Sandals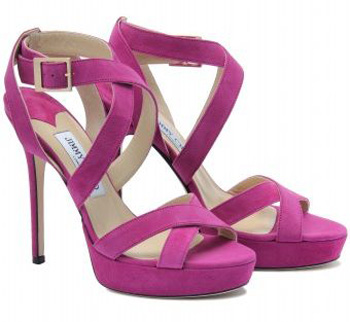 Price: $395.00 at mytheresa.com
A pair of brightly coloured Jimmy Choo shoes is one way to add a pop of colour to an outfit. These magenta suede sandals have a stylish strappy design. They have a covered heel, slight platform, and a buckle closure at the ankles. Wear these with a loose blouse tucked into a feminine pleated skirt.
4

'Bunting' Metallic Sandals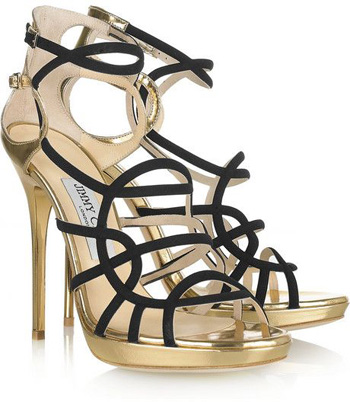 Price: $895.00 at net-a-porter.com
Get set to dazzle in these stunning Jimmy Choo shoes. They have a gold metallic finish and feature cutout black twill straps. Wear these with a Grecian-inspired black cocktail dress.
5

'Wallach' Patent Leather Ballet Flats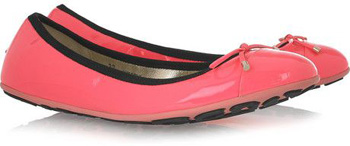 Price: $450.00 at net-a-porter.com
These ballet flats are far more wearable than the high heeled options on this list. They come in a fun patent pink finish and are on-trend for this season's obsession with all things bright. These ballet flats would look great worn with a skater style dress.
6

'Kai' Suede Sandals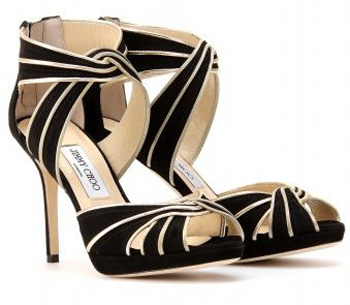 Price: $1095.00 at mytheresa.com
Black and gold seems to be a timeless combination. It's also a combination that is well suited for evening wear. These suede sandals have quite a contemporary design. Wear them with a black bodycon dress and white oversized blazer for a cool evening look.
7

'Walsh' Glitter Fabric Ballerina Flats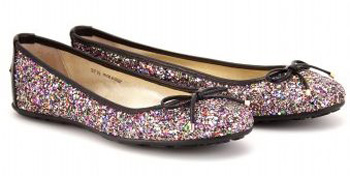 Price: $425.00 at mytheresa.com
Yes, more glitter! These ballerina flats have a fun multicoloured glitter finish. They also feature contrasting black trims and a bow detail to the front. Team these shoes with a pair of black jeans and a white blouse for a simple yet effective look.
8

'Cosmic' Suede Pumps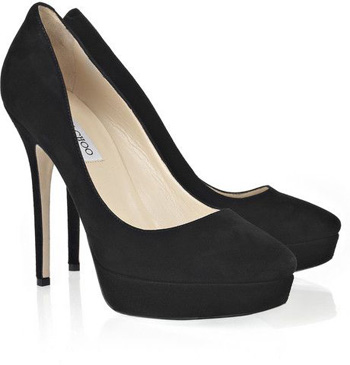 Price: $695.00 at net-a-porter.com
These Jimmy Choo shoes are fabulous in their simplicity. They are made from black suede and have a classic pump design. A pair of black pumps can be the answer to most outfit dilemmas, so these shoes would definitely be an investment piece.
9

'Whirl' Glitter and Suede Ballet Flats

Price: $375.00 at net-a-porter.com
If all-out glitter isn't your thing, then these ballet flats are a more subtle take on the glitter trend. They have a black suede body and are punctuated by a gold glitter toe cap. The glitter finish is subtle enough to even be worn during the day.

These are just a few examples of fabulously designed Jimmy Choo shoes. While the prices make these a pipe dream for many of us, we can always marvel at the designs. Which of these Jimmy Choo shoes do you like best?

Top Image Source: weheartit.com