Shoe Designs can often double as works of art. While the shoe is in most cases an entirely functional garment, some designers have taken it upon themselves to re-imagine the shoe into a range of outrageous designs. Each new season runway sees with it new daring shoe designs, imagined up by truly creative and, some might argue, crazed minds. Be warned though, these particular shoe designs are best left to models, fashion editors, and brave celebrities (here's looking at you Lady GaGa).
1

Alexander McQueen "Armadillo" Heels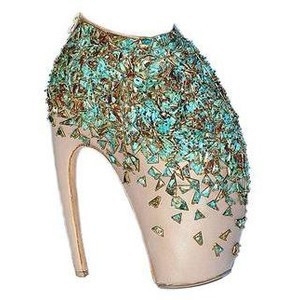 This is probably one of the most iconic shoe designs in recent times. When the shoes debuted as part of McQueen's spring/summer 2010 collection, they shocked and awed. It truly was a 'fashion moment'. The shape of the shoe seems somewhat unnatural, with heels that measure in at a staggering 12 inches. These shoes were also worn by Lady GaGa in her 'Bad Romance' music video.
2

Christian Louboutin Ballet Stilettos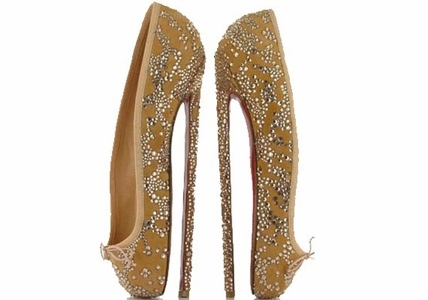 Ballet pumps are supposed to provide respite from high heels. This is definitely not the case with these ballet pumps. Just looking at them makes my toes curl in anxiety. With an eight inch stiletto heel and near vertical arch, this must be the Christian Louboutin take on walking on your tip toes.
3

Balenciaga Latex Ankle Boot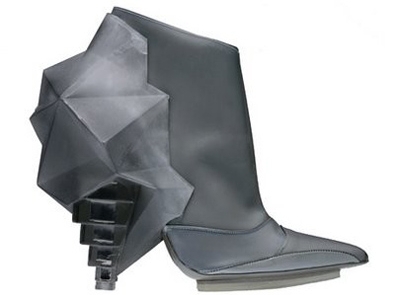 First seen on the label's fall 2008 runway, these shoes have a futuristic feel to them. The overall shoe design is sleek and streamlined which was in keeping with the feel of the clothes in the collection. The addition of the prism-shaped heel cover also adds to the futuristic feel.
4

DSquared2 Spine Heels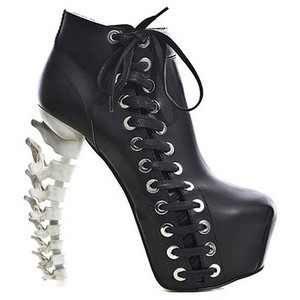 These ankle boots have a macabre feel to them. The heel of the shoe is not only staggeringly high, but is also shaped to resemble a spine. This skeletal touch is a bone-chilling feature. The concealed platform also helps to create an exaggerated shape. These shoes are sure to be a head turner.
5

Alexander McQueen Angel Wing Shoes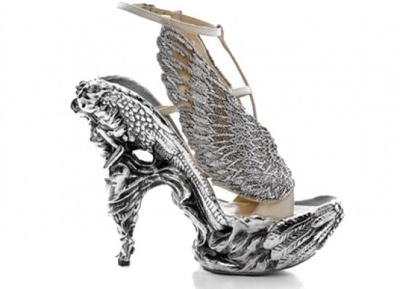 No stranger to daring shoe designs, Alexander McQueen makes his second entry on this list. These shoes are part of the designer's fall 2010 collection. They feature an ornate sculpted heel with wing detailing at the front. The end result is a daring, almost magical shoe design.
6

Kobi Levi "Blonde Ambition" Shoes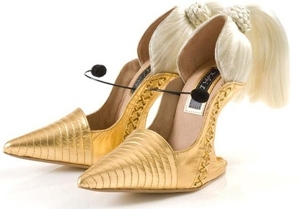 Kobi Levi has made a name for himself by creating eye-catching, unique, and slightly humorous shoe designs. These gold metallic shoes are hand crafted and have an inverted heel. The blonde ponytail detail at the heel adds a tongue-in-cheek touch to the overall design.
7

Nina Ricci Inverted Heels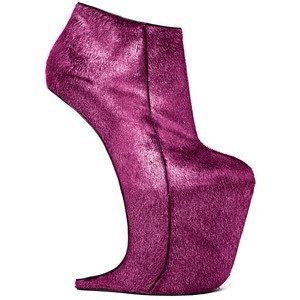 Inverted heels are mesmerising things. I am in awe of these types of shoe designs. These particular ankle boots have an exaggerated, almost unnatural shape. Amazingly, when these shoes debuted as part of Nina Ricci's fall 2009 collection, none of the models fell while wearing these shoes.
These are just some of the more outrageous shoe designs to have been created in recent years. Best left on the runways or a Lady Gaga video clip, you'd be hard pressed to find anyone willing to wear these shoes on a daily basis. What do you think of these daring shoe designs?
Top Image Source: pinterest.com