Pinup style is still very popular and the upcoming sunny days are the perfect ones to give it a shot and start modeling polka dots, rockabilly jean shorts, bandanas or some of those fun, easy to do to pinup style hairdos I've given you YouTube video tutorials for. Of course, pin-up style just wouldn't be perfect without great either totally vintage shoes or modern shoes that could work great with this style. Well, guess what – I'm about to give you a list of not 7 or 8 but 9 sexy, pin-up style shoes to consider!
---
1

Honey Pie Wedges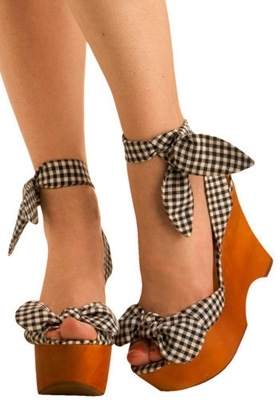 Price: $115.99 at modcloth.com
Oh-so-vintage, totally sexy and stylish – these shoes will give your pin-up style major authenticity! Well, honey pie, what are you waiting for? Wedges are trendy and pin-up is still one of the best styles to go for! These are cool enough to make you the most popular vintage diva in town, casual enough to be a part of your everyday style and comfy enough to make you want to wear them often.
---
2

Garden Gate Park Heel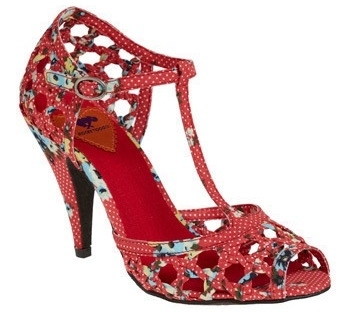 Price: $69.99 at modcloth.com
If you opt for these colorful, Rocket Dog shoes, I can guarantee you both sexy looks and comfort. I'm a big fan of Rocket Dog shoes as they make the feet look so tiny and I especially love the comfy heel that makes walking and dancing sooooo easy. Now, as someone who owns two pairs, I must say they run a half size small so make sure you take that into account when shopping for this brand.
3

Ain't Misbehavin' Heel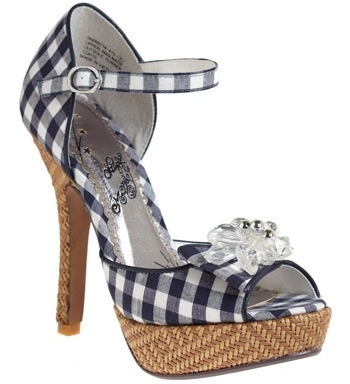 Price: $59.99 at modcloth.com
Take that fab vintage A-line frock out of your closet and wear it with these fab platform sandals! They are definitely the vintage-looking item a girl wishing to switch to retro could use a lot. I mean just look how cute they are! The heel is not too high, the platform looks well-balanced and the style… the style is totally vintage but gives you the chance to wear them with just anything, including your regular non-vintage jeans and a top.
---
4

Classy Satin Heels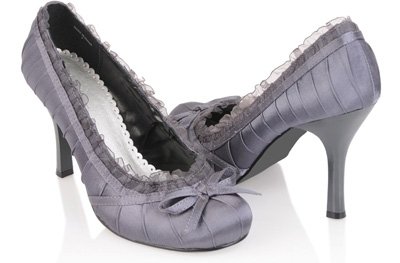 Price: $20.80 at forever21.com
Shiny satin, sweet bow, moderate heel and eye-catching pleated details – these pin-up style shoes are perfect for the ladies wishing to go vintage old Hollywood style. These elegant round toe court shoes are definitely something you can wear for a black tie event because they'll help pull off your brand-new vintage styling with ease and elegance.
---
5

Lollipop Slingback Heels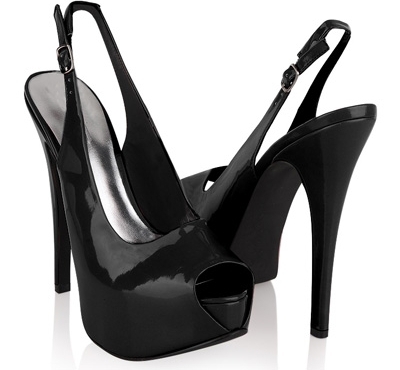 Price: $24.80 at forever21.com
Well, Dita Von Teese better get ready for some serious competition because these gorgeous, sexy pin-up style shoes are about to give us all a pair of gorgeous long legs. And just check out the price! Now, that's what I call good news! If you ask me, these are no worse than popular Bordellos and they cost how much… Seven, eight times less than them?
---
6

ASOS POSH Bow Front Heels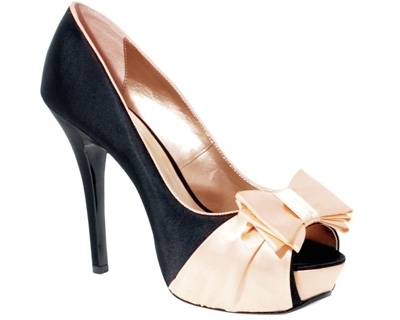 Price: $80.69 at asos.com
Now wouldn't these be a nice, girly addition to your vintage wardrobe? I absolutely love the big front bow and the choice of colors as well as the fact that they look kind of comfy, which is a pretty important feature when it comes to platform pumps. Definitely a keeper!
---
7

ALDO Agans T-Bar Heels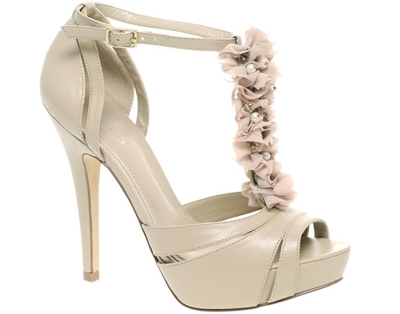 Price: $125.51 at asos.com
T-bar strap always look vintage to me and since, vintage is all about sexiness, elegance and feminine styles, I don't see why ALDO couldn't make a great pair of pin up style shoes too. I like the corsage details and beads and I especially like the color and the style.
---
8

Valentino Front Bow Sandals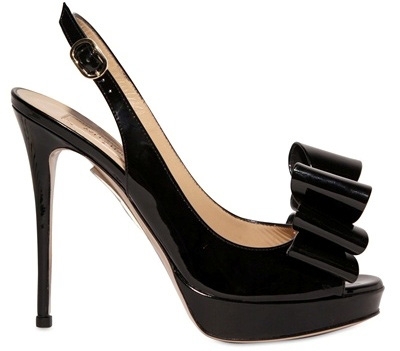 Price: $935.10 at luisaviaroma.com
Wooow! Now this is something you could easily see Dita Von Teese wearing and I just had to put them on the list, despite this mind-blowing price. Hope at least some of you are able to afford these and for the rest of us, well, we can at least drool over them. Simply gorgeous!
---
9

John Richmond Satin and Suede Sandals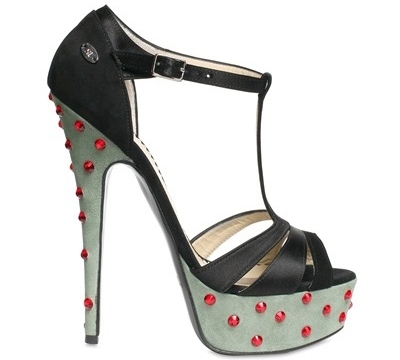 Price: $647.40 at luisaviaroma.com
T-bar strap and polka dot-resembling studs… I guess for haute couture, this is the most vintage as it gets. But still, I think they would be able to fulfill their role of pin-up style shoes just great, that is, if I ever win the lottery or find out that I have a very rich aunt willing to leave everything to me. Oh well, let's drool some more.
Do you like these pin up style shoes I've picked out and, if you do, which ones would be your favorite. I'm so glad pointy toe shoes are gone because now, we not only have many pin up style shoes to chose from, but get to enjoy the benefit of small-looking feet too!
---
Popular
Related
Recent