Creeper Shoes (or creepers) are traditionally popular within punk, goth, and generally alternative subcultures. However, the past couple of seasons have seen creeper shoes become decidedly more mainstream. While I could never personally pull of this look, I have seen the look worn extremely well by those with a knack for alternative styles. Take a look at a few styles of creeper shoes below, and let me know your verdict.
Table of contents:
1

ALDO Rothenburger Mirror Metallic Creeper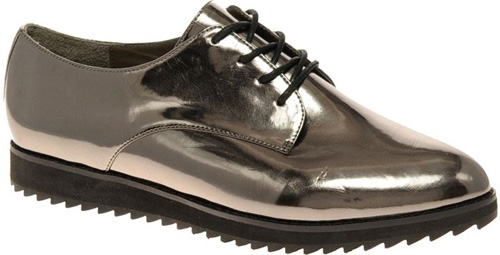 Price: $95.45 at us.asos.com.
These shoes combine two big trends at the moment – creeper shoes and metallic finishes. Admittedly, these are a tamer take on the traditional creepers. They have a lace-up design, pointed toe, and thick treaded sole. Balance out the masculine style of these shoes by teaming them with a full-skirted dress.
2

ASOS Monroe Platform Creeper Shoe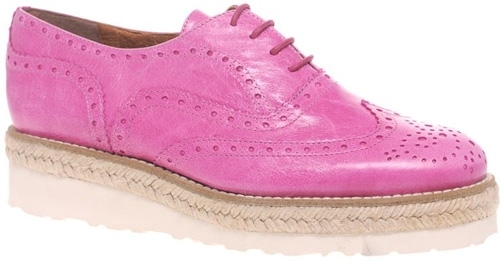 Price: $136.35 at asos.com
These creepers are similar in style to the ones featured recent Prada collections. The shoes feature brogue detailing and have stacked platforms soles with espadrille-inspired trims. The hot pink leather is a fun touch to the design. Wear them with drainpipe trousers and a crisp white blouse.
3

Topshop Mobee Double Buckle Creepers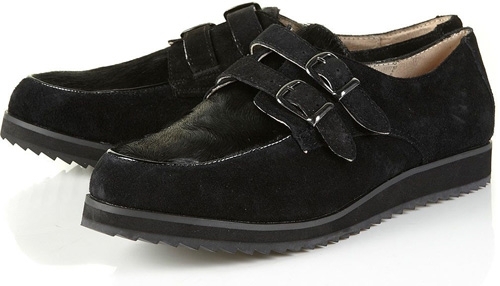 Price: $70.00 at us.topshop.com
Instead of a lace up design, these creeper shoes feature double buckle fastenings. They have a black suede body and pony trim panel at the front. They also have a treaded sole. Style these creepers by wearing them with skinny jeans, a plain t-shirt, and a crisp white blazer.
4

Topshop Phantom Platform Creeper Shoes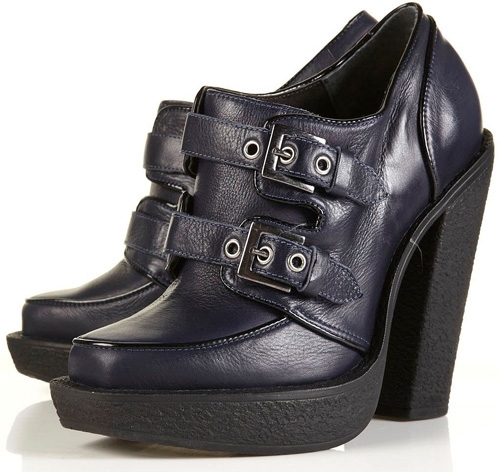 Price: $200.00 at us.topshop.com
While most creepers have a thick flat sole, this particular style has a platform heel. They are made from navy leather and feature double buckle detailing. They also feature contrasting black piping. Wear these shoes with a full-skirted mini dress and black opaque tights for a youthful take on the trend.
5

Underground Wulfrun White Creeper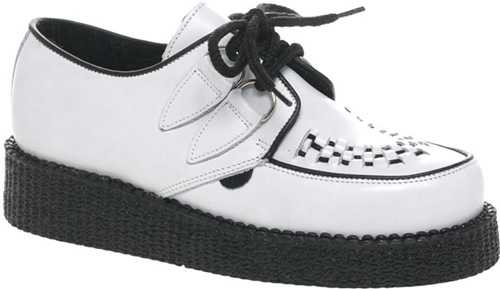 Price: $154.53 at asos.com
The Underground brand is one of the big producers of creeper shoes. These white and black shoes are typical of the traditional creeper style. They have a smooth leather main, lace up closure, contrast piping, and a thick creeper sole. For a casual look, wear these with coloured jeans, and oversized jumper, and knit beanie.
6

Underground Triple Sole Creepers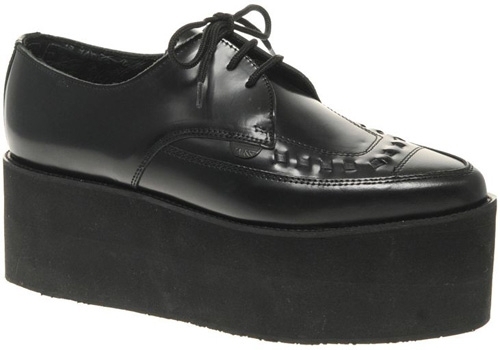 Price: $227.75 at us.asos.com.
These plain black leather creepers feature a high platform sole. They have an almond shaped toe, stitch detailing, and a low ankle cut. These shoes have a bold silhouette and would look even more exaggerated when teamed with skinny jeans and equally streamlined outfits.
7

George Cox for ASOS Leather Creeper Ankle Boot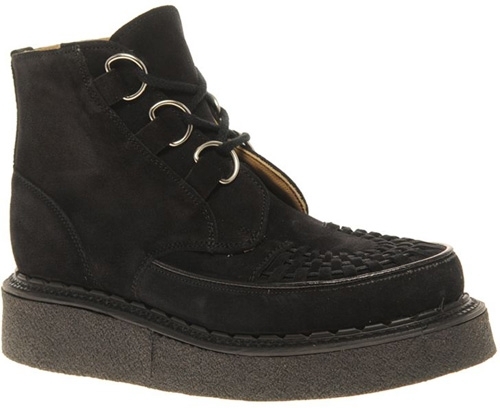 Price: $354.51 at us.asos.com.
Here, iconic creepers brand George Cox has teamed up with online store ASOS. One of the results is this leather creeper ankle boot. It's designed in the same vein as typical creeper shoes, but with a higher cut ankle. It also has a crepe sole and demi-wedge heel. This shoe has a fairly bulky design so would best be balanced out with flowing, looser-fitting clothes.
These are just some examples of the styles of creeper shoes currently available. From original designs to more modern re-interpretations, creeper shoes **are certainly a style of shoe that divides the masses. What are your thoughts on these **creeper shoes? Do you or would you ever wear them? I'd love to hear your thoughts.
Top Image Source: weheartit.com
Please rate this article