Multi colored shoes are the hottest thing for the season, an eye-catcher, a perfect way to introduce some colors into the fall attire and, of course, a style that can be worn with everything and anything thus helping us spend less money. Not so bad for a shoe, right? I've seen some really great multi colored shoes here and that gave me an idea to try to find similar (or better) styles online, and show you what to look for in case you have some shoe shopping to do very soon. So, check out these fab multi colored shoes but be careful, because you might fall in love!
---
1

Steve Madden Tammyy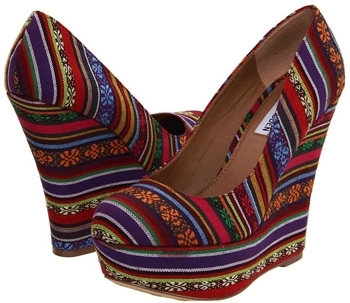 Price: $99.95 at zappos.com
What a fabulous pair of wedges! Don't you agree? I love the platform, I love the style, I love these colors and…oh… wouldn't it be nice to have a shoe that matches 50% of your bags? In fact, when you have an awesome pair of multi colored shoes such as these, you can get your grandma to knit a fab, unusual bag as well! Can't imagine these being comfortable, though, but you never know… some of my zaniest wedges turned out to be super comfy.
---
2

Cesare Paciotti Classy Heels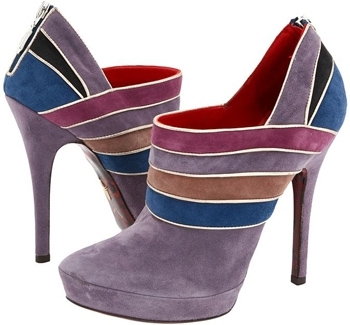 Price: $640.99 at zappos.com
Oh my gosh! Who do I have to rob to get these? Paciotti was never on my "top 10 fav brands" list and seeing these amazing shoes seriously makes me wonder why. I mean, come on, they are just perfect! So glam, so elegant, soooo unusual, so trendy and, yet, so wearable! I bet any stylish chick would love to own them.
Trendinig Stories
More Stories ...
3

ASOS Mettalic Lace up Flats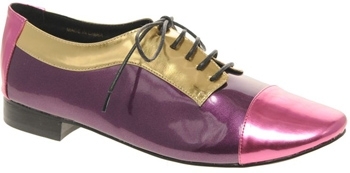 Price: $62.90 at us.asos.com
Are you brave enough to wear these preppy multi colored shoes? I'd really have to think twice although I could bet an army of super stylish models would be more than willing to take them for a "test drive". Good news for all of you boyfriend jeans fans – these funky flats could make your favorite denim style look even better.
---
4

ASOS PACE Suede Multicolor Pumps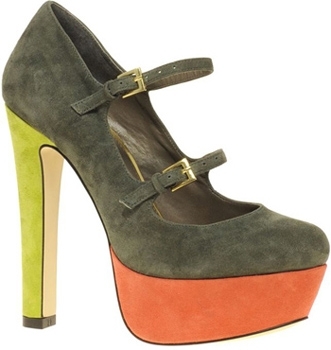 Price: $116.81 at us.asos.com.
Green, yellow and orange are the colors you'd want to be seen wearing this autumn! In fact, those are the colors you'll get to wear almost every autumn because nothing says "stylish" as being able to think outside the box when it comes to choosing bright and yet fall-appropriate colors to spice up the, often too dark and almost boring fall attire.
---
5

Blue and Yellow Patent Leather Flats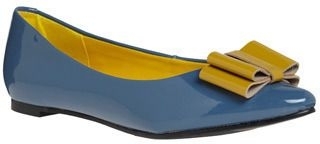 Price: $59.99 at modcloth.com
Speaking about multi colored shoes – what do you think about these blue and yellow babies? ASOS heels I've mentioned above will certainly give your brown clothes a stylish makeover but what about all those black stuff you have lying in your closet? Well, that's where these babies come in! Comfort and elegance all in one – what more could you wish for?
---
6

ASOS PATCHI Heels
Price: $80.86 at us.asos.com.
These ubercool platform pumps do look a bit uncomfortable but, once you try them on you'll realize how comfy they actually are! Chunky platform and a moderate (I'm using this term loosely, though) heel will enable you to look super stylish and walk freely, plus you'll actually save money (and space in your shoe closet) because you'll finally have a shoe that matches at least three of your bags.
---
7

Betsey Johnson Ditan Pumps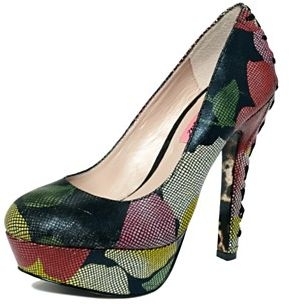 Price: $109.95 at macys.com
Our beloved black "wear-with-anything" platform pumps have just gotten better and a whole lot happier! These Betsey Jonson pumps will still look great and be just as wearable as a standard black shoe with one small change- you'll be inspired to get even more creative with your accessories!
---
8

Steve Madden Gaayle Platform Pumps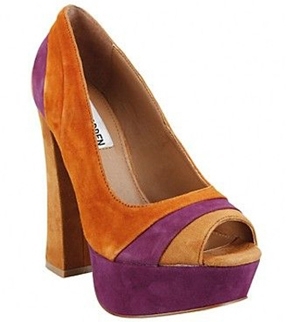 Price: $139.00 at macys.com
My list of cool, multi colored shoes is still not finished and, before I leave you to lust over these colorful babies, I'll mention just two more fabulous styles that certainly won't go unnoticed! You know what that means? Say hello to this fun pair of totally wearable, whimsical pumps coming straight from the popular Madden House! Picture is indeed worth a thousand words…
---
9

Missoni Pointy Court Shoes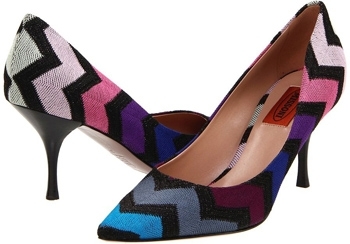 Price: $495.00 at zappos.com
And a cherry on the top – a classic, pointy toe Missoni court shoe that will give your classy, refined style a dose of playfulness. Wear them to brighten up every black outfit you have, add stylish jewelry and you could jump from an office celebration straight onto the red carpet without anyone noticing that you're not a celeb.
Would you ever wear any of these multi colored shoes and, if yes, which ones? I love them all and seeing them all in one place really makes me wish I had some uber-rich relatives willing to leave all of their fortune to me. LOL! Yes, multi colored shoes can do that to a girl!
Top Image Source: weheartit.com
---
Popular
Related
Recent