Designer Shoes...the words every women snaps to attention when she hears! Seriously, how many of you own a pair of designer footwear? How many of you would love to own a pair? I don't own any, but I would LOVE to! Designer shoes just scream sexy and rich, don't they? Not that we can afford designer footwear every single time we go shoe shopping, but once in a while isn't a bad thing. And it never hurts to look, right? There's a few pairs of sexy designer shoes I've been lusting after and i'd love to share them with you. I think you will be drooling as much as I am! This is a great list of** 9 designer shoes that are hot this season**, so go ahead! Enjoy this list! I hope you find a pair that you love!
---
1

Jimmy Choo Private Patent Leather Sandals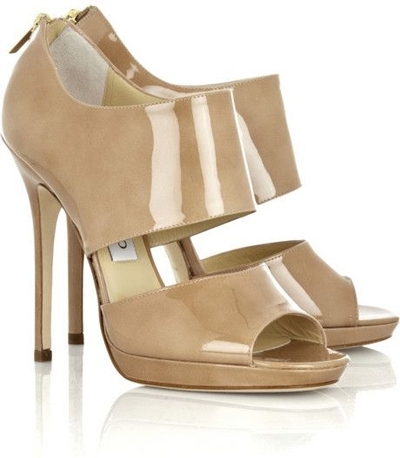 Price: $950.00 at net-a-porter.com
Who can refuse Jimmy Choo shoes? Nude shoes are REALLY big right now, so grab these while they're hot! Nude shoes play a huge part in lengthening your legs, plus they are very classy and versatile. And these 5 inch heels will get you noticed from every eye in the room! You can pair these designer shoes with everything from body-con minis to floaty summer dresses so don't pass up the opportunity to have a shoe this versatile in your closet!
---
2

Christian Louboutin Big Stack 120 Leather Pumps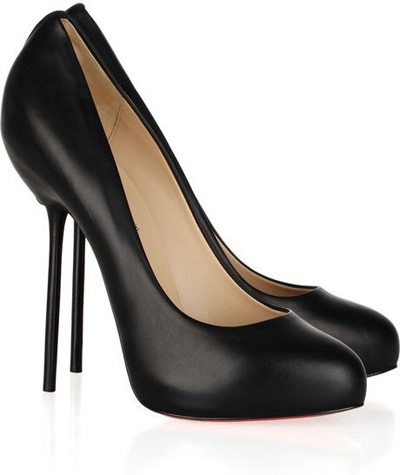 Price: $755.00 at net-a-porter.com
Designer pumps with a 4 inch heel at $755 is a great steal! And everyone can always use a basic pump in black added to their closet. These Louboutin's will add sophistication to any look. Wear them with skinny jeans and a sweater to dress up the look, or with your LBD to be the star of the party. I love the signature red sole, it really adds a flash a glamour and a pop of color where you least expect it!
---
3

Tory Burch Eddie Animal-Print Patent-Leather Ballerina Flats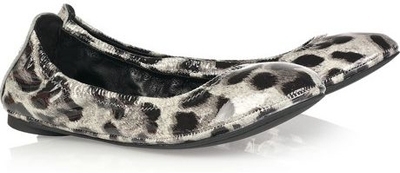 Price: $180.00 at net-a-porter.com
I love these designer shoes! I know you will too. Bring out your wild side with the animal print, and your sweet side with the ballerina style shoe. The thing with these shoes is that they are wild, but not too wild, so if you are a bit more conservative, you won't be too afraid to give these a shot! The black and white make for versatility and you can wear them now and up until the weather turns cooler in the fall. They will look fashionable with colored items as well as black or white.
---
4

Yves Saint Laurent Tribute Suede Sandals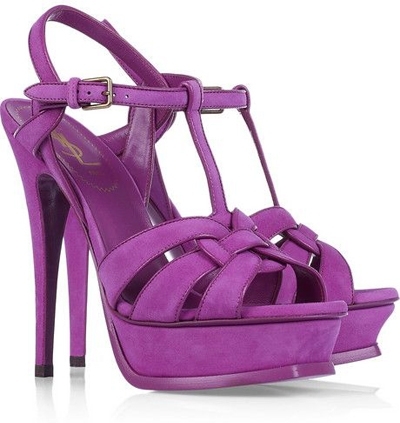 Price: $1,025.00 at net-a-porter.com
We all need that one pair of ridiculously bright, notice-me shoes that we hardly ever have the chance to wear. Just knowing they are in your closet is a consolation! And you can pull them out for a party, or if you just want a pick-me-up on a blah day, pair them with some dark skinny jeans, a white tee and a patterned cardigan or scarf. For a party hardy style, pair these babies with a black dress and carry a sleek gray clutch with diamond studs. Look at you! All sexy and ready to go!
---
5

Tory Burch River T-bar Leather Wedge Sandals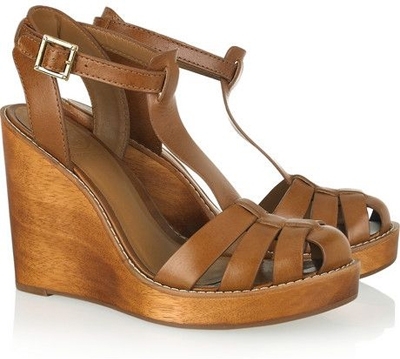 Price: $295.00 at net-a-porter.com
I am a bit of a wedge addict and these designer shoes are screaming out my name! I would love to add these babies to my closet! These wedges are a summer essential. You can pull of any look with them-casual, preppy or dressed up. The color is really nice too, an in between nude and tan sort of shade. And you gotta love those strappy toe coverings!
---
6

Theodora and Callum Sash Printed Linen Espadrille Sandals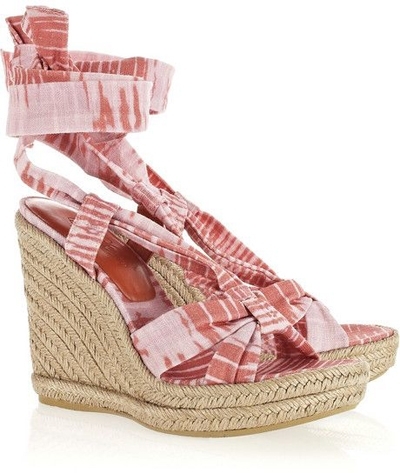 Price: $395.00 at net-a-porter.com
Oh my word I am IN LOVE with these shoes! I think these may just be at the top of my wish list for this season's must-haves! I love how they have a summery feel to them, but with the right cardigan and jean shorts they will take you right into fall with plenty of ease and breeze and style. Going on vacation soon? Make sure you pack these! They are the essential vacation shoe whether you are hitting up the beach, the islands, the lake, or the big tourist traps!
---
7

Gucci Pebbled-Rubber Patent-Leather Pumps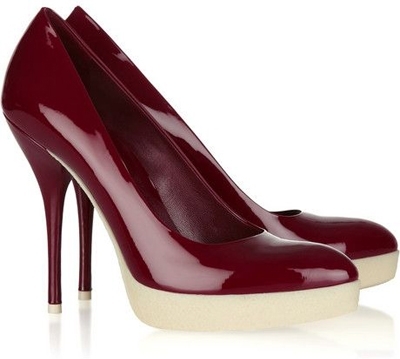 Price: $485.00 at net-a-porter.com
If you don't own a pair of red heels, you should buy this pair right now! Every women needs a good pair of va-va-voom sex appeal red heels in her closet. They work for the office, a date, clubbing or a formal affair. Pair them with a LBD, a pair of skinny jeans, a mini skirt, or a pair of shorts and a blazer for some edge. You can pull off any look with these deep red designer shoes. The rich color is the attention getter for me. And you WILL get attention when you strut into a room sporting these hot mama's!
---
8

Roberto Cavalli Patent-Leather Gladiator Sandals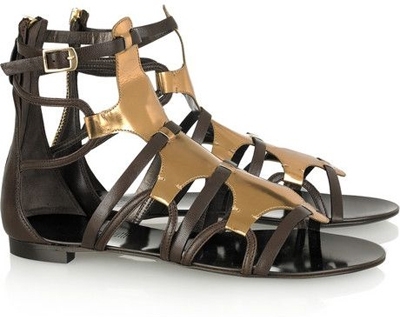 Price: $655.00 at net-a-porter.com
I've always been a huge fan of the gladiator era as far as style goes. We can all take a hint from the sexy greek goddesses and the stylish women of their time! These shoes really morph you back into time with the gold embellishments and the strappy style. And the color is a perfect mix between brown, green and black, so you can wear these with practically anything! I think they would look best with jean shorts and aviator sunglasses, or a long evening gown and gold cuff bracelets.
---
9

Miu Miu Two-Tone Patent-Leather Peep-Toe Pumps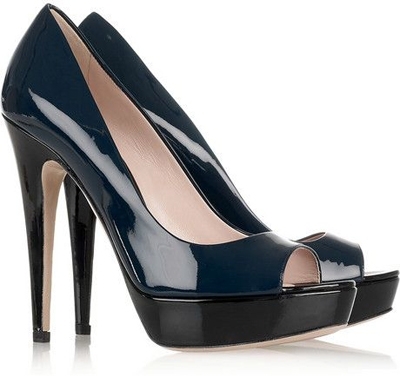 Price: $595.00 at net-a-porter.com
These peep toe designer shoes are simply the bomb! Have I mentioned that I'm a huge retro fan and I love the peep toe style? And this deep blue shade will look killer when you pair it with a black pencil skirt and a white blouse! For a party, try a fuchsia or purple shade to offset it and contrast a bit. The glamour of these shoes just jump right off the page, doesn't it?
Designer shoes seem to be all the rage right now. If you can't afford to have every shoe in your closet be designer, maybe you can save up to buy you one or two good pairs. That way, you'll always be ready no matter what the occasion! And don't forget, sometimes you can snag designer shoes on sale for a great deal! Which of my designer shoes do you like best?
More
Popular
Recent