Isn't this the perfect time to start taking about beachwear? Cute flip-flops, cute swimsuits, cute beach totes… a girl just has to look good while getting her suntan and, by that I don't mean make-up, elaborate hairstyles or any of those OMG things I've seen girls doing. There are better, easier and more comfortable ways to look great this summer so let's start from top… or better yet, from the bottom! And here are 8 wonderful, totally cute flip-flops for extra comfort, extra sweetness and extra glam:
---
1

Lacoste Suzy BC Woven Flip-Flops

Price: $38.78 at asos.com
Soft, sweet and comfy- these cute flip-flops are available in two colors and that means that even girls who don't like pink can enjoy this fun, totally girly style. Black and white is what I'd choose for myself, although I must agree pink and white are totally cool too.
---
2

Miss Sixty Printed Lips Flip-Flops

Price: $38.78 at asos.com
Don't you just love sales? Well, get ready to snag a brand new pair of flip-flops because ASOS is having one as we speak! And do you know what's the best part? This is a brand new collection and that means anyone who decides to take advantage of this special offer will get to sport these cool Miss Sixty flip-flops and still manage to leave some cash on the side and maybe even get a matching tote.
---
3

Lilly Pulitzer Shelly Jelly Flip-Flops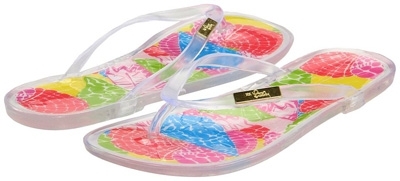 Price: $38.00 at zappos.com
If you're into bright colors and queen-of-the-beach is practically your middle name, you'll love these fun, totally cute flip flops that look great both on and off your feet. Clear straps will allow you to pick your beachwear with ease and comfy, totally zany foot bed simply screams that you're not a type of the girl that would choose an easy solution over style.
---
4

Vivienne Westwood Anglomania

Price: $100.00 at zappos.com
But let me list my personal favorite, too! This is what happens when you put together a totally zany designer like Viv and a totally radical brand like Melissa. The result is, of course, a global trend so, if you really want to see it through and you don't want to settle for look-alike solutions, I suggest you go get yourself a pair of these. Yup, they are plastic and yup the price is a bit high but the only thing needed to make a pair of these totally trendy flip-flops go from beachwear to stylish casual evening wear is a quick wash to remove dirt and sand. Pretty cool, huh?
---
5

UGG Fluffie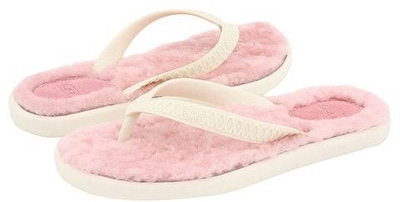 Price: $30.00 at zappos.com
Awwwwww! Now aren't these the most adorable flip-flops you've ever seen? I bet wearing them feels like walking on clouds! I'd totally give my lucky feet a soft, warm, fuzzy treat like this one and I'd definitely go for this pinkish pair, too. So, check them out, check out the colors and tell me which one would you go for.
---
6

Yellow Box Rocky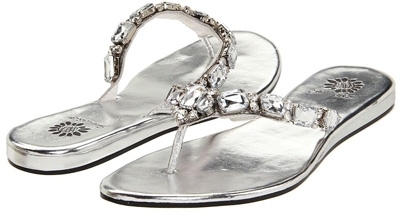 Price: $50.00 at zappos.com
Here's one sparkly, bedazzled, pair of flip flops to keep you looking fab and feeling comfy all day or night long. I wouldn't exactly take them to the beach but I can definitely see myself all tanned and gorgeous, wearing a white dress and these flip-flops while enjoying a mojito on a hot summer night. And after that mojito….who knows! A party perhaps? Why not?
---
7

Guess Tutu Flip-Flops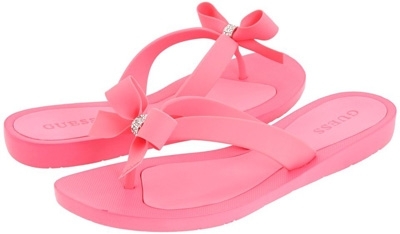 Price: $30.00 at zappos.com
We can't discuss cute flip-flops or any kind of fab footwear, for that matter, and fail to mention Guess and all those great shoes, sandals, boots or even flip-flops. I have a totally girly, totally trendy, totally eye-catching pair to show you today and, since picture often says more than thousand words, I'll just save my breath and let you enjoy the photo shown above.
---
8

Aldo Nipps Flip-Flops

Price: $24.00 at zappos.com
They aren't totally casual but they could sure find their place in any girl's summer wardrobe. They are definitely comfy, though, I can tell that just by looking at these sparkly wide straps. Yes, I'd totally love to have them in my collection! I wouldn't wear them on the beach, though, but, if I ever get invited to a fancy pool party, I'll probably get these and wear them with one of those fancy one-piece look-at-me-I'm-a-diva swimsuits.
---
9

Alexander McQueen Gold Skull Flip-Flops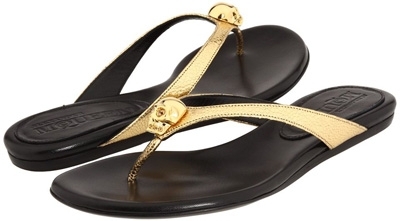 Price: $495.00 at zappos.com
And I'm saving the best and, unfortunately, the most expensive part for last! Don't you just love the way these gold-toned skulls and straps are combined together to turn simple summer footwear into a really glam piece of high fashion. I bet celebs wear these on their fancy vacations!
But, tell me, ladies- Which pair of these cute flip-flops you like the most? I simply can't decide!
More
---
Comments
Popular
Recent