Wedges are THE shoe of the moment, popping up all over the catwalk and in all of my favorite shops. But I have noticed a disturbing wedge trend: they're all black or brown! So I'm on a mission to add color to my summer shoe collection… who's with me? Here are a few colorful wedges to get us started!
1

Color Odyssey Wedge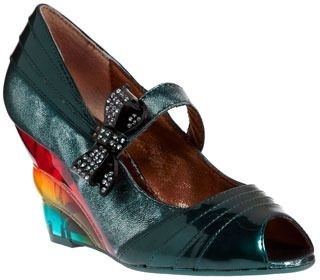 Price: $139.99 at modcloth.com
Poetic License always makes the cutest shoes, and this pair of colorful wedges is no exception! They're made in metallic teal faux leather, with clear acrylic wedge heels, all in rainbow hues. Top them off with Mary Jane straps and a sweet peep toe for the perfect summertime, or anytime, shoe!
2

Red Carpet Roll out Wedge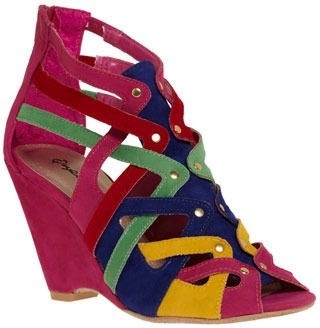 Price: $47.99 at modcloth.com
These faux suede ankle boots are many things at once — peep toes and wedges, stylish and comfortable, pink and blue and green and red and yellow. They zip in the back for easy off-and-on, and would look smashing with a one-color dress or skinny jeans and a graphic tee!
3

Secluded Island Sandal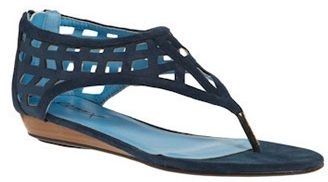 Price: $34.99 at modcloth.com
If I could choose only one new pair of sandals to wear this summer, it might be these colorful wedges, all in deepest royal blue. They look divine with dresses, smart with shorts, and fun with frocks. I love the wood-look wedge heel against the deep blue… it's so pretty!
4

Pink Balloon Wedge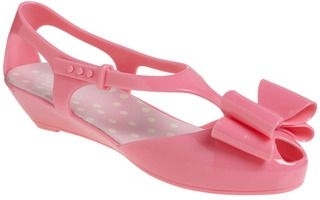 Price: $44.99 at modcloth.com
If Hello Kitty or any of her friends ever wore shoes, these colorful wedges by PepaLoves might be their first choice. They're a sweet cotton-candy pink, made of sleek gel material that's as comfortable as it is glossy. Slide these on with a floral-print romper and an armload of chunky bangles for a look Miss Kitty herself would heartily approve of.
5

Style Squared Wedge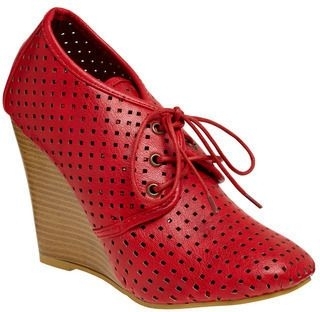 Price: $37.99 at modcloth.com
Prepare to get seriously mathematical with these bright red wedges, perhaps the most colorful of the bunch. Look closely at the faux leather uppers and you'll see the perforations are square in shape. Now for the rest of geometry: the toe is rounded, the heel measures 4 inches tall, and you'll have infinite wearing opportunities.
6

Spectacular Spectrum Wedge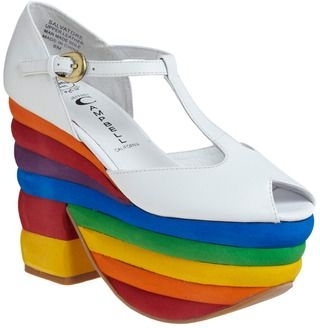 Price: $159.99 at modcloth.com
I admit it: these wedges are just a little too much for me, but I have to hand it to Jeffrey Campbell. They're amazing! They'd be so much fun to wear! I adore the white uppers with the t-strap and of course the sky-high rainbow-striped platform wedge! Would you wear them?
7

Hot Stepper Wedge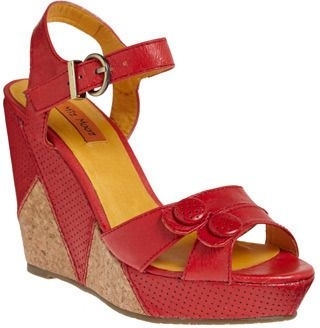 Price: $87.99 at modcloth.com
Ah, another pair of red wedges, these by Miz Mooz. It's hard to say which my favorite feature is… the angular cutouts on the wedge heel? The pair of buttons across the toe? The adjustable ankle strap? These, together with the perforated upper, make this pair of colorful wedges a must-have!
With so many colorful wedges to choose from, there's no need to wear those boring beiges and blacks all summer long, right? I adore the Indigo wedge; isn't that the most gorgeous color? Which of these colorful wedges do you like best, and what would you wear them with? Do tell!