There's no rule that states a girly-girl should not own at least one pair of sneakers or should wear heels and heels only. So, if you're tired of running around in heels, you might want to get a pair of sweet, girly sneakers and a couple of cute tees to wear them with. Would that mean you're giving up heels? Of course not! It just means you've finally accepted that looking good has little to do with what you're wearing and a lot more to do with how you're wearing it so, since you're going to be gorgeous anyways, you might as well have some fun, give your feet a break, do stuff and go places without any "ifs", "ands" or "buts". So, here are some great, sweet, girly sneakers you might want to check out:
---
1

DC Chelsea Sneakers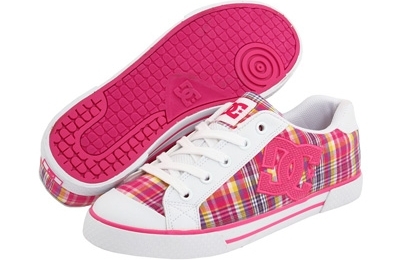 Price: $50.00 at zappos.com
Zany, totally urban pink plaid says it all- this is a pair of sweet, girly sneakers for a girl who knows that there's more to it in life then just giggles and having fun. She always looks good, she has a good head on her shoulders and, no matter what she says, does or wears, she's always unique! I'm sure that girl is somewhere out there and I'm sure she'll fall in love with these sneakers the moment she sees them!
---
2

Converse Chuck Taylor All Star Specialty HI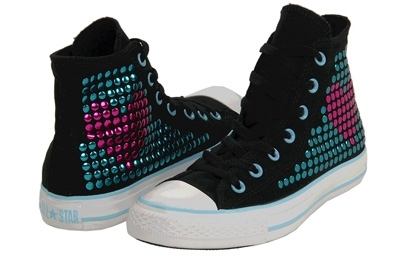 Price: $55.00 at zappos.com
How about these cool, totally wacky ones? I like them a lot and they are not even my style so I guess that must mean something. Come on all-star fans, girly girls with a wild side and all of you who think rules are made to be broken- I'm waiting for you to give me your opinion on these cuties!
---
3

Kangaroos Combat Racer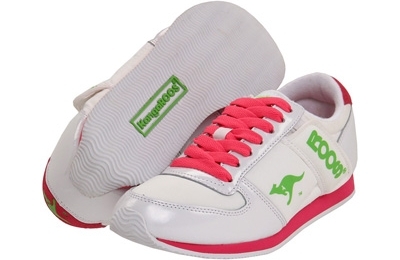 Price: $55.00 at zappos.com
White sweet girly sneakers are a must-have, even if you're a huge fan of sky-high heels. Yup, I do have a pair and, as much as I love heels, I must admit that the list of places they can't take you to runs very long. These lovely ones, for example, could help you look fab every day- while running errands, shopping or simply walking because it's a nice day and you could use some exercise. Throw in your cute pair of jeans and a favorite, totally trendy printed tee and you've just got yourself a perfect combination of style, comfort and girly-girl charm.
---
4

Asics Ultimate Onitsuka Tiger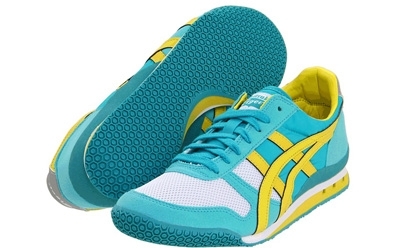 Price: $65.00 at zappos.com
Girly doesn't necessarily mean pink and here's a pair of lovely, colorful and surprisingly not pink sneakers to support my claim. You can get them in pink, black or grey too although I prefer this version because it's more fun and kind of exotic-looking. What do you think? Yay or nay?
---
5

Nike Oceania Pure Platinum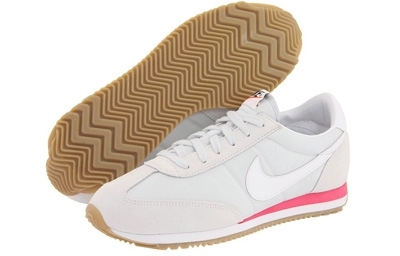 Price: $52.00 at zappos.com
Almost entirely white with just a stripe of that cliché pink – these could be a great choice in case you're not a huge fan of pink forced to choose between black, fluorescent colors, pink, pink and more pink. Yes, I know, nice-looking all-white sneakers are very hard to find but, hey, one tiny pink stripe is almost as good as no pink stripe at all, especially when sneakers look this good.
---
6

Nike Eclipse II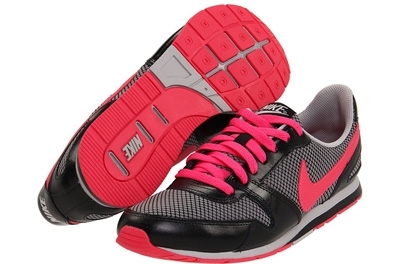 Price: $65.00 at zappos.com
Shiny black with hot pink details, for a change, now this is a nice-looking variation of standard soft-pink girly girl cliché. I, personally, think they are fabulous, eye-catching and comfy and that's all I'd ever hope to get by buying a certain shoe. A touch of that retro style, breezy mesh fabric and a perfect combination of two colors that will enable you to always look great (read: no visible stains) and feel great.
---
7

New Balance Classics WL471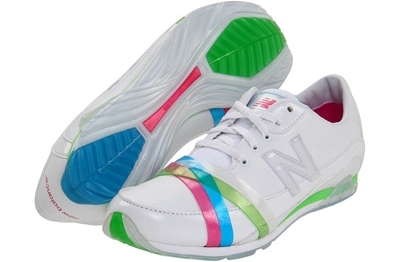 Price: $64.95 at zappos.com
Oh-la-la! Of all the sneakers listed here, I like these the most. How could I not love them when they look so cute, creative well made? But, let's focus our attention to one question we all ask ourselves when buying a sporty shoe- do I have clothes to wear it with? Yes! Yes, you do, because these sneakers can be worn on just anything and the best thing about them is the fact that these colorful ribbons are so cute and well done that you'll still get what you paid for – a classic no-brainer white shoe.
---
8

Saucony Originals Jazz Original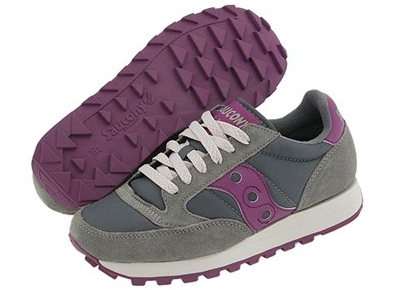 Price: $50.00 at zappos.com
And I'm finishing this list with a pair of sweet, girly sneakers in the color I love the most. But color is not the only reason they are here, girls, it actually has a lot to do with the fact that I own a pair of almost identical shoes and I know how great they look and how tiny my feet look when I'm wearing them. I'm giving them an A+!
And, ladies (and gents), I guess that would be all for today. But before I leave my computer and grab those boring books, I want to ask you a few questions about these sweet, girly sneakers shown above and your preferences. So, tell me – what colors and styles are your favorites and what would make a certain pair of sneakers perfect for you?
More
---
Popular
Recent