You know how it goes girls, Louboutin starts playing with studs and suddenly everybody wants to do the same. Well, I can't blame them! After all, having a variety of fab studded shoes to choose from is always a plus. But, let's talk about real, affordable shoes now, shoes that don't get sold out within just a couple of days and shoes that won't totally break your bank. So, here's 8 pairs of those real but equally fab studded shoes I like:
---
1

Park Lane Studded Flats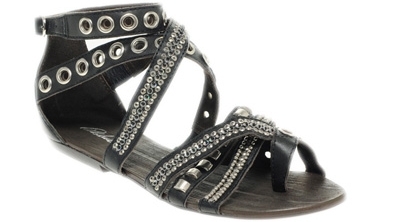 Price: $44.83 at asos.com
Beads, studs and eyelets- what more do you need to make a bold glam rock statement this summer! It might be too hot for leather pants but throw in a pair of sexy skinny jeans or oh-so-popular vinyl leggings and you'll be the life of the party and feel great in your comfy, flat and totally fab studded shoes all night long.
2

Blowfish Sanur Studded Ballet Flats

Price: $30.48 at asos.com
Studded shoes don't have to be crazy or in-your-face and here's a lovely pair of classy ballet pumps to prove that. So, here's a solution for all of you stylish ladies who don't like to go overboard with details. A simple studded bow is all it takes for you to incorporate the popular trend into your standard attire.
---
3

Ash Onyx Studded Gladiator Sandals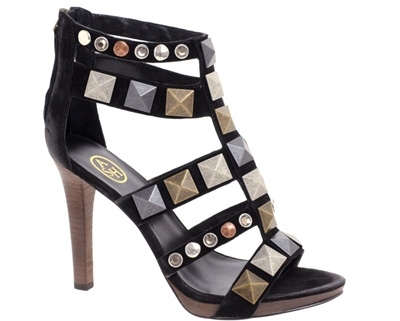 Price: $147.03 at asos.com
If partying in flats simply isn't your style, dress your pretty little feet into these gorgeous, eye-catching gladiators! There will not be a male you won't be able to conquer and a female who wouldn't want to test her fighting skills on you. So, look fab, have fun and play fair - no "trespassing" (*wink).
---
4

French Connection Studded Sandals

Price: $98.62 at asos.com
Not into the whole edgy style but you'd still love to keep up with the trends with a pair of fab studded shoes? No problem! Here's a pair of classy French Connection babies to keep your feet properly chilled during those upcoming summer heats and your style fly but not over the top or even age-inappropriate. Ideal for preppy chicks, business ladies and stylish moms!
---
5

Not Rated Tough Cookie 2 Studded Sandals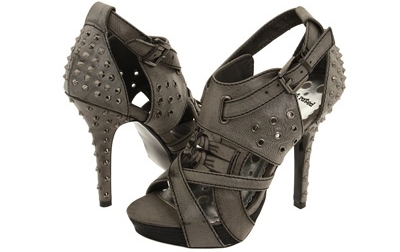 Price: $44.99 at zappos.com
Available in black and grey, these edgy studded sandals won't break your piggy bank or make you do two summer jobs just to be able to afford them. Yes, young divas, I'm talking to you. They are stylish, affordable and probably something you'd want to have in your closet, just in case an important party comes up. Now, I'm going to say something that might sound silly to some of you but I simply must do that because I've seen a lot of young girls doing that –Don't wear them in school because that's just not cool.
---
6

Ed Hardy Herve Pink Pumps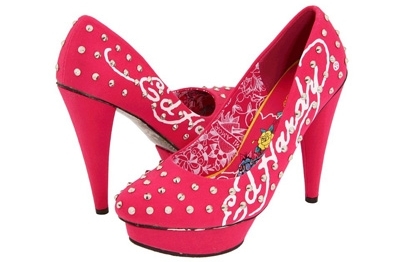 Price: $71.25 at zappos.com
But why stop on black, camel or gray when there is a whole bunch of other eye-catching colors and fab studded shoes that desperately need an owner? Don't let these zany Ed Hardy pumps stay homeless for a long time because I bet they aren't having a lot of fun stuffed in a box at Zappos!
---
7

Chinese Laundry Hot Island Sandals

Price: $168.15 at zappos.com
Gianmarco Lorenzi shoes cost a fortune so why not opt for a great but significantly cheaper solution coming for the creative land that goes under the name Chinese Laundry? I mean, just look at them! They have it all- the studs, sky high heel and that gorgeous sandwich platform that always takes our breaths away on Lorenzi creations.
---
8

Sam Edelman Lorissa Peep Toe Pumps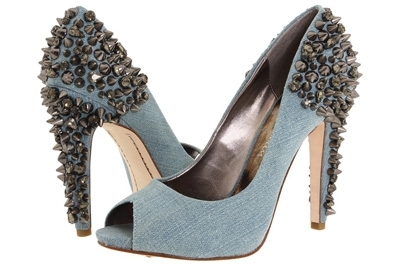 Price: $199.95 at zappos.com
I'm saving the best for last this time because I know you'll find these fab studded shoes as breathtaking as I do! Wow, wow and double wow! I don't know what to say or what to write, they are just…. WOW! You know what's the best part? They are available in like five different colors so if this denim blue just doesn't seem right to you be sure to check out the white, black, python and nude ones!
So, tell me- which pair of these fab studded shoes do you like the most? My vote goes to number 8, because they are to die for, and number 4 because they are just so nice and kind of stylishly neutral.
---
Popular
Related
Recent