Oh, shoes! My one true weakness, my greatest fashion love! There are so many designers I love, among them the retro-inspired but thoroughly modern Poetic License. I've been coveting a few of their newer pairs, and once you see them, you'll understand why. Here are 7 cute shoes by Poetic License.
---
1

Charmed Life Heel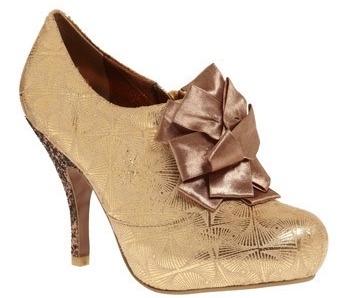 Price: $118.99 at modcloth.com
While the rest of us struggle to find just the right shoe to wear with our best LBD, or a pair to wear with our work-week tweeds, it's smooth sailing for you because you cleverly snagged the last of these gorgeous gold shoes. They're adorned with satiny ruffles at the almond-shaped toe, and are made of a rich brocade… and that heel!
---
2

Color Odyssey Wedge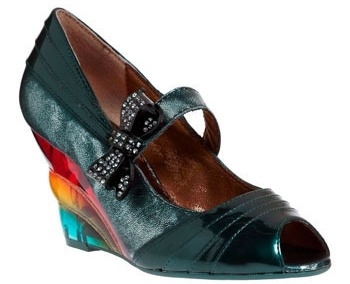 Price: $139.99 at modcloth.com
If you've ever seen a more beautiful shoe, raise your hand. What, no-one? I didn't think so! For how could any shoe be lovelier than these, with translucent rainbow-hued wedges, lined in gold glitter, classic Mary Jane styling with a sparkling bow at the buckle, and a teal metallic leather upper? Pair with thick raspberry or plum leggings or tights and a demure dress for max impact.
---
3

Too Cute for Words Heel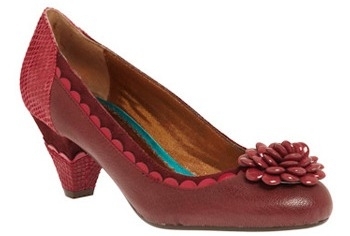 Price: $99.99 at modcloth.com
Available as shown, in a red color, or in navy with cream trim, these heels are indeed too cute for words, but I'll try anyway. Note the faux snake-skin on the heel and the shiny beaded rosette at the toe, then the scalloped piping that winds its ways all around the shoe. Pair with a short skirt and cream leggings, or with skinny jeans and a cropped cardi.
---
4

Presto Heel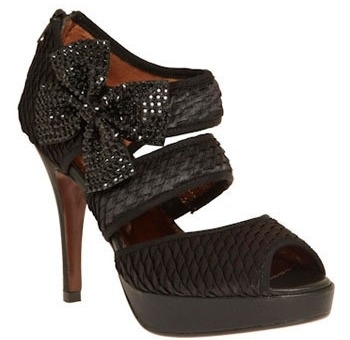 Price: $133.99 at modcloth.com
Those of us who've never worked as a magician's assistant crave that allure, that magic, and it seems we can finally secure some simply by wearing these stunning platform peep-toes. They feature three distinct black fabrics on the upper, all tied together with a glittering bow at the ankle and a surprisingly comfortable 4½ inch heel with a 2½ inch platform.
---
5

A Many-Splendored Thing Heel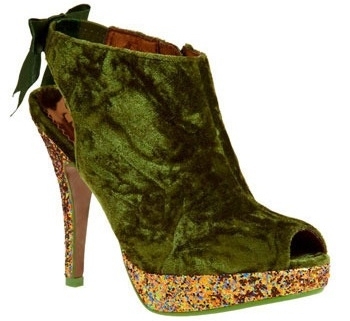 Price: $122.99 at modcloth.com
I fell in love with these chartreuse crushed velvet sling-backs before I even noticed their rainbow-glitter encrusted heel and platform. Naturally, that just encouraged my devotion, and now I must have a pair. I also adore the satin bow at the heel and the pretty peep-toe. I'd wear these with a short floral-print skirt and a solid-color top tucked in…
---
6

Cute Couple Heel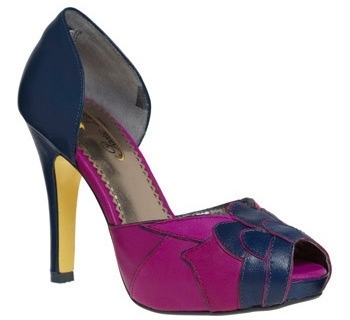 Price: $133.99 at modcloth.com
Look closely at the art deco-inspired detail at the toe, and you'll be enchanted with these peep-toe heels. Soon, your only real debate will be in which color to buy them, the blue and purple (as shown) or the more neutral but still eye-catching brown and cream. Either would add a much-desired layer of lady-like style to your closet, so the color choice is really just a matter of preference… or, you could just try both!
---
7

If It Ain't Got That Bling Heel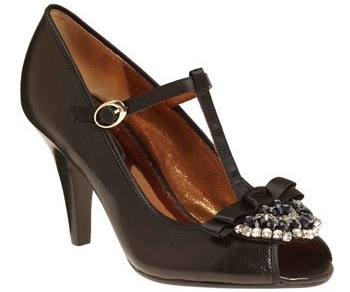 Price: $104.99 at modcloth.com
Looking for the perfect pair of pumps to go with that gorgeous green vintage cocktail dress you found last week? These may be just the thing, with a skinny t-strap, peep-toe, and modest 3 ½ inch heel. And did you notice the extra sparkle and shine of the rhinestone embellishment at the toe?
With so many incredibly gorgeous, completely unique shoes to choose from, it's going to be nearly impossible to say which Poetic License heel or wedge is your favorite, but try… which of these shoes do you like best, and what would you wear them with? Do tell!
More
Popular
Recent