As I've said before, I love going around barefoot in the spring and summer, but that isn't always practical. As I've also said, when I can't go around with naked feet, I like shoes that make it seem like I am. There are all sorts of different shoes to wear in warm weather, but here I'm focusing mainly – not solely, but mainly – on thongs and flip flops and things, some of which are completely casual, some of which are casually cool, and some of which are downright dressy!
Table of contents:
1

Nine West Kasimis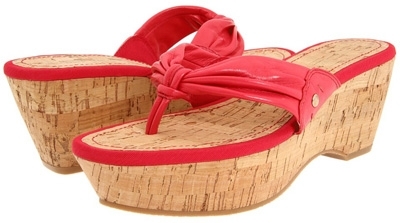 Price: $69.00 at zappos.com
These are saved from being entirely casual thanks to the foot beds, which are made of cork. I always love that style, although I have to be in just the right mood to wear it. Besides that, they're platform thongs, which you can easily pair with a colorful outfit to wear out to dinner, to the movies, shopping, and so on – and since they're cushioned, they'll also be quite comfortable.
2

Through Thick and Thin Gator Skin Sandals

Price: $22.99 at shopruche.com
These remind me a little bit of gladiator sandals due to the design of the ankle straps, but they're a really cute take on that trend, which is getting kind of overdone. Depending on what you'd wear these with, they could be casual or sort of casual dressy, which is always nice. They're also extremely light, which makes them great shoes to wear in warm weather!
3

Naturalizer "Denton" Slide

Price: $49.90 at shop.nordstrom.com
See? I told you it wasn't all about flip flops! I don't even know why these caught my eye, except that I really like the basket weaving on the strap. It looks a little like leaves or something, and that's really appropriate. Plus, even in hot weather, you need heels, something that will give you a little class and grace without entirely caging your foot.
4

Nike Comfort Thong 2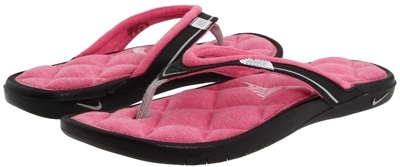 Price: $28.00 at zappos.com
Um, I want these right now. Like, I might seriously have to put in an order after I finish. It's not even primarily the fact that they're pink (and don't worry, they come in many other color selections as well), they just look so comfortable! These are great shoes to wear in warm weather as well, and the style I favor when I'm doing things like walking the dogs, going to the market, and so on. They look great with both shorts and jeans, plus they look so comfy!
5

Magnificent Metallurgy Sandal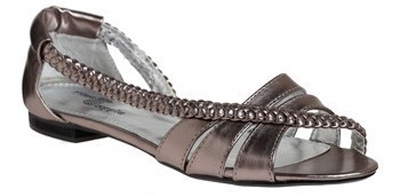 Price: $29.99 at modcloth.com
These are just gorgeous as well. This is the kind of shoe you need when you don't want to wear anything too bulky or hot, but you still want to look stylish and dressy. These are really innovative as well, what with the strap on one side and the open air on the other – plus I love a metallic shoe when it's done well, you know?
6

Birkenstock "Madrid" Birko-Flor Sandal

Price: $49.95 at shop.nordstrom.com
I can't help it, I love Birkenstocks. Specifically, I love this style of Birkenstock. Not only are they fantastic shoes to wear in warm weather, but they're extremely comfortable and quite versatile as well. They're not really dressy, true, but they still look good with anything from jeans to shorts to casual skirts and dresses. I don't know about you, but I always favor a shoe I can wear with practically anything.
7

Straight to Your Heart Ballerina Sandals

Price: $82.99 at shopruche.com
Okay, I just couldn't help including these. They're so darling! You know about me and pink by now, and you probably know about my ballerina obsession as well. These lace up beautifully, and they're just so feminine and cute! I mean, they have ribbons! I could die.
Granted, there are a lot of shoes to wear in warm weather, these are just the ones that struck my fancy. I would love it if I could go around in either bare feet or flip flops the entire summer, without even thinking twice about it. Which do you prefer, pretty shoes or naked feet?
Please rate this article