We all love a bit of glam in our lives, and what better way to achieve just that is there than with glittery shoes? To me, glittery shoes aren't always risqué. I have friends who can take them to the extremes, and still look ridiculously gorgeous! In recent years, we have seen glittery brogues, Oxford shoes, sneakers, and of course the good old classic heels. Here are some glittery trends I think YOU should get behind.
---
1

Glitter Slip Ons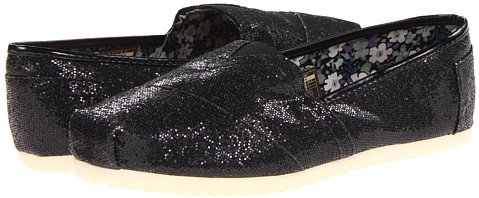 Whether you just want something cool to walk around your house in, or dazzling shoes that are also comfortable, glitter slip ons are a must-have. I especially like black, because I am not the type of girl who is too sparkly when dressing up. However, I do recommend brave ladies trying out gold or silver. Glittery shoes that are also super-comfy are just too good to miss!
2

Glitter Flats

You don't even have to be brave to wear glitter flats in any color, in my opinion. If you are like me and your feet refuse to conform to the pain of heels on a night out, glitter flats are a life saver. I have friends who genuinely believe no heels= no effort. I don't subscribe to the go hard or go home theory when it comes to heels, so I like glittery flats instead. Nobody, and I mean nobody at all, can argue that glitter flats = no effort!
---
3

Glitter Wedges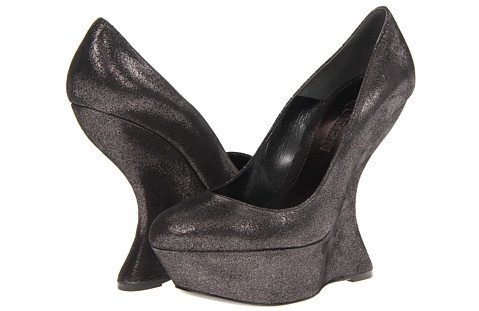 Of course, if you DO like to tower above the world and sparkle in the process, wedges are golden. Usually wedges are still a comfy alternative to heels. Now these beauties from Alexander McQueen are seriously space age. Are we seeing a little re-emergence of the whole space theme from the sixties here? I think so. Don't worry, glitter wedges come in less intimidating forms too!
---
4

Glitter Sandals

Back to the land of flats! Does anybody remember those embarrassing jelly sandals that were so in vogue at the beach a few years back? Me too, sadly. Sort of weirdly, they've re-emerged in adult form. I'm not a fan, but I do love this little compromise above from Vivienne Westwood and Melissa Harmonic!
---
5

Glitter Platform Heels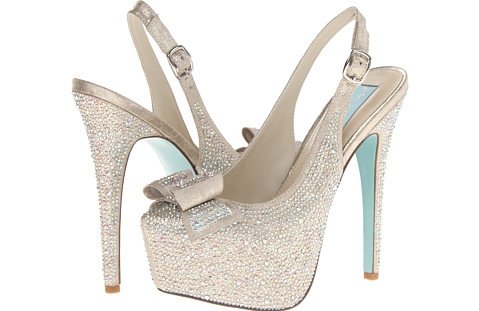 Now aren't these just the stuff of Courtney Stodden's dreams? Who cares if they're more pole than pretty, sometimes it is nice to just have a little something ridiculous in your life! I actually fear for several areas of my spine when I look at this, so I couldn't even contemplate walking in them. You can get less dramatic platforms but I sort of like looking at the more extreme forms.
---
6

Glitter Kitten Heels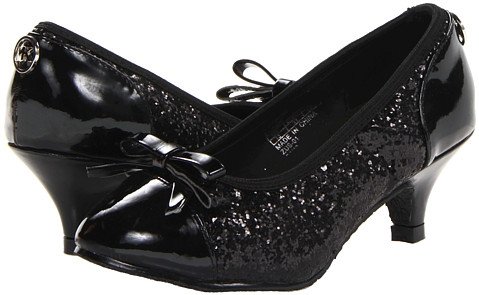 If burlesque beats pole in your book, then glitter kitten heels are better than glitter platform wedges. To me, these really are a modern Wizard of Oz-style compromise. There's a little patent on the go too, which is always a bonus! You can get kitten heels sans the whole laces thing, which I know is news to the ears of women who can't bear to combine laces and heels.
---
7

Glitter Pumps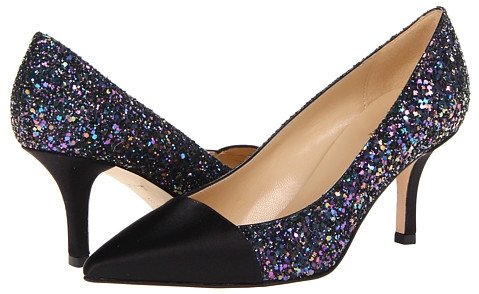 Finally, who can't fall in love with a good old pair of pumps? Traditionally, we may associate pumps with the office. There is NOTHING traditional about glitter. Glitter takes this, the simplest of heel designs, and turns it into something exciting! Personally, I'm dying to find a great red pair, but this multicolored ensemble is good enough for now.
Glitter doesn't always have to be ridiculous. It can be simple and subtle, just enough to catch the light and make you catch someone's eye. On the other hand, you can pack in so much there will be showgirls in Vegas suffering from a deficit. If you love a particular glitter shoe design, what is it and why?
---
Comments
Popular
Related
Recent