Where was I when fringe made a come-back? I'm not complaining, I love it! I'm glad it's here this season, especially in shoes, handbags, and accessories… fringe is so fun to wear! I'm looking to add some fab fringe shoes to my wardrobe, and I've found so many gorgeous pairs… here are 7 fab shoes, with fringe! Check them out…
---
1

The Urban Gal's Oxford Heel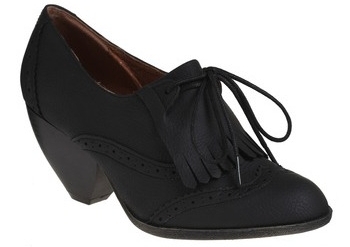 Price: $62.99 at modcloth.com
These oxfords are matte black faux leather with a charming fringe along the toe to accent the vintage brogue details. The cone heel is stylish and sensible, and the toes are almond-shaped, not too pointy or too rounded. How perfect for work-week ensembles!
---
2

Ferry Commute Shoe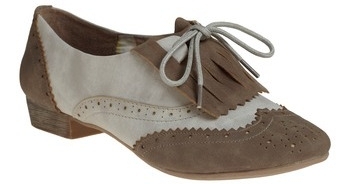 Price: $57.99 at modcloth.com
The first glance I had at these shoes and I thought of a romper, with a sun hat and anklets. They're darling, with fringe at the toes and a brown and beige contrast. The cutouts are utterly charming, and the heel, measuring at a half-inch, means they're comfortable enough for an entire afternoon out.
---
3

Kiltie Pleasure Heel

Price: $141.99 at modcloth.com
My guilty pleasure is Lindt Lindor truffles. My kiltie pleasure is this pair of heels by Jeffrey Campbell! They're a lush rust colored leather with a 4½ inch wooden heel, covered platform, white top-stitching, and kiltie fringe and tassels along the upper. I'd wear these with a long skirt, white blouse, and a wide braided belt.
---
4

Grazing Main Street Heel

Price: $49.99 at modcloth.com
I love t-straps like no other shoes, so I'm delighted that this pair of fringed shoes happens to also be a t-strap, made of rich dark brown faux leather. The fringe cascades down the t-strap, and there's a tiny buckle at the ankle. I'd wear these with patterned tights and an above-the-knee skirt.
---
5

Eye in the Sky Heel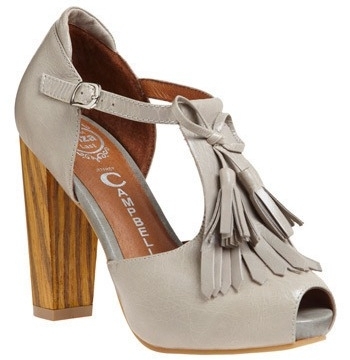 Price: $144.99 at modcloth.com
Ah, another pair of Jeffrey Campbell heels with fringe! These are classic platforms with a t-strap, peep toe, and a flurry of fringe down the front. The heel is light wood, and the upper is dove grey leather. The color screams to be worn with yellow or blue…
---
6

Strapped for Class Boot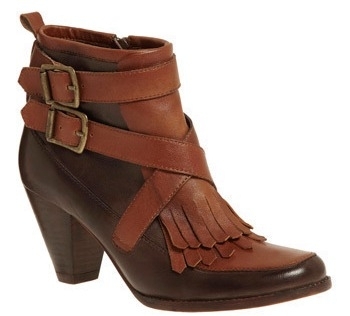 Price: $79.99 at modcloth.com
Okay, one more pair by Jeffrey Campbell and then I'll consider other designers! This pair of boots, though, is too cute to be missed, like something out of a fairy tale. The two-tone leather uppers are criss-crossed by contrasting straps, buckled at the ankle, then topped with a kiltie fringe. They zip on the side for easy on-and-off, and would look marvelous with cropped skinny jeans and a loose Boho tunic.
---
7

Historical Society Wedge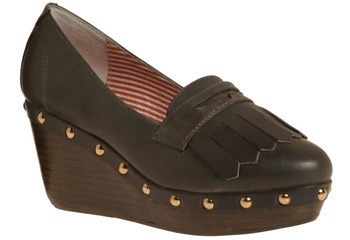 Price: $149.99 at modcloth.com
It's a wedge, it's an oxford… it's both, with some brass studs and fab fringe thrown in for good measure! The color is a neutral slate grey, almost black, so feel free to wear these with anything in your spring wardrobe, from cuffed shorts to a short skirt.
Aren't all of these fringe-ified shoes gorgeous? I especially love the boots… but since it's spring, I'll try the sexy fringe wedges instead! Which of these fringe shoes do you like best, and how would you wear them?
More
Popular
Recent