I am so sick of winter already. Everything is so grey. The once pristine snow is starting to pile up and get all dirty, and it's just depressing. Just when I start thinking that spring is never going to get here, I start looking at shoes because shoes make me happy. They're a great way to introduce bright pops of color into your wardrobe – and those pops can battle the grey days of winter while ushering in the brighter colors of spring. That being said, here are 8 pairs of hot high heels that make me think of spring.
---
1

Anglomania + Melissa Lady Dragon IV by Vivienne Westwood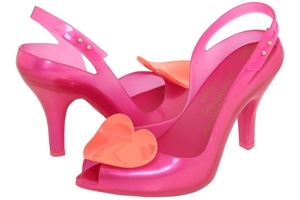 Price: $126.00 at zappos.com
Vivienne Westwood is one of my favorite shoe designers, especially with the spring/summer lines – and for 2011, oh man, there are some gorgeous picks. Like these heels, which are so whimsical and feminine. They come in various color combos, but I had to go with pink. They're made of PVC, which is what gives them that unique look. Plus, with a 3 and ½ inch heel, they aren't so high that you'll fall over in the early spring slush.
---
2

Distressed Leatherette Cutout Heels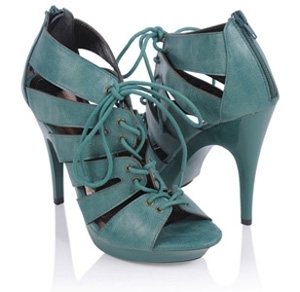 Price: $28.80 at forever21.com
Hot heels don't have to cost a fortune though. I like these because of the structure and the cutouts, because although they're booties (or "shooties," a term I've been seeing frequently as of late), you couldn't really get away with wearing them in the winter. However, I love the soft jade color too. It's very springy and soft, but unique in the shoe world. I haven't seen the shade a lot.
---
3

Peacock Feather High Heel Pumps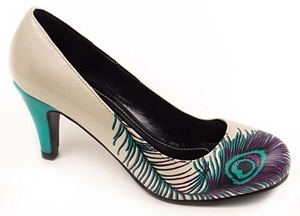 Price: $54.00 at shopplasticland.com
Peacock! I think these shoes are so pretty! Although the primary color is cream, which isn't very dazzling, it makes a great backdrop for the blacks, purples, and turquoise shades of the feather design. Speaking of which, the painting detail on those feathers is exquisite as well.
---
4

Wren II by Bella Vita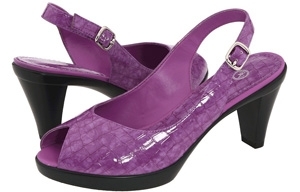 Price: $57.82 at zappos.com
Purple makes me happy. Darker shades, like plum and eggplant, make me think of winter, but this shade is much lighter. It reminds me of violets. However, while I personally find this color the most spring-friendly of the lot, these heels also come in several different colors, all of which are great for the season because it's the design that really seals the deal. Nothing says warmer weather like a peep-toe, after all.
---
5

Purple Couple Heel by Poetic License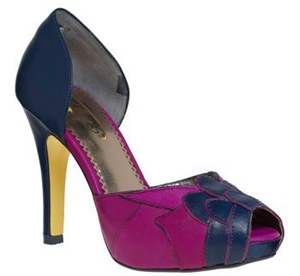 Price: $139.99 at modcloth.com
I told you I love purple! This mix of bright purple and more subdued blue is really beautiful. I don't go in for really pastel heels, although they pop up in abundance once the weather starts to get warmer. Bright colors are great but they can still be dramatic. Something about these heels just reminds me of March – and I love the design on the vamp.
---
6

Going Gaga Hot Pink Patent Leather Pumps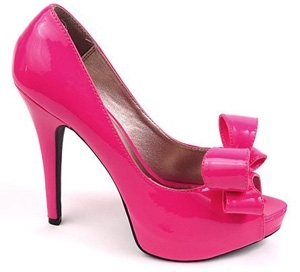 Price: $39.00 at shopplasticland.com
I love hot pink as well, and these heels definitely put the "hot" in "hot pink." I love the Gaga reference as well – but also love that these aren't as outlandish at the name implies. They're actually wearable. That color is so delicious, and with the shiny patent leather, they do look like you could just eat them up. With a shoe this bright, you obviously don't need a ton of embellishments. That single, bubbly, feminine bow is the perfect touch.
---
7

Eva Suede Mules by Diane Von Furstenberg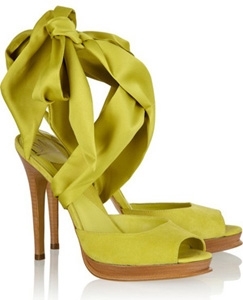 Price: $275.00 at net-a-porter.com
These shoes are pretty pricey, but I love them all the same and wouldn't mind scouting for more affordable lookalikes. The ankle wrap is what really gets to me. It's elegant and edgy all at once. I'm also crazy about the color. A kind of acidic shade of citron, it's like spring with an edge (or on acid), so you can celebrate the sunshine in a really original way.
---
8

Anglomania + 3 Straps Elevated by Vivienne Westwood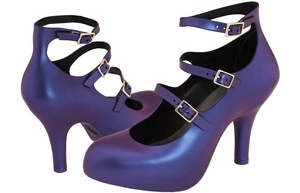 Price: $115.00 at zappos.com
Told you I love Vivienne Westwood, too! I had to have her shoes on this list twice, because I love these heels. I mean, I am crazy out the box for these shoes. I love the color, I love the Mary Jane silhouette, I love the straps, I love everything about them, and I think I might actually have to splurge and get a pair to usher in the spring season properly.
I am really such a stereotypical sucker for shoes. I can't wait until I can wear something other than boots. I've spent the whole winter paying more attention to tread, and I am so excited to be able to choose shoes based on how they make me feel. These are my hot picks for springs, but what are you looking forward to wearing?
More
Popular
Recent