Like so many of you, dear readers, I am a shoe fiend! I love new shoes, especially sandals — they're my own little harbinger of spring! And this spring, I'm particularly fond of sandals by Lucky Penny. Their entire line is totally on-trend, and they're all gorgeous! Here are 7 pretty sandals by Lucky Penny… see what you think!
---
1

Lucky Penny Sveaborg Picnic Clogs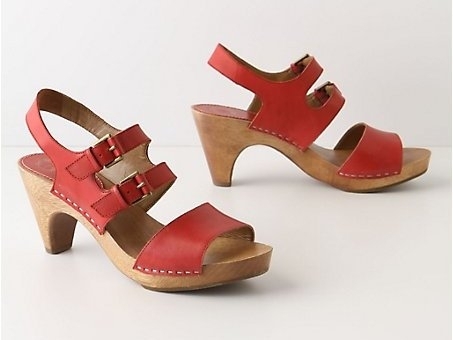 Price: $168.00 at anthropologie.com
What a gorgeous pair of clog! I love the rusty-red color, and the multiple straps are flirty and fun. They're also available in bright blue. Whichever hue you choose, the clogs are made with a leather upper with two adjustable buckles and feature a 3 inch heel.
---
2

Lucky Penny Changeo Clogs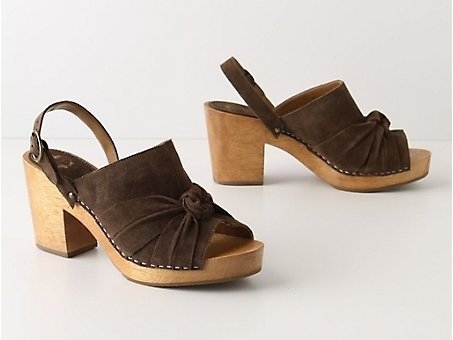 Price: $79.95 at anthropologie.com
These classic clogs by Lucky Penny are made of buttery soft brown suede, knotted into a rosette shape across the top of the toes, with an adjustable ankle strap and wood insole. These look great with maxi dresses and with anything denim.
3

Lucky Penny Triple Chinch Sandals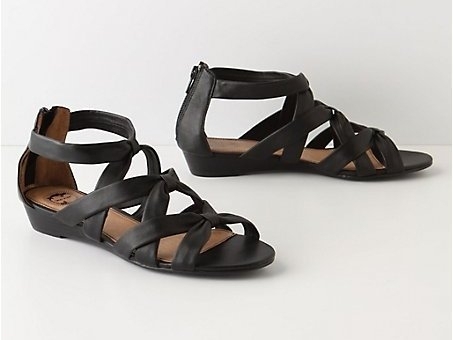 Price: $98.00 at anthropologie.com
Each of the multiple straps that covers the upper of these sandals is cleverly knotted, made of soft black leather. They zip in the back for easy off and on, and feature a comfortable 1 inch heel.
---
4

Lucky Penny Bands & Buckles Flats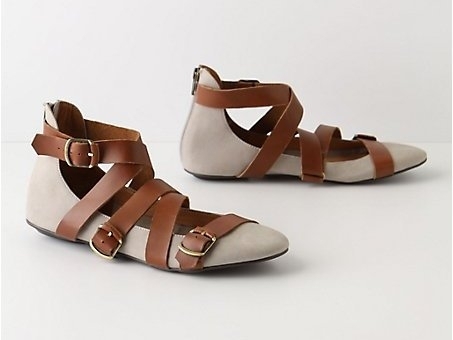 Price: $128.00 at anthropologie.com
These are Lucky Penny's take on beige ballet flats, banded over and over with adjustable leather straps in darker brown. They're available in whole and half sizes from 5 to 11, and look fabulous with everything from floral-print dresses to cropped jeans to yoga pants and a tank.
---
5

Lucky Penny Rockland Sandals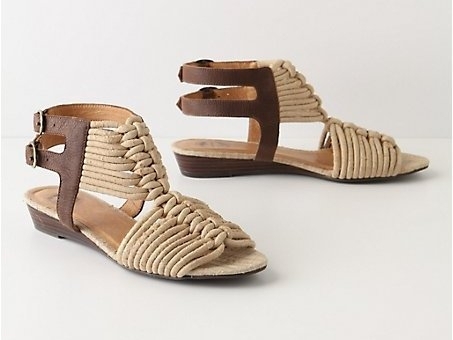 Price: $128.00 at anthropologie.com
These sandals are stunning! They're made of rows and rows of tan leather cording, with a darker brown leather panel at the heel with two adjustable buckles. These look great with denim, and also with linen… pair them with a maxi dress or a tunic and leggings.
---
6

Lucky Penny Rose Remnant Sandals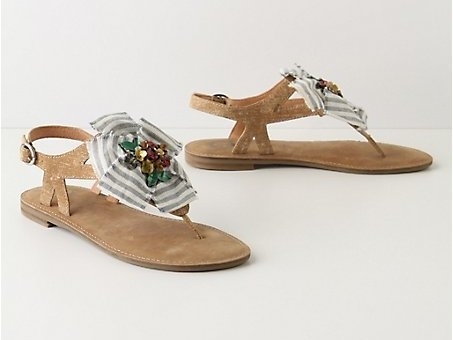 Price: $98.00 at anthropologie.com
Each of these thong sandals by Lucky Penny is topped with a frilly cotton rosette affixed in the center with a gleaming, colorful metallic embellishment. Pair with nearly everything in your spring wardrobe, and wear them for a day out shopping, running errands, strolling the boardwalk, or just lazing in the hammock.
---
7

Lucky Penny Know the Ropes Sandals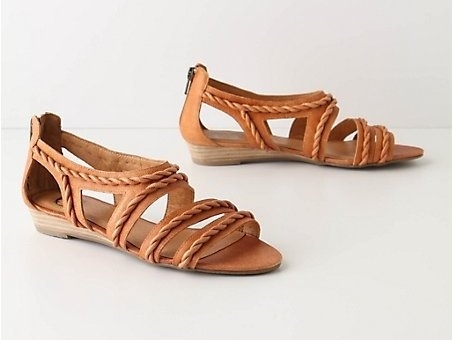 Price: $148.00 at anthropologie.com
Note the tiny 1 inch wedge one these shoes, and the back zip, and marvel at their ease of wear. Then have a peek at the cleverly roped detailing along the loopy straps on the uppers… imagine all of the cuffed shorts, floral frocks, and cropped jeans you can wear these with this spring!
See? Aren't all of these sandals by Lucky Penny adorable? I especially love the Rose Remnants… I could wear them with anything in my closet! Which of these Lucky Penn shoes do you like best, and what would you wear them with this spring?
---
Popular
Related
Recent