Whether you're preparing for a hot date or hitting the club solo, these Valentine's Day shoes will get you noticed. Complete with sweet heart adornments, each pair celebrates the season of love and devotion. From kitschy-cute sneakers to studded heart boots, there's something for every gal out there. Check out these 7 Valentine's Day shoes below. How can you help but heart these fabulous pairs? Xoxo!
---
1

Play Comme Des Garcons Converse Sneakers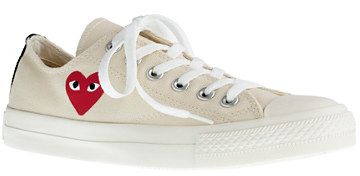 If you can't get enough of cool Converse kicks, try these Valentine's Day shoes on for size. Designed by graphic artist Filip Pagowski and Japanese designer Rei Kawakubo, this pair lets you wear your heart on your shoe. I'd slip them on over a pair of colored tights and a flirty flared skirt. Buy 'em now on J. Crew for $100.
---
2

Lanvin Heart Print Pump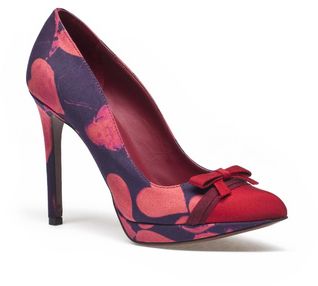 Ditch your boring black pumps for heart heels that'd make any girly girl (and her guy) swoon. The 4.4 inch heel will make you feel model tall. Meanwhile, the pair's heart and bow detailing are February-perfect. Wear them with your favorite little black dress for a fancy dinner date with the beau. At $390, these Lanvin pumps are pricey, but if you have cash to spare, they're so worth it. I have a feeling more than a few of us are adding these to our Valentine's Day wish lists!
---
3

Heart Print Canvas Ballet Flat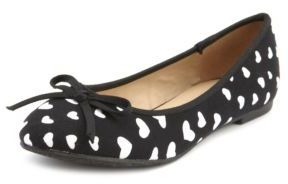 If you're not a pink, red, and purple type of girl, these ballet flats have got your feet covered! They're comfy (meaning you can stroll through the park with your honey pain free) and come in a classic black and white pattern. I'd wear them with skinny jeans, a blazer, and a satchel bag for a casual Valentine's Day date. Find these now on Charlotte Russe for $22.50.
---
4

Love Moschino Heart Biker Boots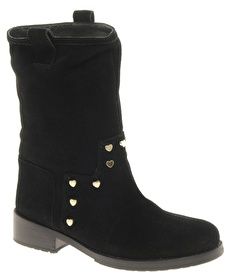 The moment I saw these badass biker boots, I fell for them…hard. Gold-tone studded heart detailing packs on the girly charm, so don't hesitate to slip 'em on before meeting your date (or your gal pals!). I'd wear them with leather skinny jeans and a silk blouse for a sexy, no-nonsense going out look. Get them now on ASOS for $253.30.
---
5

Adidas Honey Gold Heart Mid Sneakers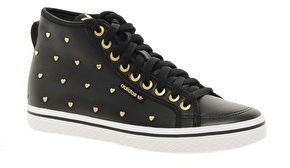 Class/work/errand-running on Valentine's Day? Don't let your workload get you down, 'cause these heart-adorned sneakers are both comfy and chic. Whether you're writing a paper or waiting on line at the post office, expect compliments. I'd wear these with a casual-cute skirt and patterned tights. Buy them now on ASOS for $105.54.
---
6

Betseyville Heart Flats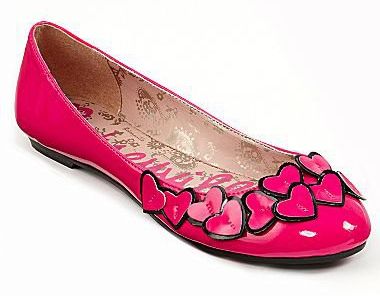 Calling all Valentine's Day fanatics: These heart-embellished flats prove that love is in the air…or at least on your toes! I adore the notice-me pink hue, which will liven up any neutral outfit. Pair them with a pleated leather skirt, black tights, and a white button down for a day at your internship. Who knows? You might catch a cutie's eye as you're fielding phone calls! Buy them now on Wanelo for $24.
---
7

Heart Takes Flight Wedge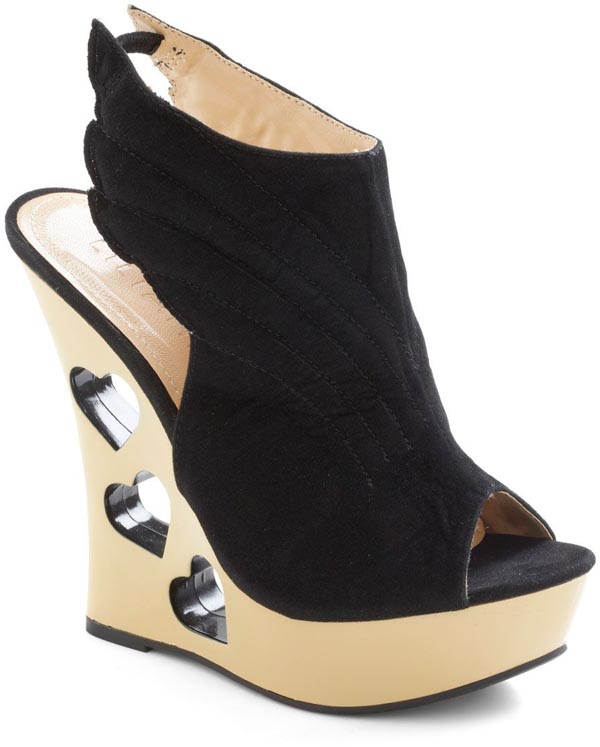 Forget the sweet treat! These peep-toe wedges will give you a major rush (and make you look inches taller!). The vegan faux-suede is perfect for animal lovers who want to celebrate the season of love in style. I'd wear these with a sultry red sheath dress to go all out. Find them now on ModCloth for $59.99.
These Valentine's Day heart shoes are flirty, fresh, and oh-so-fabulous. Which ones are your favorites? Do you have any of your own picks to add to the list?
More
---
Comments
Popular
Recent