Ah, espadrilles, the coy, flirty cousin to the wedge. They're fun to wear, comfortable all day, and uniquely chic. Now that spring has most decidedly spring, even here in Michigan, it's time to investigate a few new pairs. Here are 7 pretty espadrilles, ideal for adding to your spring-time wardrobe.
---
1

Shoelace Espadrilles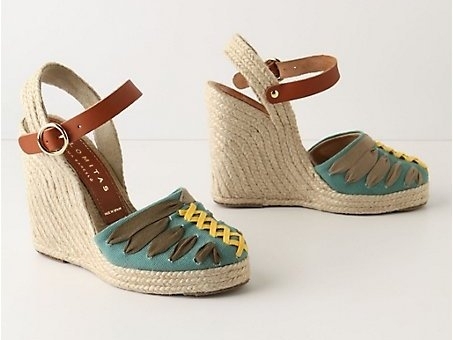 Price: $178.00 at anthropologie.com
Who knew espadrilles could be so colorful, so whimsical? These are, though, and they owe much of their whimsy and charm to a criss-cross of laces across their canvas uppers, all in brown and yellow. At the ankle, there's an adjustable buckle to ensure a perfect fit, so these espadrilles are sensible and pretty!
---
2

Marine Depths Wedges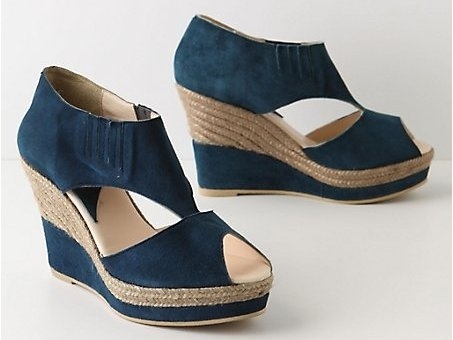 Price: $148.00 at anthropologie.com
The contrast of the faux blue suede against the jute-wrapped platforms of these espadrilles is eye-catching, making them the ideal choice for wearing this summer. Their t-strap and peep-toe styling is unique and airy, but I keep coming back to that color combination… I love it!
---
3

Espadrille Sneakers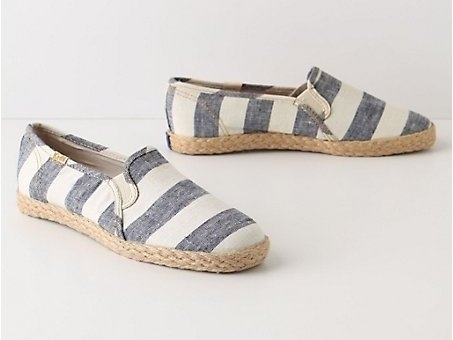 Price: $45.00 at anthropologie.com
These relaxed slip-on tennis shoes are made for keeping by the back door, easy to slide on before you head out the door for a day of adventure. They feature widely striped cotton uppers with a hemp braid along the sole. Who says casual can't be pretty?
---
4

Fiery Foliates Espadrilles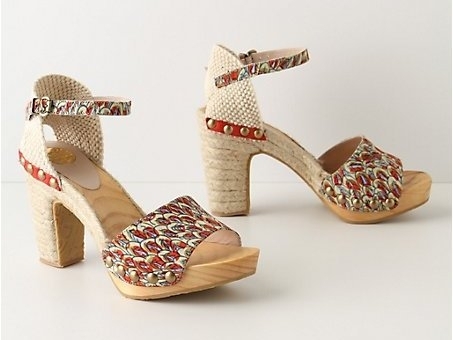 Price: $228.00 at anthropologie.com
Wow, I love these shoes! These pretty espadrilles combine all of my favorite elements of style: the jute-covered heel, the wooden clog look, a pretty ankle strap, peep toes, and best of all, a leafy red botanical print on the silk and cotton uppers! I can't think of anything in my spring or summer wardrobe I can't wear these with… gorgeous!
---
5

Etruscan Espadrilles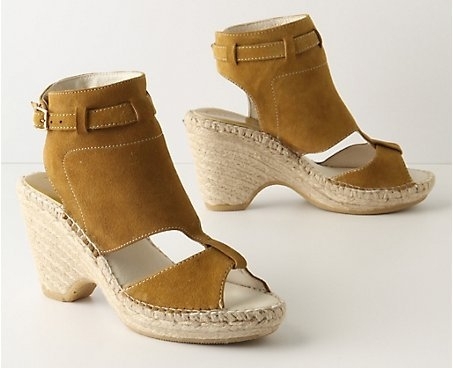 Price: $198.00 at anthropologie.com
Are these ankle booties, or espadrilles? Perhaps they're both, taking the best design cues from each to create this pretty pair of shoes. The uppers are made of soft synthetic leather in lush sandy brown, with a peer toe and t-strap and ankle-bootie upper. Pair with cropped trousers or a knee-length skirt.
---
6

Maracay Espadrilles

Price: $128.00 at anthropologie.com
Featuring a raffia wedge and textured canvas uppers, these lace-up espadrilles are sure to add plenty of style to your spring-time ensembles, from linen Bermudas to floral-print tunics and leggings. The wedge is a walk-able 3½ inches with a ¾ inch platform.
---
7

Spectator Espadrilles

Price: $138.00 at anthropologie.com
These may be the cutest, girly-est spectator pumps I've ever seen, with ruched uppers and a pretty peek toe. I love the lace-up styling and the jute-wrapped wedge, too… wouldn't these look darling with a sheer ruffled blouse and knee-length skirt?

With so many chic, stylish espadrilles to choose from, there's bound to be at least one pair you'd love to add to your spring wardrobe! I adore those dark blue ones… they're so pretty! Which of these espadrilles do you like best, and what would you wear them with?
More
---
Popular
Recent