I've sort of changed my mind about UGGs – sort of. And when I say I've changed my mind, I mean that I don't mind the style so much. After spending my second winter in New England, which happens to be the worst winter ever, I understand the need for sturdy, comfortable boots. I guess my main deal with UGGs is that they're so uniformly expensive and everyone up here has color coordinated pairs. I don't want to be like everyone else! But that's all right, because tons of brands are kind of going for UGG appeal, most of them at a fraction of the cost. For instance, here are 7 boots to buy that aren't UGGs – but are still cool!
---
1

Converse All Star XX Hi Boots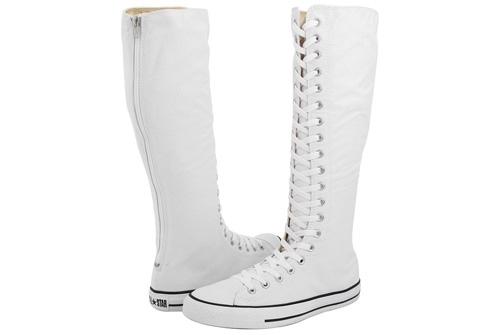 Price: $65.00 at zappos.com
I love Converse; their high tops are some of my favorite styles of shoes. And here, they're high enough and sturdy enough to handle 84,000 inches of snow – or at least 3-4, which is about the average out in my poor little yard. They're knee high, and the thing is, these will even look cute in spring!
---
2

Bogs Classic High Boots

Price: $95.00 at zappos.com
These are a little different from UGGs, obviously. For one thing, they're totally waterproof, which is so important right now. They're also extremely comfortable, with an insole made to breathe – and it's resistant to odor! Well, that's always a plus. I hate it when I get stinky feet, you know?
---
3

Spring Carlone Boots

Price: $79.99 at zappos.com
If you want something a little fancier and prettier, however, hear you go. The suede is faux, so while it's attractive, it's a little more durable since it's a synthetic. The soles are cushioned, so you get comfort as well as traction, which is pretty much vitally necessary with all that snow and ice out there. Plus you could wear these with just about anything, because they're both functional and fashionable – always a plus.
---
4

Patagonia Bandha Tie Boots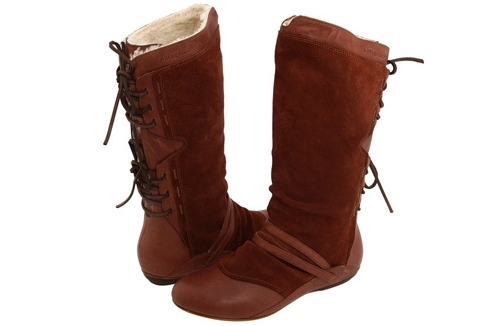 Price: $160.00 at zappos.com
All right, I know these are about the same price as UGGs, but the thing is, you get your money's worth … plus you're not as apt to run into three different people wearing the same style as you within a two block radius. They've got a faux shearling lining for warmth, plenty of support, pigskin lining in the foot bed, and the rubber heel is even recycled!
---
5

Justin Gypsy Flower-round Toe Boots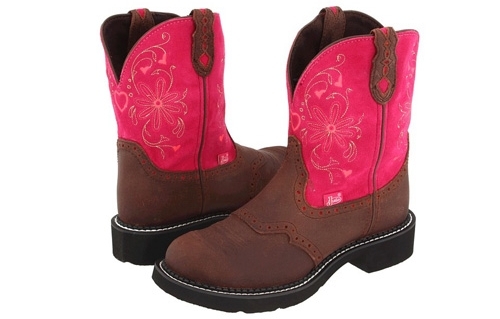 Price: $86.00 at zappos.com
I like these because they look pretty much exactly like a cowboy boot, but they're really not. Their insoles are cushioned and incredibly dense for comfort and you get plenty of traction – which, again, is what you need to look for in a winter boot. Plus, you wouldn't be embarrassed to be seen in these because, once more, functional and fashionable!
---
6

Gabriella Rocha Jadzia Boots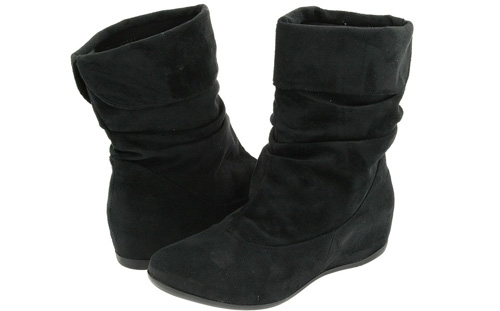 Price: $59.00 at zappos.com
This slouch boot is probably worth any pair of UGGs you can find. I love the style so much, with its folded over collar and its charming slouch. This isn't the only color you can get, but I love greys and blacks more than browns, because they match my wardrobe more.
---
7

Blowfish Harper Boots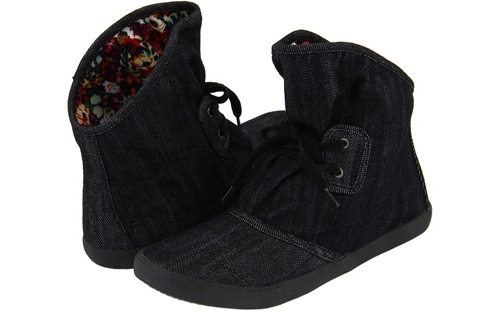 Price: $39.95 at zappos.com
And I saved the least expensive boots for last! Aren't these cute? I actually want a pair right now. The upper fabric is denim, which is pretty inventive. These are actually boot-sneakers. They're like shooties or something. They slip right on but also lace up in the front, and look as comfortable as a dream.
I swear, once shoe stores start getting their spring lines in, I'm going to go buy up a ton of boots on sale for next winter. Of course, next winter there probably won't be any snow, but that's all right. A girl can never have too many shoes – or boots. What do you look for in the perfect winter boot?
More
---
Popular
Recent