I, like nearly every other woman in the world, love shoes. I especially love shoes that are unusual, and love wearing "statement" shoes the way other girls wear statement jewelry. There aren't many designers that offer shoes that make a statement on their own, so once I find a brand I love, I buy nearly everything in their line, or at least covet the ones I don't buy. One such brand is Irregular Choice… doesn't their name imply that their shoes are a bit unusual? Here are 8 irresistible shoes by Irregular Choice.
---
1

The Eye-Catching Heel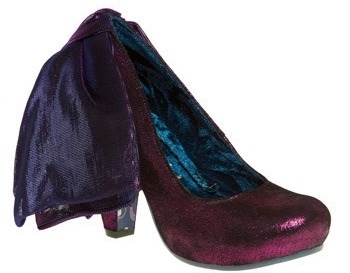 Price: $139.99 at modcloth.com
As if the brilliant amethyst color and curvy shape weren't enough to catch your eye, the shiny over-sized bow at the heel sure would be. I'd wear these gorgeous things with menswear-inspired grey flannel trousers, a crisp white blouse, and a discreet black bag.
2

Amadeus Heel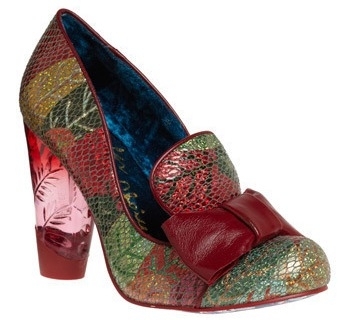 Price: $121.99 at modcloth.com
Clearly inspired by the shape and texture of shoes from a by-gone era, these heels are all vintage details. They're made of a snake-skin print leather, multi-hues, with gold detailing, a pert red bow on the toe, and my my, look at that heel! It's translucent, with a delicate red leaf print. Stunning!
---
3

Words Can't Express Heel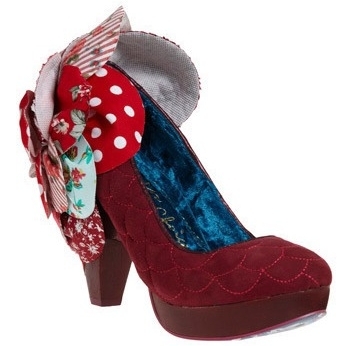 Price: $137.99 at modcloth.com
Truly, these heels leave me at a loss for words. I don't know quite where to begin to describe them. Perhaps the quilted red velvet uppers, or the spiffy scalloped embellishment at the heel? If red's not your thing, they're also available in blue… and they're just as stunning, shocking, statement-making, regardless of which color you choose.
---
4

Off to See the Wizard Boot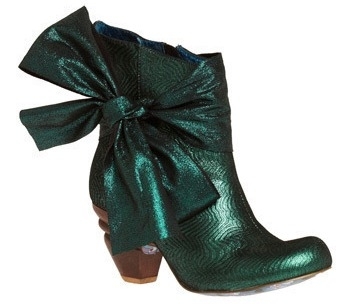 Price: $ at modcloth.com
If Dorothy'd had these magnificent green lame ankle boots, the story would have turned out differently, for sure. First of all, she's sure to have strayed from that yellow brick road and gone off in search of something more fun and exotic, and she never would have even bothered with Kansas. She would have fallen in love with the brocade print, the rainbow zippers, and the brilliant bow at each side… and she'd have found a way to stay in the Emerald City for sure.
---
5

Storybook Forest Boot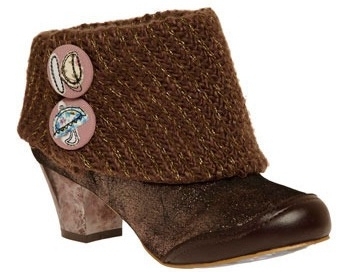 Price: $159.99 at modcloth.com
Surely there's a better way to end a story than with "they lived happily ever after." Or perhaps the storybook heroine never had boots like these. They're adorable, ideal for wearing with a creamy knit tunic and patterned leggings, with their turned-down sweater cuff, adorned with sweet tea-time buttons.
---
6

So Very Cherry Heel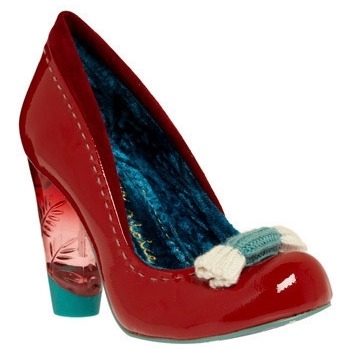 Price: $129.99 at modcloth.com
These, my dear, are the polar opposite of those tame, demure Mary Janes you've been wearing lately. They're made of slick red patent leather with a sky-high stacked heel and a candy-shaped decoration at the toe. There's also that plush velvet trim along the inside of the foot-bed, and let's take another look at the heel, shall we? Even the soles of these heels are fun, with a little bunny print that's almost to sweet to tread on.
---
7

The Brunswick Heel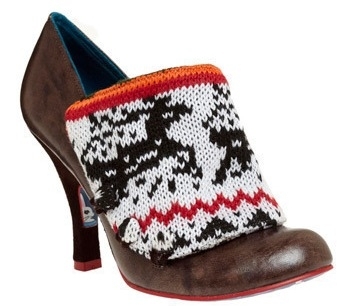 Price: $128.99 at modcloth.com
It may be chilly outside, but that's no reason to give up your chic style in favor of chunky, clunky boots. Try these heels instead, with an alpine-inspired sweater-knit upper, rich brown leather toe and heel, and a cute bunny peeping put from around the heel. Add a pair of skinny jeans and your favorite cable-knit pullover and suddenly the winter weather is no match for your fashion sense.
---
8

Unde-feet-ed Boot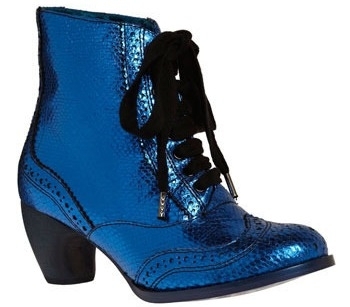 Price: $158.99 at modcloth.com
You refuse to be relegated to the basic black or boring brown boot, and prefer these eye-catching oxford-inspired lace-up boots instead, in the most brilliant of metallic blue. I'd wear these with a slinky sequined LBD and black patterned tights.
Any of these amazing shoes would make quite a statement… and that statement would most likely be a loud and clear "she's so stylish!" Which of these Irregular Choice shoes do you like best, and how would you wear them? Do share!
---
Popular
Related
Recent