Classic pumps are just that – classic. You can wear them during the day or during the evening, knowing all the while that they look fantastic. They'll go with just about any outfit as well, so you can really take advantage of their versatility. As you'll see, the most classic pumps for spring are nude, beige, or black. Those are truly classic colors that work with neutral shades or vibrant hues, so you really can't go wrong! If you need some new but timeless shoes for the coming season, here are some classic high heels that will definitely work for you!
---
1

Jimmy Choo Lizzy Patent Leather Pumps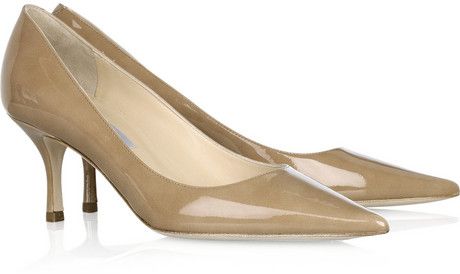 Price: $495.00 at net-a-porter.com
Jimmy Choo has a lot of classic pumps, as you'll no doubt see here. I love this pair for several reasons: they've got a little kitten heels, so if you don't want something too high, they're perfect, and that pointed toe is precious. Wear these to work without worrying about how your arches will feel at the end of the day, wear them during a day out, or wear them during a nighttime function with a sleek, femme cut suit.
---
2

Jimmy Choo Cosmic Suede Pumps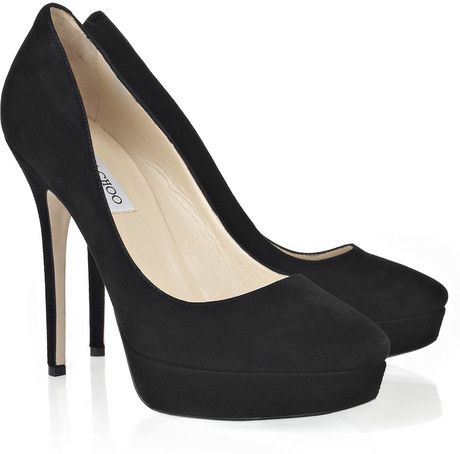 Price: $695.00 at net-a-porter.com
These classic pumps for spring have the right name, because those heels are out of this world! These pumps are plain black but have timeless appeal thanks to the shape and, again, the heel. Made of suede, they'll work for casual outfits, business attire, and more formal dresses, so feel free to go from day to evening without changing your shoes. They easily hold their own with bold patterns and bright colors as well!
---
3

Miu Miu Leather Platform Pumps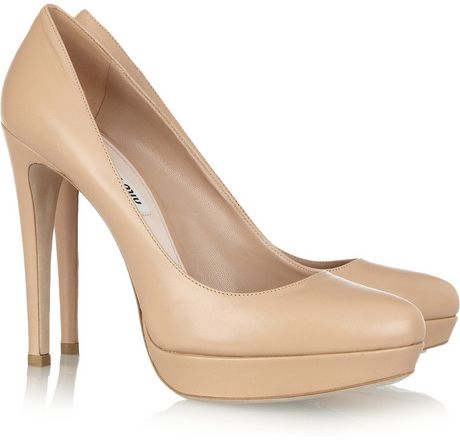 Price: $645.00 at net-a-porter.com
You can't get more classic than these platform pumps. I love the shape, the simple but chic design, and the matte look. You can easily wear these with a business suit or a colorful skirt and sweater outfit. That's the nice thing about nude and beige shoes – you can wear bold, bright shades without worrying that your shoes will clash with your outfit.
---
4

Christian Louboutin Decollete 100 Glossed Leather Pumps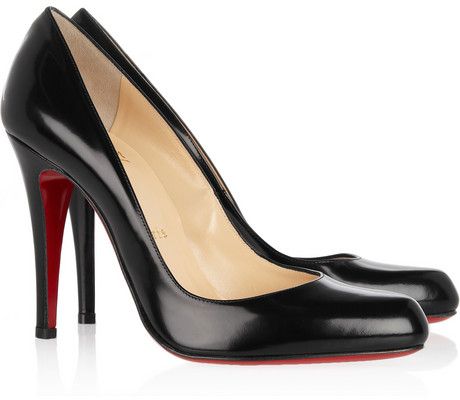 Price: $625.00 at net-a-porter.com
If you're looking for classic pumps with a little bit of zing, you know Christian Louboutin has you covered. The racy red soles add a pop of color and let you flash that signature look as well. With this pair, though, the silhouette is a little bit saucy, so again, you can go from day to evening without sparing a thought for your shoes.
---
5

Valentino Bow Embellished Patent Leather Pumps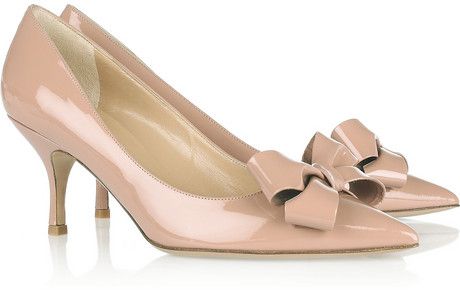 Price: $645.00 at net-a-porter.com
When you're choosing pumps for spring, you always want to look for little details that add some spice to the shoe. In that regard, I think the bows on these little pumps are the best. Wear them with your cutest cardi or skirt set, throw on a strand of pearls, and we're talking some serious vintage fashion. So pretty!
---
6

YSL Palais Suede Peep Toe Pumps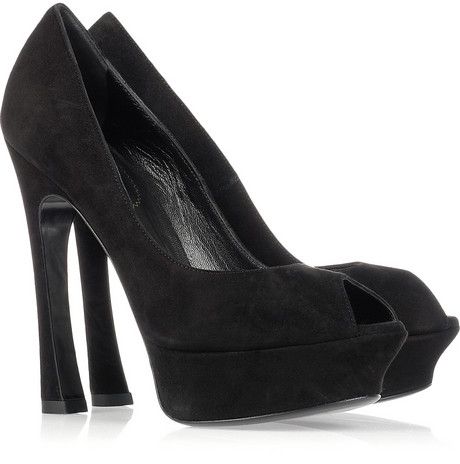 Price: $720.00 at net-a-porter.com
These heels have some serious height as well, so if you want something a little funkier that still falls into the classic range, here you go! They're ideal for spring, thanks to that peep toe, but the nature of the shape and the heels makes them ideal for fancy and fun evenings out on the town. You can't beat that kind of versatility!
7

Guiseppe Zanotti Patent Leather Pumps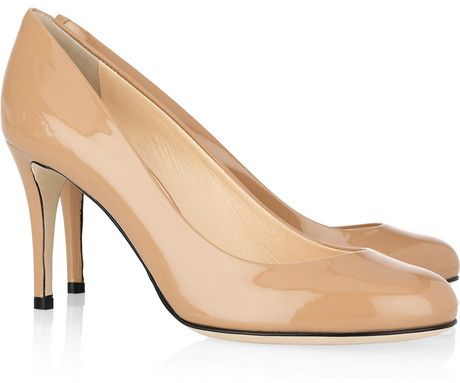 Price: $550.00 at net-a-porter.com
If you want something a little simpler but still super stylish, these classic pumps are a fantastic choice. The patent sheen keeps them from being too simple or bland, they aren't so high that they'll be uncomfortable during work days, and the shape is really innovative as well. The shade and style looks great with tweed, but you can wear these with more casual ensembles as well.
---
8

Gucci Leather Platform Pumps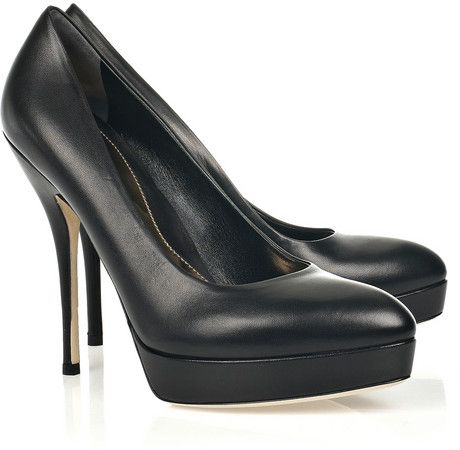 Price: $525.00 at net-a-porter.com
Trust Gucci to come up with some classic high heels that still have some sauce to them. These are sassy! That sumptuous leather gives them such a hot look, so while they'll work with business suits and similar outfits, you can also wear them with the hot dress or daring mini you've been dying to wear out at night.
---
9

Dolce & Gabbana Mary Jane Leather Pumps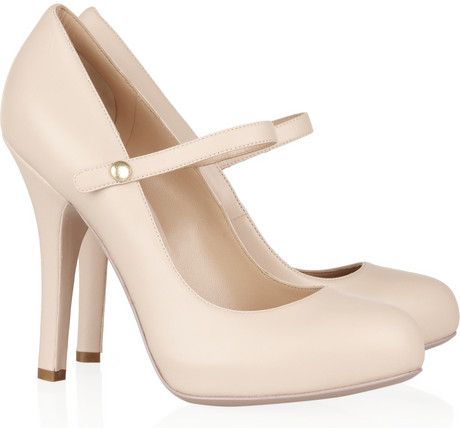 Price: $695.00 at net-a-porter.com
I love mary janes so much, and this pair is absolutely adorable! Thanks to the silhouette, you get that retro Lolita vibe, but the heels and the color keep them totally sophisticated. Pull out your flippy spring skirts to wear with these, try them with a mod dress in a bold color block, or wear them with your favorite office outfit!
---
10

Guiseppe Zanotti Justin Patent Leather Pumps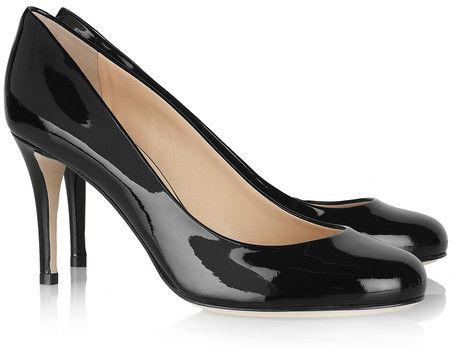 Price: $550.00 at net-a-porter.com
Finally, if you need a simple but chic black heel for a classic look, turn again to Zanotti. These stunning shoes aren't too high, they resemble the beige pair in silhouette, and they've got a sheen that will easily draw attention. The perfect work shoe, but they're also ideal for day to day activities when heels are a must.
You can honestly make classic pumps work for just about any outfit, which is just the bee's knees. Your shoes don't have to be flashy or ostentatious in order to be gorgeous, although you should definitely feel free to pick out some of those as well. Bright colors are always fun, but when you're choosing pumps for spring, make sure to incorporate a more neutral palette as well. What sorts of shoes do you have your eye on this season?
Top Image Source: weheartit.com
---
Comments
Popular
Related
Recent