With the summer sun in full force, you're going to need a pair (or two!) of trusty beach flip flops before you enjoy the sand and surf. A fresh pair of flip flops can make you feel like a million bucks as you're soaking up the sun. Here are 7 pairs that'll make you a siren of the sand all season long!
---
1

Tory Burch Flip-Flop Rubber Sandal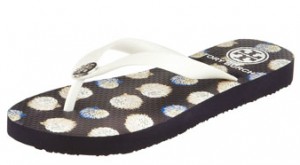 Price: $50.00 at bergdorfgoodman.com
These water-resistant beach flip flops will let you stroll across the shore with ease. With shoes that'll dry in a flash, you can even dip your feet into the cool ocean. And the design is adorable and girly-chic to boot! I'd pair these with a sunny summer sundress for optimal beach fun.
---
2

Colin Stuart Print Flip-Flop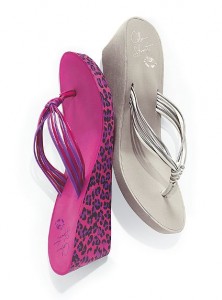 Price: $25.00 at victoriassecret.com
If you're looking for beach flip flops with an edge, check out these pretty prints from Victoria's Secret. The wedge adds an extra dose of sexy to an already hot pairing. I'll be wearing mine with my favorite maxi skirt, casual tee, and an oversized tote to complete that coveted beachy-cool look.
---
3

Mixit Ruffle Flip Flop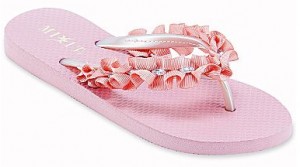 Price: $10.00 at jcpenney.com
These beach flip flops are the perfect combination of sweet and sassy. The ruffles are oh-so-girly but they're as comfy as any sneaker. So go ahead and throw around wet sand with your guy, sans the pain from dodging sandballs in uncomfortable shoes.
---
4

Classic Flip Flops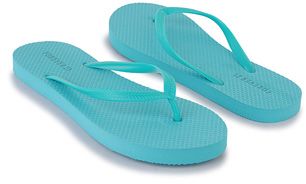 Price: $2.80 at forever21.com
With these classic beach flip flops at your disposal, how could you go wrong? I'd scoop one up in every color (because at this price, they won't be here all season long) to match all of my cover-ups. And since vacation season is in full swing, I'd stow 'em in my suitcase for emergency situations (as in, blistered feet).
---
5

Havaianas: Slim Allegra Flip Flops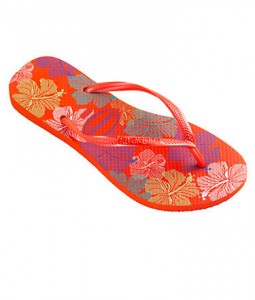 Price: $26.00 at barenecessities.com
Add a bit of Hawaiian floral flair to your ensembles with these beach flip flops from Havaianas. These sandals will last and last –no broken straps or worn down rubber to speak of. I'd rock these with a subtle white sundress to show off my tan and island inspiration.
---
6

Side Bow Flip Flop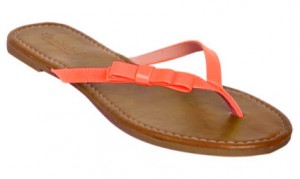 Price: $9.50 at wetseal.com
What's better than adorable side bows? Side bows and neon! You'll be totally on trend this summer thanks to these notice-me beach flip flops. I can't wait to wear mine on the sand with an itsy bitsy bikini.
---
7

The Metallic Boardwalk Flip-Flop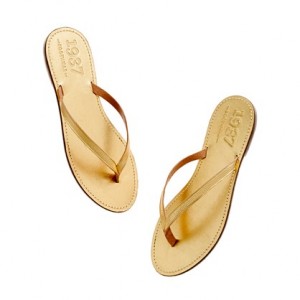 Price: $49.50 at madewell.com
You'll be a Grecian goddess with these golden beach flip flops. While I would kick these off before hitting the ocean (to preserve the leather, ladies!), they'd make any gal the star of the boardwalk. Are you ready to take a bow?
These are a few of the top beach flip flops to keep you looking as cool as an ice cream cone this summer. Which ones are your favorites? Do you already own the perfect pair of beach flip flops? Dish!
Top Image Source: weheartit.com
More
---
Popular
Recent