I am absolutely in love with cap toe flats right now. This is news only because I've been avoiding the ballet flat trend for the longest time, since I could never find a pair that I liked. On a recent excursion to Payless, however, I fell so in love that I ended up buying two pairs of the same shoe (BOGO, y'all!), and now I'm on a mission. If you love this adorable, vintage-inspired trend as well, take a look at these pretty pairs of cap toe flats that keep catching my eye!
---
1

Precious Pastel Flats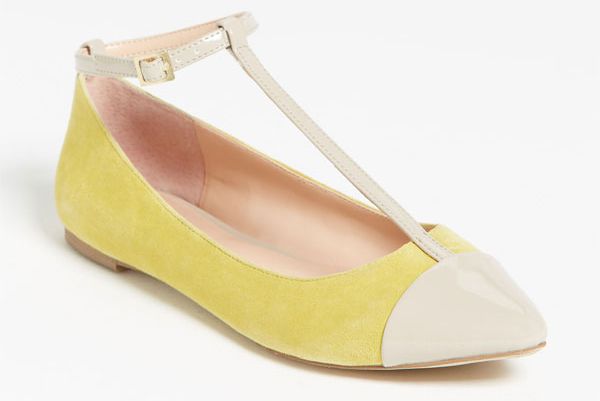 Pastels are practically essential for spring and summer, and that goes for your cap toe flats as well as your sweet dresses and cardigans. If you want a twist on the design, look for something with a T-strap for a vintage vibe that inspires your whole outfit. These are the Julianne Hough for Sole Society "Addy" flats, which you can find at Nordstrom for $49.95, but there are similar pairs at Zappos, Forever 21, and Payless that cost less.
2

Marvelous Mint Flats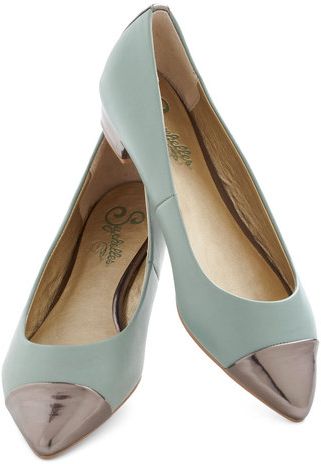 I love these lush mint flats from ModCloth! Seychelles Juniper Flat features the ideal cap toe; the shiny metallic silver looks beautiful against the light green – and it runs up the back as well. Mint is having a definite fashion moment, so you can highlight midi skirts or skinny jeans with this $89.99 pair, or take a look at similar shades and combos from Macy's, Nordstrom, and DSW.
---
3

Chic but Classic Cap Toe Flats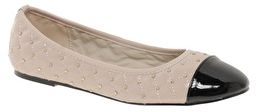 Sometimes you just need a neutral flat, but that doesn't mean it can't look gorgeous. I love mixing black with beige, it's so polished and pretty! Studs adorn these London Rebel Toe Cap Ballerina flats from ASOS, which are a steal at $21.21. You'll find similar styles, with and without studs, at Payless, Nordstrom, and Zappos.
---
4

Neat, Nautical Flats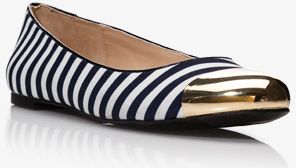 Need something to go with your Peter Pan collars and high-waisted shorts? Look beach-ready and beautiful in a pair of boldly striped flats, like this lovely pair from Forever 21. At only $29.80, you can easily afford the rest of your nautical ensemble as well. The gold cap really brings the look together, giving a glam vibe to an otherwise casual shoe. Zappos, Macy's, and DSW have similar styles on offer.
---
5

Adorable Animal Print Flats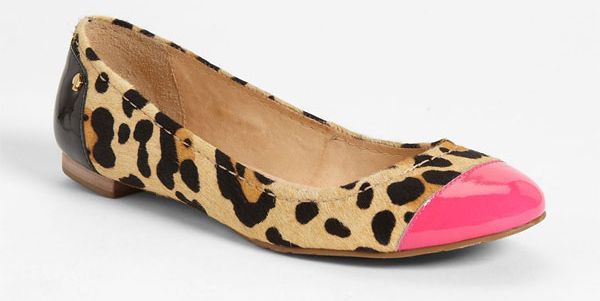 From the vibrant leopard print to the vibrant pink cap toe, there's nothing I don't love about the Kate Spade New York "Terry" flat – except the price, a cool $228.00. Fortunately, if you want to feed your wild side at a cheaper price, you can find all kinds of discount Kate Spade footwear at Zappos, or discover inspired styles at 6pm. Wherever you look and whatever your price point, an animal print with a brilliant cap toe is an easy way to jazz up even the most casual LBD.
---
6

Monochrome Cap Toe Flats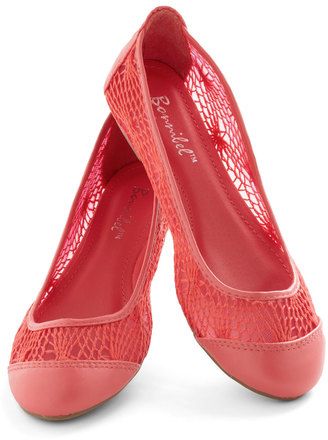 Who says your cap toe has to come in a contrast? For $32.99, you can have the Craft Fair Flare Flat in Pink from ModCloth, although there are also other colors. From the crocheted body to the solid toe, these leather-look flats are entirely spring ready. They'll amp up maxi dresses, clam diggers, or sweet summer skirts with ease. Check out Zappos, 6pm, and Macy's for similar styles and an array of colors.
---
7

Mad for Metallic Flats

Metallic flats lend a little glamor to any outfit, whether you're in office-appropriate attire or a knockout dress. I love these Christin Michaels flats because they mix bronze with pewter, which creates a wonderfully versatile look. Grab these up for $46.99 at Zappos or head to Payless or DSW for a variety of other metallic styles.
---
8

Fab, Flirty, Floral Flats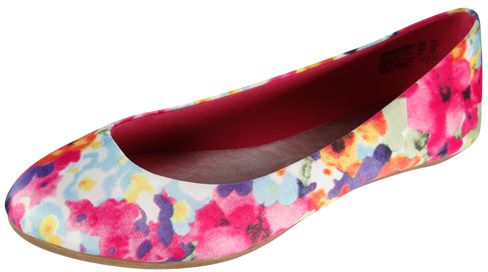 Sometimes you just need a bright floral shoe. The Chelsea Flat from Payless is a great example, although the style comes in a variety of colors and patterns, all of which are always $16.99. You could wear this with a monochrome pink, coral, blue, purple, or yellow dress, or add some vibrancy to cut offs and a tee shirt – it's up to you! If patterns are your thing, you should also check out Nordstrom, Zappos, and ModCloth.
Cap toe flats are just too cute! Get the right style, shape, and combination, and you can dress any outfit up or down in a flash. Do you love ballet flats or are you more into heels or flip flops?
---
Comments
Popular
Related
Recent