If you're a footwear aficionado like I am, your toes will be happy to know about the shoe brands that give back. Some gals can't help but invest in to-die-for kicks, but that doesn't mean we can't spend our hard earned cash wisely. These 7 shoe brands are good for your feet and for the laborers who made such stylish footwear possible!
---
1

TOMS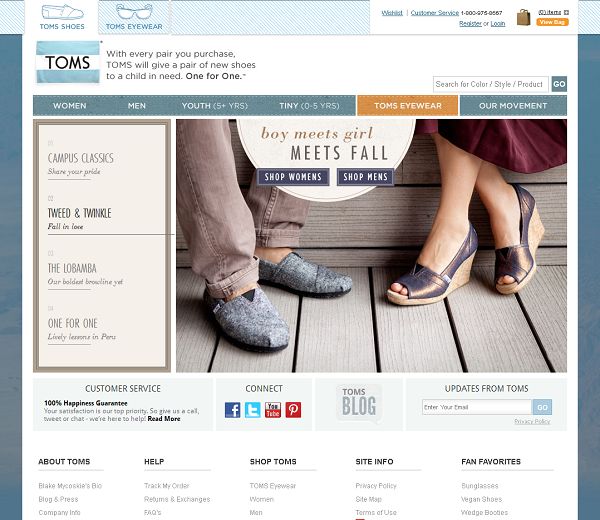 at toms.com
If you're a child in a country like Argentina or Guatemala, there's a good chance you don't even own a set of shoes. With each purchase of a pair of TOMS, you'll be giving a pair of much-needed shoes to kids in need. What can footwear do for a child? Well, it'll prevent her from contracting parasites and allow her to receive an education (some schools bar children from entering without shoes). I've walked an entire eight hour long parade in my classic TOMS, and my feet didn't fall off. You won't be sorry you invested in these!
---
2

Osborn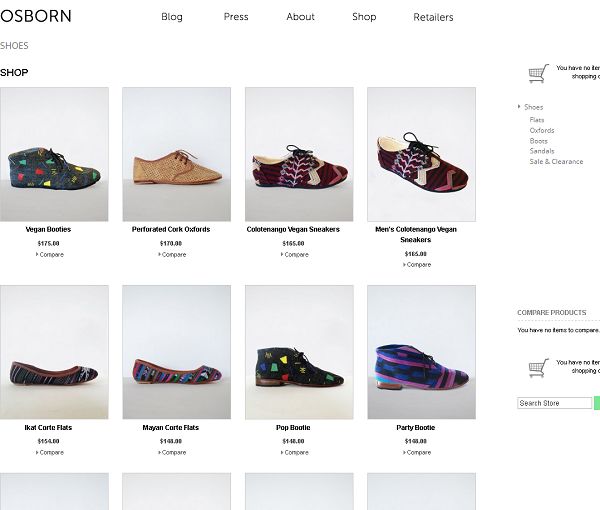 at osborndesign.com
Calling all artsy gals: You need to know about this shoe brand that gives back. Osborn shoes are crafted in Guatemala and are fair trade, meaning workers making the shoes earn wages that allow them to care for their families. Plus, these booties, oxfords, and flats make quite the style statement. I'd pair 'em with my favorite skinny jeans, blazer, white tee, and chunky necklace. No matter where you go, prepare for a few compliments on your fab footwear!
Trendinig Stories
More Stories ...
3

SoleRebels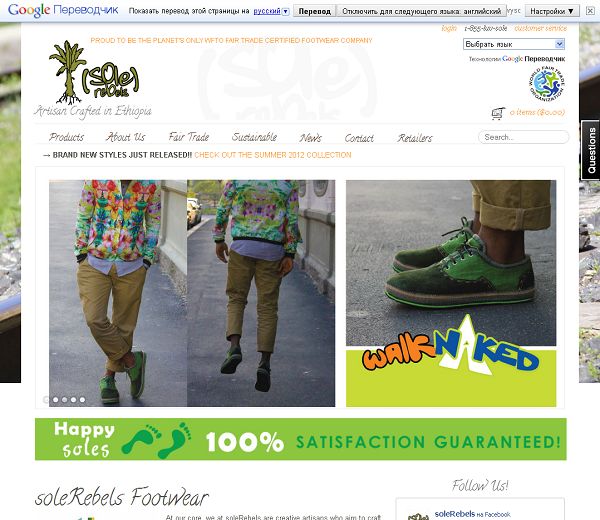 at solerebelsfootwear.co
A courageous and inspiring woman named Bethlehem Tilahun Alemu founded soleRebels in 2004 to bring the hope for a "better life" straight to her Ethiopian community. Plagued by a lack of jobs and resources, Alemu dreamt of creating a footwear company that would utilize local artisans' skills –and she was successful! By purchasing shoes from soleRebels, you'll be supporting workers in Ethiopia and be environmentally conscious to boot! The company offers shoes and flip flops created in part from recycled car tires. Neat, huh?
---
4

Bucketfeet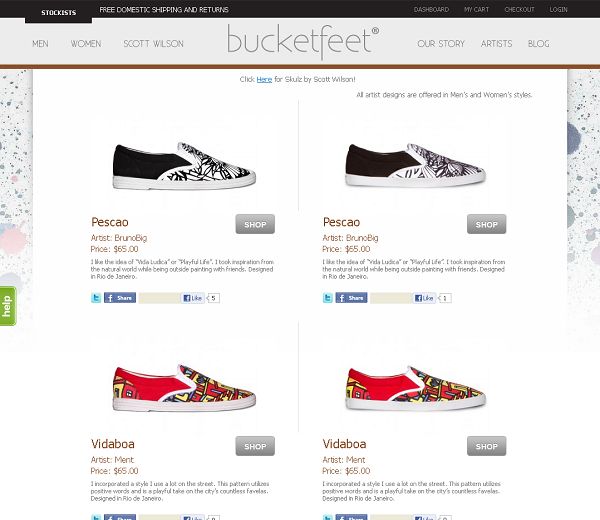 at bucketfeet.com
A canvas shoe brand that gives back? You can count my feet in! BucketFeet was created by artist Aaron Firestein with his partner, Raaja Nemani, and proceeds go to charitable programs (like music education, soccer, and art) that give underprivileged children outlets for self-expression. You'll even be helping up-and-coming artists showcase their work –on your very own toes. I couldn't help but invest in the "Something Good" pastel ribbon shoe. It'll add a touch of girly chic to my fall wardrobe!
---
5

Roma Boots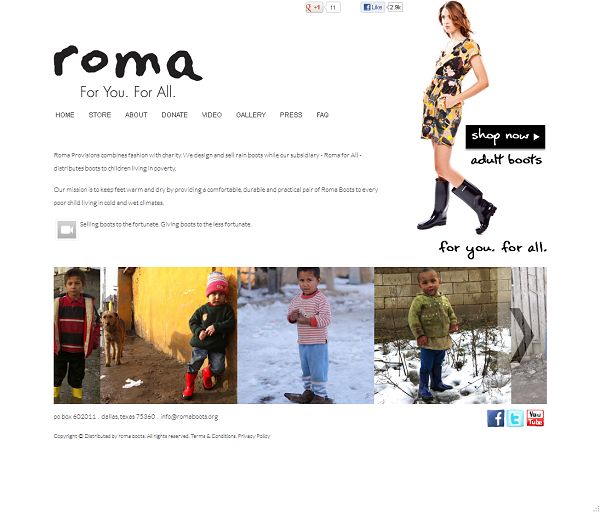 at romaprovisions.com
If you can't resist splashing in puddles on rainy days, consider this: Children living in poverty on the streets and in Eastern European orphanages often don't have this luxury. Keep your feet warm (and theirs, too!) this fall with a comfy pair of Roma boots. For every pair you buy, a poor child will receive one in return. A guilt-free purchase is always a good purchase in my book.
---
6

Sseko Designs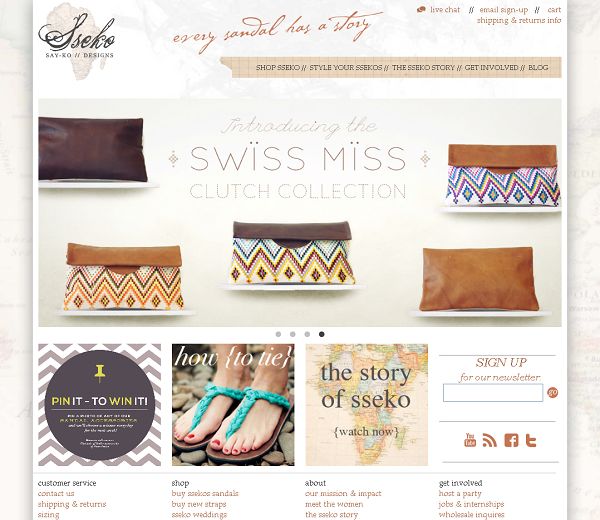 at ssekodesigns.com
Women in Uganda dream of earning a college degree, quite like most of us. But they can't even begin to pay for an education without our aid. With Sseko sandals, you'll be right on trend while helping dedicated female workers pay for their degrees. They even make wedding sandals, which are perfect for beach nuptials or a honeymoon.
---
7

Skechers' BOBS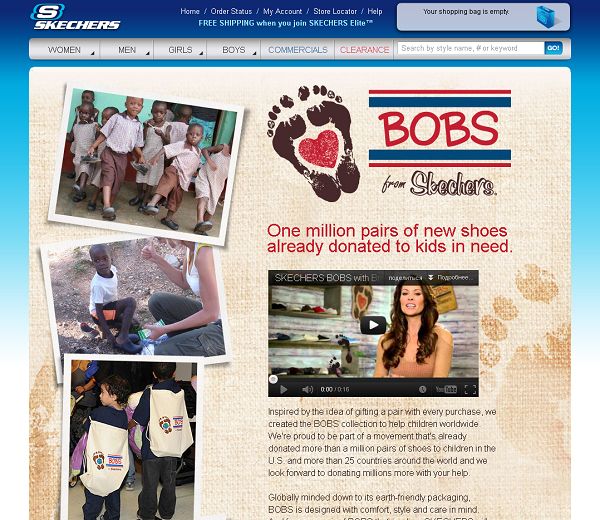 at skechers.com
One last shoe brand (on my radar, at least) that gives back is Skechers' BOBS. Think of them as a slightly lower-priced pair of TOMS –similar shoe, same concept. So, if you're on a tight budget, this affordable option will come in handy.
These are 7 fantastic shoe brands that give back. Which one is your favorite? Do you have any of your own options to add?
---
Comments
Popular
Related
Recent