Open-toed sandals make great footwear for spring and summer. They're easy to slip on but they're also extremely fashionable. Sure, you have to make sure your toes are in good order, but hey, it if means wearing a gorgeous peep toe sandal, sign me up for a pedicure post haste! I've spotted some of the season's hottest footwear trends, and here's my list of the most styles open-toed shoes of the spring/summer season!
---
1

Diane Von Furstenberg Elan Leather and Rubber Wedges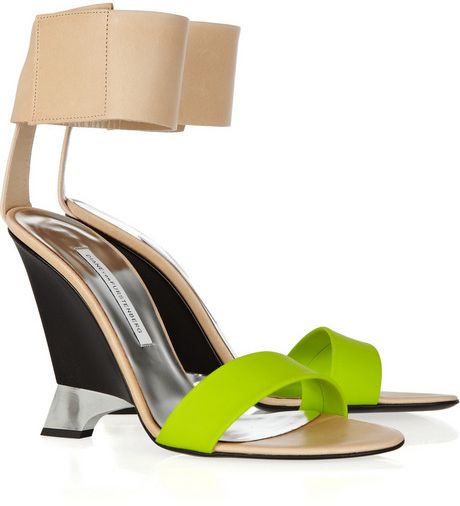 Price: $395.00 at net-a-porter.com
Lots of open-toed sandals look like actual dress shoes this season. That's why I love these little kitten heels from Diane von Furstenberg. The combination of black, lime green, and beige is gorgeous, and ankle strap offers lots of support, and those heels themselves are just too cute!
---
2

Proenza Schouler Leather and Cork Wedge Sandals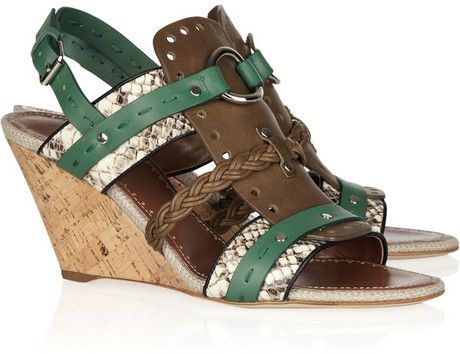 Price: $995.00 at net-a-porter.com
You'll see lots of green and metallic details in the season's open-toed shoes. This earthy combination of green, brown, and gold is absolutely gorgeous. The snakeskin and the braiding both provide some unique texture, and the heel isn't so high that you'll be thrown off balance while you're strutting your stuff.
---
3

Burberry Leather T-Bar Sandals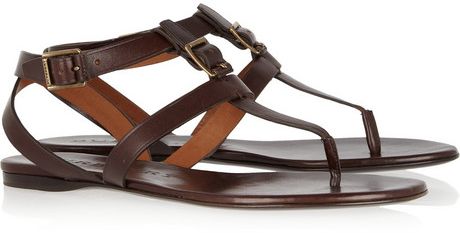 Price: $395.00 at net-a-porter.com
I have a confession to make: I love Burberry. They've got a lot of great open-toed sandals this season. This pair is great for ladies who don't want a lot of heel. They're comfy but gorgeous, so they work well with shorts and long maxi skirts or dresses alike.
---
4

Bally Monica Two-Tone Leather Wedge Sandals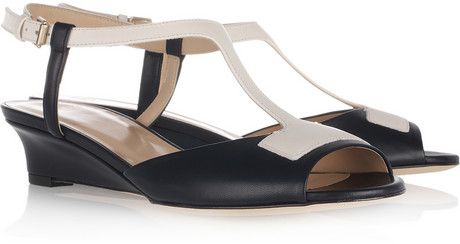 Price: $550.00 at net-a-porter.com
If you do like a bit of a heel, this peep toe sandal is perfect. The heel's not too high, you get a lot of support, and the strap work is adorable. The wedge is great for balance and I love the two-tone mix – it's so chic!
---
5

Jimmy Choo Polar Tropical-Print Espadrille Wedges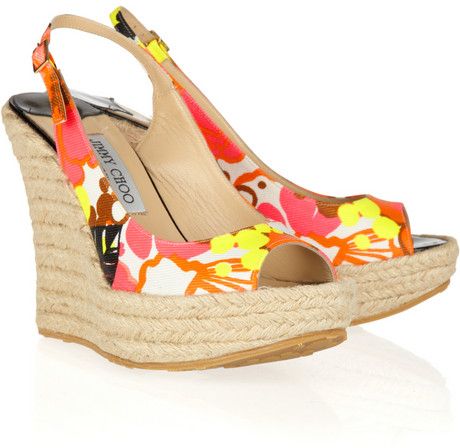 Price: $395.00 at net-a-porter.com
Here's a great open-toed sandal for anyone who loves a lot of color. The palette is bright, vivacious, and ideal for both spring and summer. You get a lot of height and plenty of peep toe action, and the combination of leather and canvas mixes luxury and comfort.
---
6

Emilio Pucci Two-Tone Suede Gladiator Sandals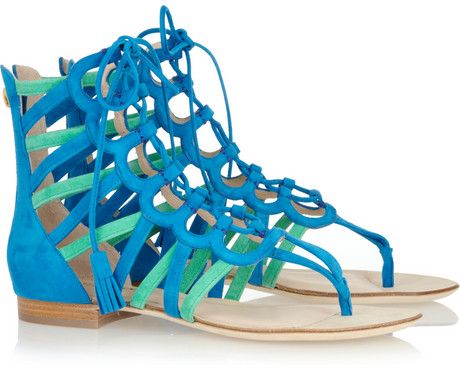 Price: $980.00 at net-a-porter.com
I adore Emilio Pucci. These are the perfect open-toed shoes for any girl who loves vibrant colors. It gives a whole new take on the gladiator trend, and the best part is that these neon hues will actually work with lots of different outfits, so you're able to throw some versatility into the mix as well.
---
7

Marni Embellished Suede Sandals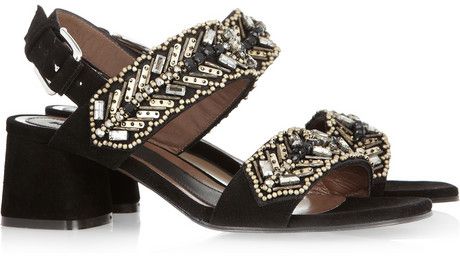 Price: $925.00 at net-a-porter.com
These dazzling shoes make the perfect peep toe sandals for a more formal occasion. The best part is that you can also wear them with more casual outfits, so they easily go from day to night. If you need a little sparkle and glamor, you can still enjoy plenty of comfort – and footwear, for me, is all about the comfort.
I love open-toed sandals once the weather gets warm, mainly because «barefoot» is my preferred springtime footwear. However, these shoes are gorgeous enough to make me cover up my feet. Well, most of the time, anyway. What kind of peep toe sandals and shoes do you love most, fashionable designs, comfy flip-flops, or something else?
Top Image Source: weheartit.com
More
---
Comments
Popular
Recent