Will you be wearing cute flats on New Year's Eve? Okay, so there's something fun about putting on your highest heels, but dancing the night away in five inch heels is almost certain to lead to blisters and foot pain. Flats, on the other hand, will leave you feeling cute and comfortable. There's some great choice around these days, too! Here are some of the cute flats I'm lusting after right now, all of which are available at ModCloth…
---
1

Floral Favorites…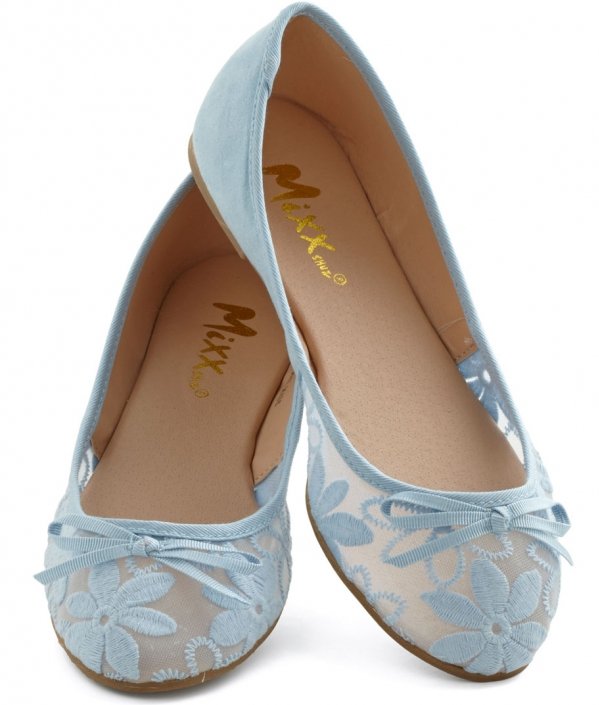 I love these pastel blue ballet flats. There's just something about the really cute pattern…it'd look just as amazing with jeans and a sequin top as it would with a prom dress, and they'll be wearable all through 2014. Perfect for if you want to get maximum wear from your NYE shoes! As super cute flats go, these ones have to be up there. Even the bows are adorable.
---
2

Panda Flats…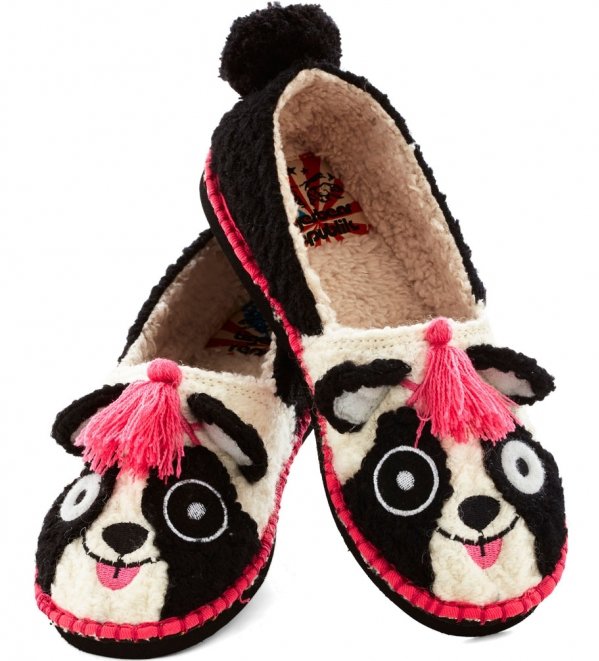 Want something a bit more quirky? These panda flats could be right up your street, although they look more like dogs to me! The silly design will have you smiling all night long, and the pink tassels bobble around as you dance, showing off your fun side. They are fur-lined, too, so they'll keep your feet super-warm and very comfortable. Amazing.
3

Laser Cut…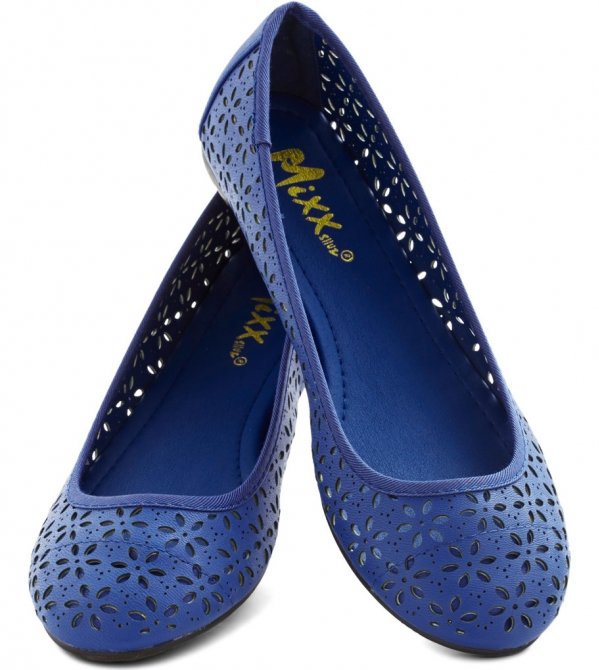 Laser cut detailing was hot throughout 2013, and you can rock the trend on NYE in these adorable navy flats. Try playing up their retro side by wearing them with a vintage dress, or go contemporary by teaming them with a shift dress. They even look great worn with jeans. Truly versatile.
---
4

Edgy…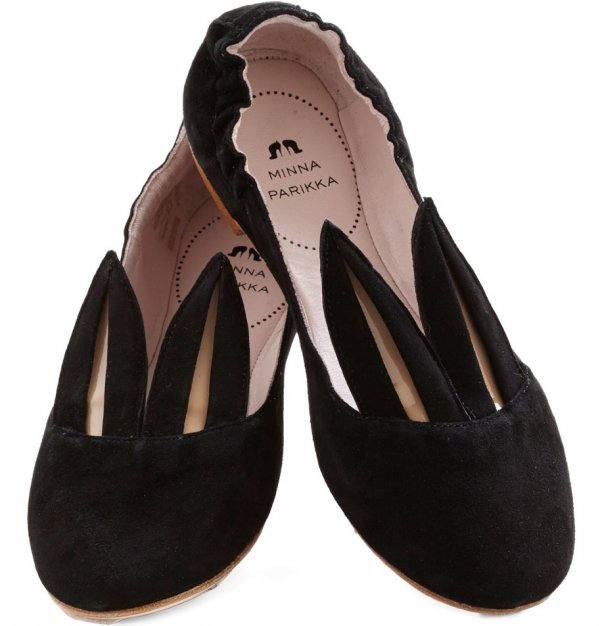 These cute bunny-eared shoes remind me of Katy Perry, and they'll definitely stand out on NYE. The classic black coloring means you can wear them with almost anything, and they've been designed to have an elegant yet edgy look that will suit almost anyone's wardrobe. Designer Minna Parikka is definitely one to watch next year!
---
5

Ballet…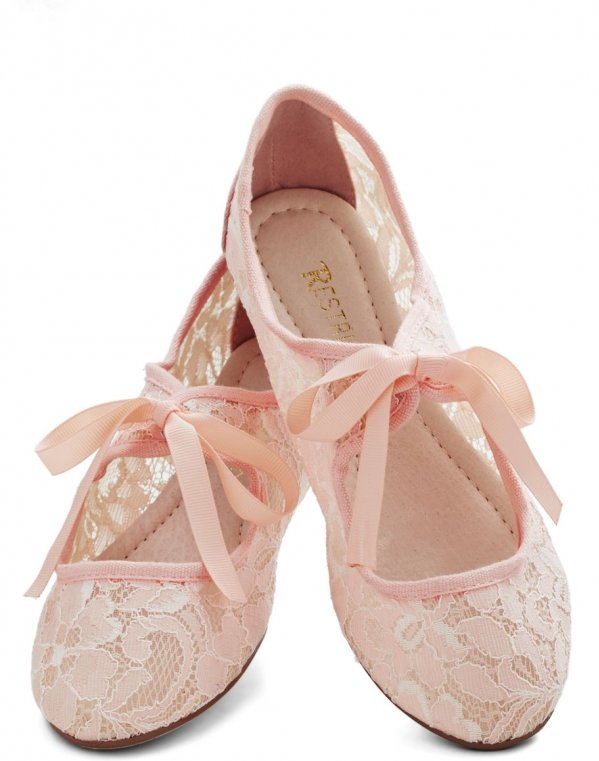 If you loved the ballet vibe during 2013, you'll adore these flats. The delicate petal-pink shoes are so carefully designed that they look real, and they look absolutely amazing worn with dark skinnies. Wear them with a statement top to really stand out on NYE, and then throw them on with a casual vest top to add some feminine delight to your everyday life during 2014.
---
6

Tartan…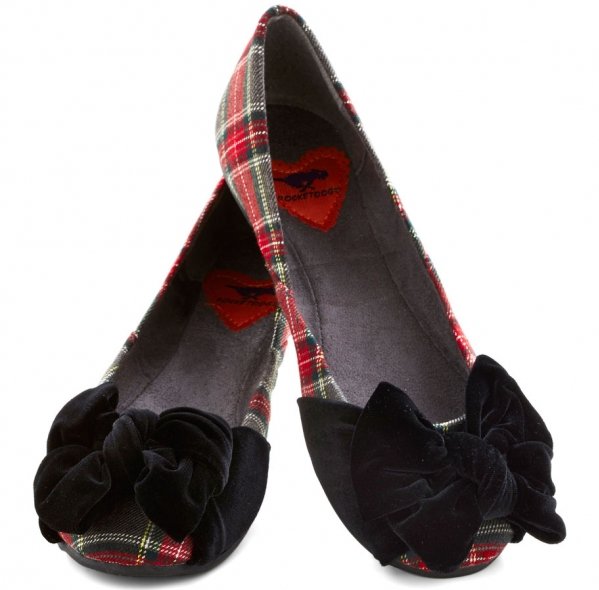 Tartan is a major trend right now, so it wouldn't be right to have a list of cute flats without some! These ones are adorably festive, with a touch of winterberry, spruce, snow and charcoal throughout the plaid. I love the strokable velvet bows across the toes! Rock them with tights and a suitably festive dress to totally rock the New Year period.
---
7

Masculine…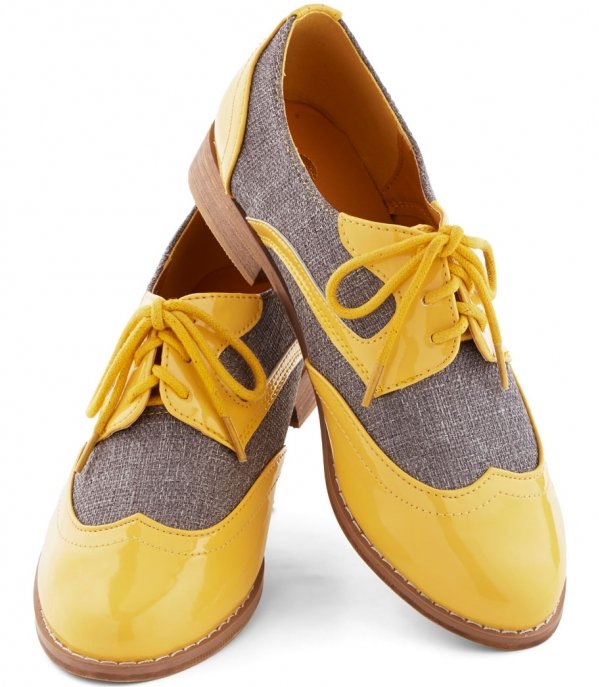 The masculine/feminine divide was a big fashion focus this past year, as were bold colors, and these shoes combine both trends effortlessly. Modeled on men's dress shoes but updated with bold yellow, these shoes are a wardrobe must-have. They are super comfortable, have plenty of grip and are amazing to dance in. As soon as you've slipped your foot inside, you won't want to take them off. The ultimate in cute flats.
So, will you be wearing cute flats this New Year's Eve, or are you going to stick to heels? Or are you going to go the hybrid root, and take some cute flats in your handbag to change into halfway through the night? I'm definitely thinking about giving my feet a rest this year, so let me know which flats you're loving!
More
---
Comments
Popular
Recent