There are some fabulous quotes about footwear for shoe lovers everywhere, that I would like to share. Being something of a shoe and boot enthusiast, like a lot of ladies, I think shoes are so important. I'm no Imelda Marcos, mainly because I don't have the wardrobe space, but I have my fair share of fabulous footwear. Most of us have heard of the sayings, such as putting yourself in someone's shoes to really know what they're going through or walking a mile in a person's shoes. Elvis Presley sang about his Blue Suede Shoes, Paul Simon sang about Diamonds on the Soles of Her Shoes, David Bowie instructed us to put on our red shoes and dance the blues and Nancy Sinatra reminded us that These Boots Are Made for Walking, showing that often shoes are used as a metaphor and help us to look at life in a particular way. So here are some of my favorite quotes about footwear that are actually about life.
---
1

Oprah Winfrey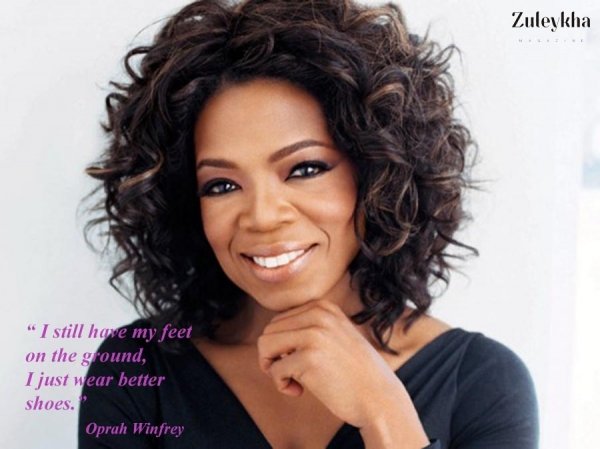 We all know that Oprah had a difficult early life but this inspirational woman managed to rise against adversity and show that it's not where you came from, it's how you deal with the trials and tribulations of life and come out the other side that matters. She still has her feet firmly on the ground, she just wears more expensive shoes. And why not? She deserves it and has worked hard for them! This is one of my favourite quotes about footwear.
2

Allan Sherman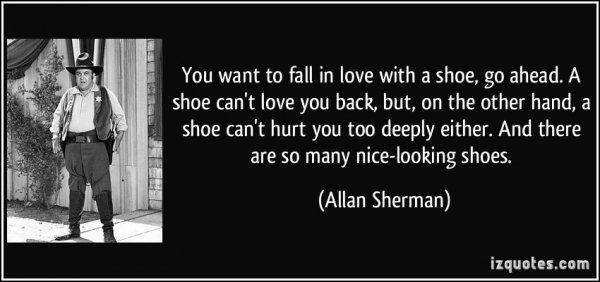 I have so many pairs of shoes with which I have fallen in love. It's true. You see them in the shop window and stand there looking longingly, knowing that they will look fabulous with that dress that you probably will only wear once... but it doesn't matter because they're so beautiful and you just have to have them. Shoes don't talk back, they are your faithful carriages, helping to transport you (sometimes a little uncomfortably) from fabulous venue to fabulous venue...or from home to work!
---
3

Hairspray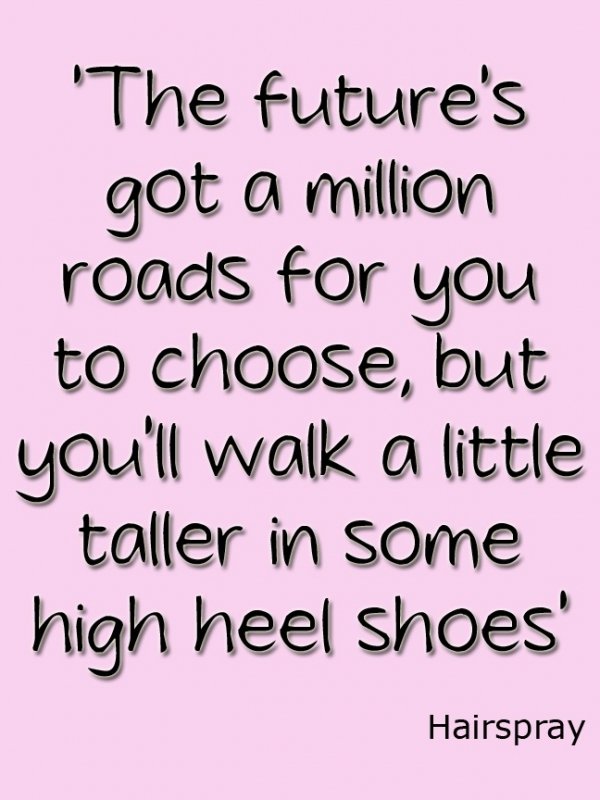 I have to say, I can't wear flats. I love heels too much and my back needs the support. But they don't have to be vertiginous heels, just enough to give me that support and help me to walk more gracefully along one of the millions of roads I will choose through life.
---
4

Carrie Bradshaw, Sex and the City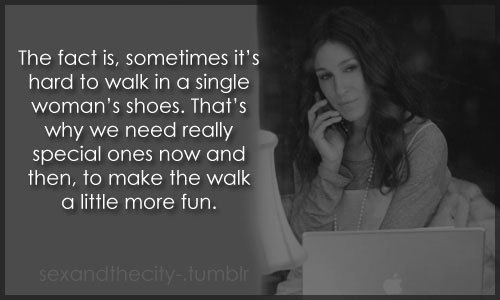 Now, I couldn't write about a list of footwear quotes without making any reference to the show which put fabulous female footwear on the map! We all know about Carrie's penchant for beautiful shoes and the fact that she spent an inordinate amount of money, that she actually didn't have, on some beautiful pairs of shoes. In fact, she realised that she had spent so much ($40,000!) that at one point, she actually resigned herself to the fact that she would be the old woman who lived in her shoes! We also know how she struggled to find Mr Right, oscillating from moments of bliss with Mr Big to struggling to find a prince to put that Cinderella slipper on her foot. But she had some fantastic footwear to see her through singledom.
---
5

Marilyn Monroe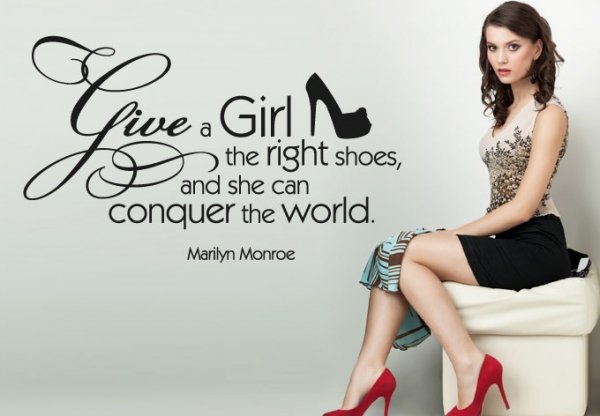 Marilyn Monroe knew her shoes as well, and considered them more than an accessory. It's true that the right pair can raise your confidence levels and make you feel like a goddess. More importantly, with the right pair of shoes, you know you can conquer anything, whether it's a business meeting, a date or the world in general.
---
6

Carl Jung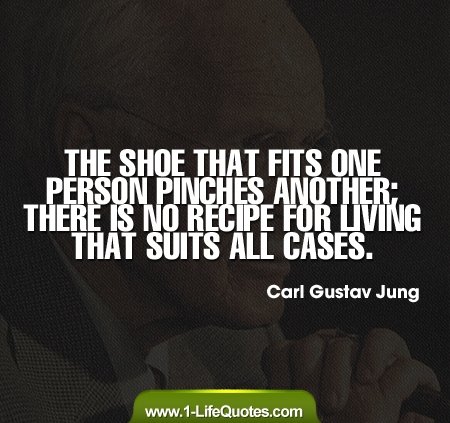 This quote reminds me of the fact that everyone is different and that one size doesn't fit everyone. We're all unique with our own pairs of fantastic footwear to take us through life and by accepting that everyone is different, we can better appreciate them too.
---
7

Coco Chanel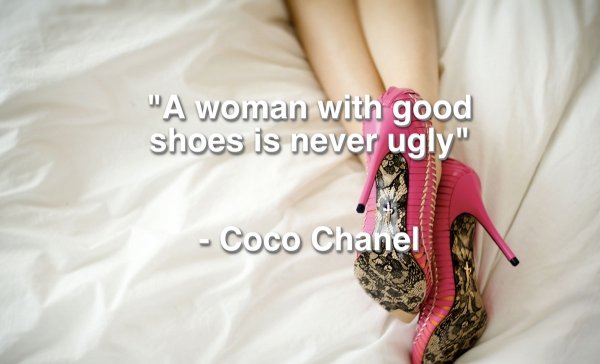 Coco Chanel is another style icon that I couldn't omit from from an article about footwear. We all know how important shoes are. My friend once told me that the first thing she would look at when she met a guy was his shoes. This, according to her, was her barometer of acceptability and in her mind, if he looked after his shoes, then she was onto a winner! The same goes for women. Slip on a pair of fabulous shoes and no one will care about the rest.
---
8

Shoes and Love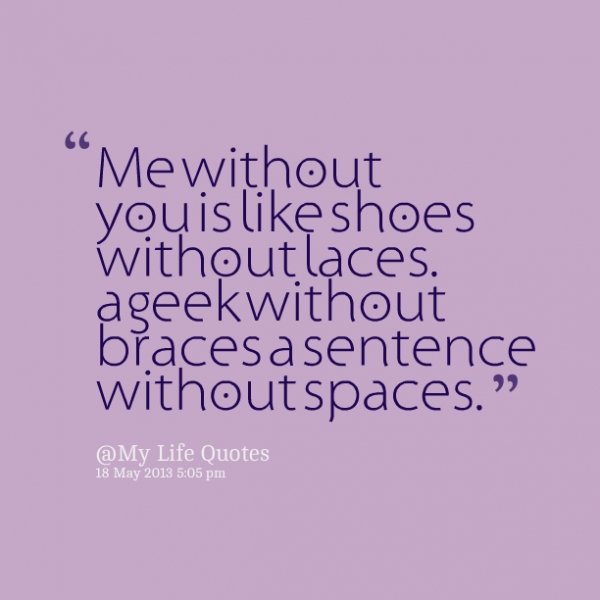 Shoes are like love, you know. Once you find that perfect pair, you never want to let them go! And if you have someone special in your life, be it a best friend with a similar footwear obsession or a true love, they fit you like your favorite pair. Certainly you couldn't imagine your life without either of them!
---
9

Fairy Tale Footwear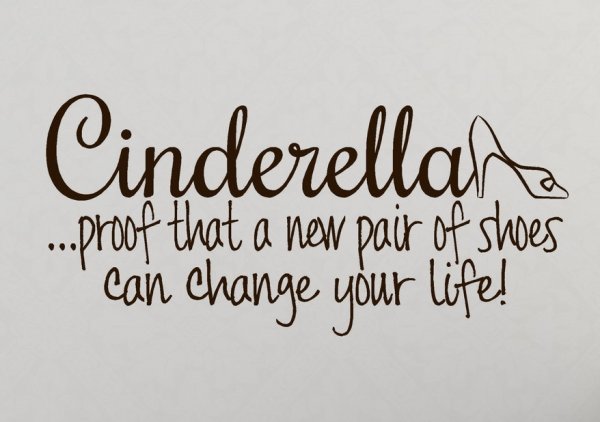 What more proof do you need that you and your shoes are living a fairy tale? It might sound silly, but the right pair of shoes can give you enough confidence to go after something you want. You could run into your new love while shopping for new running shoes or have the best day of your life in a pair of lucky heels. Need more proof? Well just look at Cinderella.
So, in the words of William Rossi, whether you "prefer to trip to hell in high heels" or "walk flat-heeled to heaven," just have fun along the way! Which are your favorite quotes and do you know any others?
---
Comments
Popular
Related
Recent