If you have children, you are probably looking for rain boots for kids to keep their feet dry when the spring showers come. Children love nothing more than to splash in rain puddles. However, the wet feet that come with all of that splashing is not always welcome. To prevent their feet from becoming soaking wet as they are playing in the wet, you might want to consider getting a pair of these rain boots for kids. They are all from Target, which means they are all affordable. Affordability is always a plus, especially when you are buying footwear for growing kids. Aside from being affordable, all of these boots are perfectly designed for kids. See for yourself.
---
1

Orson Rain Boots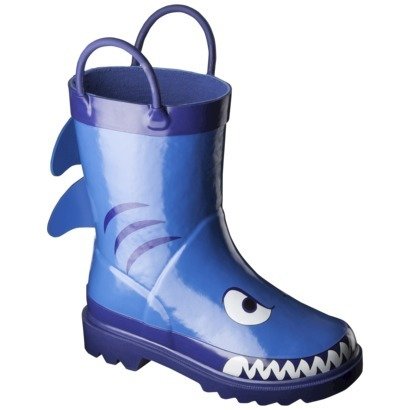 What little boy wouldn't be roaring with delight when he sees these rain boots? The scary face and teeth on these blue rain boots would make any little boy happy. I know several boys who would wear these rain boots even when it's not raining. In fact, these are the kind of rain boots for kids that I picture little boys wearing while running through the house in a makeshift cape fighting bad guys.
2

Darling Cutie Rain Boots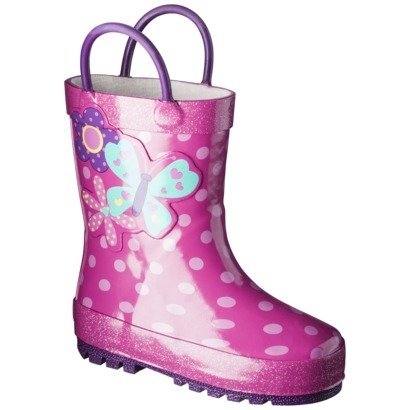 I think almost any little girl would squeal with delight upon seeing these rain boots. The butterfly and flowers paired with the polka dots are a girl's delight. The added sparkles on the bottom and top of these boots take these boots to the top of a little girl's wish list. If your little girl loves all things girlie, these are definitely the rain boots for her!
---
3

Disney Princess Girl Rain Boots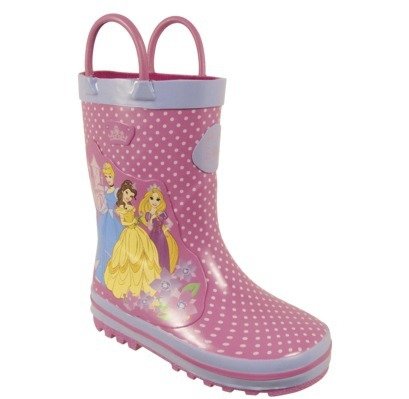 Here is another pair of rain boots that would be perfect for your little princess. I don't know any little girl who wouldn't love pulling these rain boots on to go out and play in the rain. Not only are they pastel pink, but they have Disney princesses on them! The polka dots are also just perfect for a little girl. They add the right amount of whimsy to these princess rain boots.
---
4

With a Dinosaur Rain Boots

I know so many little boys who get very excited when they see anything with a dinosaur pattern. If your little boy gets excited about dinosaurs, I suspect he would race around with enthusiasm when presented with these rain boots. Perhaps he can even name the dinosaurs on the boots. I can only name the Tyrannosaurus Rex. Whether or not your little boy can name the dinosaurs, he will probably love wearing these boots outside when it rains.
---
5

Monkey Rain Boots
Who wouldn't go bananas over these monkey rain boots? Even at 28 years old, I adore them. They are so fun! The monkey face on the toe of the boots is so cute. The eyes even have eyelashes! Of course, I think the best part of these boots is the tail that is on the side. The pink hearts take these boots over the top, making them perfect for any girl who loves monkeys.
---
6

Fireman Rain Boots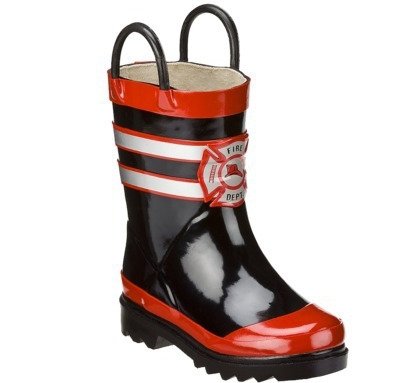 If you have a little one who wants to be a fireman, these boots are perfect. What little boy wouldn't love pretending to be a fireman while playing outside in the rain? In fact, what little boy wouldn't love pretending to be a fireman any time? These fireman rain boots will keep your boy's feet dry while also giving him the opportunity to play make-believe.
---
7

Leopard Rain Boot

These leopard rain boots would be adored by any little fashionista! The leopard print and pink lining are so stylish. I think I would even consider wearing these to keep my feet dry, and my feet are small enough that they just might fit! However, these really are meant for girls, and I feel certain that there are many girls out there who would be delighted to wear these boots in a rain storm.

Keeping your child's feet dry when it rains can be a challenge at times, especially if they love splashing in puddles. However, any of these boots from Target would prevent your little one from having soaked feet. They are all also designed just right for kids, which means your kid won't mind putting them on when it rains. Which of these rain boots do you think your child would like to wear?
---
Popular
Related
Recent