As a veteran of the wide feet world, I am quite adept at choosing shoes for wide feet. There was once a time when this always meant a trip to the store. However, common sense has now helped me make shopping online a convenient reality. I can empathise with you other wide footed ladies out there who suffer the same shopping perils as me. Therefore, I want to help you find great shoes for wide feet with the same minimal effort I manage to execute!
---
1

Lucky Brand Miller 2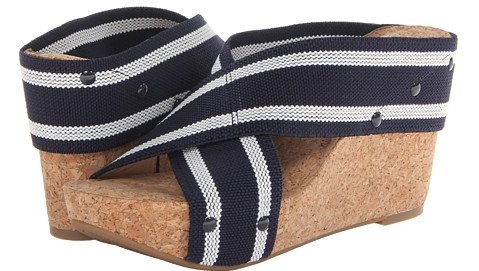 Sometimes shoes for wide feet are all about the materials. I have always found that wedges are a foolproof option when I am in a shopping rush, because the straps used on them accommodate me nicely. These wedges from Lucky Brand come in a few different colors, so even if the pair above don't suit your tastes the chances are there is a pair that will. These ones look as though they give plenty of wriggle room from the side.
---
2

Steve Madden Pauli Multi Strap Black Flat Sandals

These sandals are super basic, but the simplicity of them means they are versatile enough to work with most summer outfits. When you are in a rush, having sandals that move effortlessly with your feet can make racing across town easier. There is plenty of flexibility in these straps from Steve Madden. If the rest of your outfit is bold, these sandals will play it down to stop you from looking like a clown.
---
3

Alexander McQueen Skull-Detail Suede Thong Sandal

Thongs are always going to work on wide feet! I have always found that going a size up makes quite a bit of difference, although this may not work for everyone. I talk about this a lot, but I am loving Alexander McQueen riding the skull wave this season. There are probably lots of high street versions out there too!
---
4

Michael Kors Calder Platform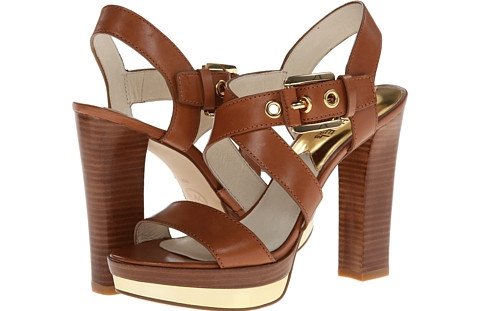 When aiming for heels, wide and open toe is usually a safe bet. Unlike stilettoes, wide heels tend to call for more room for your sole. This means they work well on ladies with wide feet! As for open toe designs, well they prevent that horrible squidging sensation you get when wearing normal pumps.
---
5

Faith Cadburys Magenta Heeled Court Shoes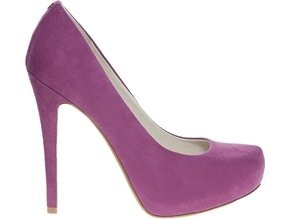 I have been wearing Faith shoes for most of my adult life, so I can certainly vouch for them generally being appropriate for wide feet! When it comes to wearing heels that are slim, the brand is generally a life saver. I am loving these Cadbury colored heels, because I am giving up chocolate for the next 40 days and I am craving it. I am sure Faith produce court shoes in other colors, but right now these are up my street.
---
6

Manolo Blahnik Terwe Elastic Cork Wedge Sandals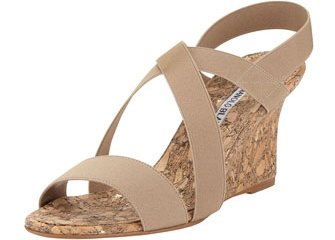 If you have ever been left wondering whether elastication automatically makes your shoes unsexy, then think again. If Manolo Blahnik is on top of it, it is totally acceptable. As we all know, elasticated shoes can make wearing them much more comfy. There is something classically Italian about these wedges, which is not surprising as they've been made by the Terwe sect of Manolo Blahnik!
7

Bloch Dansoft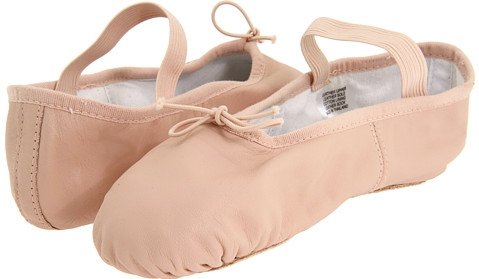 Technically all ballet shoes should be comfortable, but you would be amazed at the number that are lacking in comfort entirely! That is not the case with these ballet pumps from Bloch. They won't get you very far in the rain, but they will love your feet in warmer climates. They're great for a dance workout too!
Buying shoes for wide feet doesn't need to be a headache. You will be amazed at just how accommodating some brands are, even when they aren't catering specifically to wide footed ladies. Wearing comfortable shoes makes a difference to your posture, which in turn alters the way you feel overall! If you have a favorite pair of shoes to make your feet feel fabulous, what are they?
---
Comments
Popular
Related
Recent