As someone who has a tendency to get sore feet, I often purchase my shoes from Naturalizer because they are so supportive and comfortable. Aside from being comfortable, the shoes from Naturalizer are also quite stylish, which is important to me. I don't want to walk around in shoes that I don't like just because my feet get sore. Luckily, I don't have to. When I go to a Naturalizer store or their website, I always know I will find great shoes.
---
1

Narlene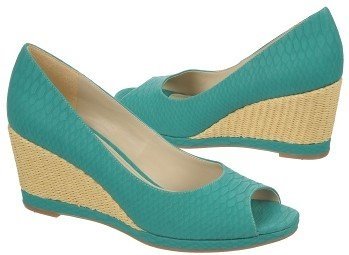 With so many shoes from Naturalizer to choose from, it is hard to pick a favorite. However, the Narlene is certainly on the top of my list. This woven wedge shoe is so fun, but it can easily be worn for dressier occasions. It comes in four different colors, but the turquoise shoe is probably my favorite. It reminds me of the ocean. Speaking of which, wouldn't this shoe be great for wearing on the boardwalk during a vacation at the beach?
---
2

Vivianna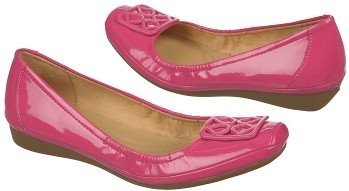 The Vivianna has a ¾ inch heel, which makes it the perfect shoe if you know you are going to be walking a lot. Many walking shoes are not very pretty, but this shoe is pretty and comfortable. The bright pink color is just fabulous, but if you aren't a fan of pink there are other colors to choose from; there is also black, taupe, and turquoise. Aside being in love with these shoes because of the color choices, I also adore these shoes for the emblem that is on the toe. It makes them look extra special.
Trendinig Stories
More Stories ...
3

Montee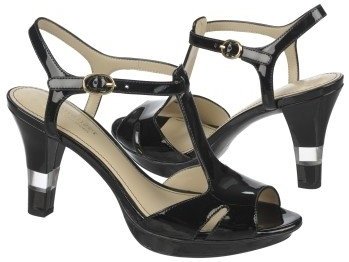 I am always looking for comfortable heels, and these T-strap heels are comfortable and stylish. The clear Lucite block in the heels is what makes these shoes pop. It keeps them from looking dated. Standing 3 ¾ of inch tall, these strappy heels will definitely add some height, which as a petite person is something I am always looking for. While I prefer the black, the Montee also comes in pale silver.
---
4

Braya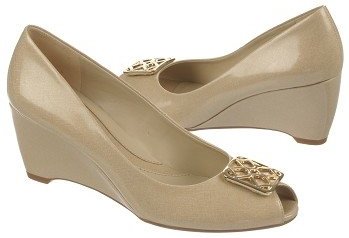 These peep toe wedges are just what you need for an elegant brunch, although, they would be great for a variety of occasions. I would even wear them to dress up a pair of skinny jeans for a date. Since the heels are 2 ½ inches and supported by a wedge, there would be no worries about walking in these shoes, especially since they have a non-slip outsole. These shoes are practical and stylish, a perfect combination.
---
5

Harrison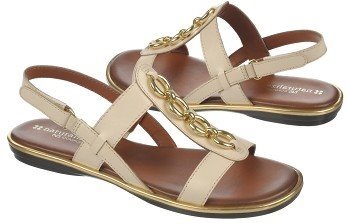 With warmer weather just around the corner, I am starting to look for sandals that will keep my feet looking cool and fashionable. The Harrison is the perfect sandal for walking around in warm weather. Not only is the gold chain detail fantastic, the cushioned sole looks like it would feel just wonderful. If you are looking for a great pair of sandals for casual days, the Harrison sandals should be perfect.
---
6

Happening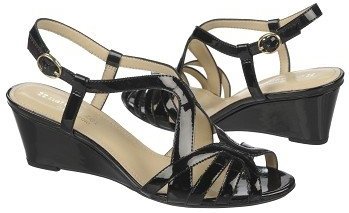 The intricate design on these patent leather sandals is absolutely marvelous. It makes these sandals just right for a fancy event. However, even though the Happening sandals are posh, they can be dressed down and worn for more casual affairs. Because these shoes could be worn for multiple occasions, I would love to add them to my closet. Perhaps you are considering making space for them in your closet as well?
---
7

Parkmore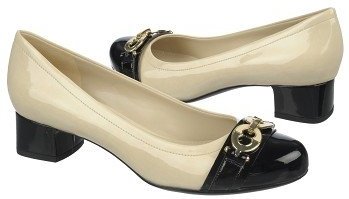 The Parkmore shoe is a great shoe for work. The heel height is low enough that your feet will be comfortable all day, and the shoes are conservative enough that there would be no worries if they are appropriate. Practicality aside, these shoes are also quite stylish. The black and ivory is very chic, as is the gold chain link detail on the toe. If I owned these shoes I would wear them often, even outside of work. They are just too fabulous not to wear.
For those of you who are plagued by foot pain, you will be happy to know that all of these shoes are comfortable. Naturalizer makes some of the most comfortable shoes around. They also make pretty shoes that any woman would be happy to wear. I know I have always loved wearing my Naturalizer shoes. Which pair of these comfortable and stylish shoes would you like to have in your closet?
---
Comments
Popular
Related
Recent