High heels are fine and dandy, but d'Orsay flats can be just as fun. Sometimes it feels like all the good shoes add height, but that's just not true. If you don't need to be any taller, or are sick of wobbling when you walk, there are d'Orsay flats that would be perfect for you. No matter what events are marked on your calendar, this list contains the shoe for you.
---
1

Madewell the D'Orsay Flat

The color may seem drab, but the cutout sides on this pair of d'Orsay are fab. These flats cover your toes, but still show some skin. They're perfect for going to a party where you know you'll be on the dance floor. Since the heel and toes are covered, there's no chance that you'll slip out of them. You're free to dance the night away!
Price: $128 at madewell.com
---
2

Jenni Kayne Cheetah Printed Pony Hair and Leather Pointed Toe Flat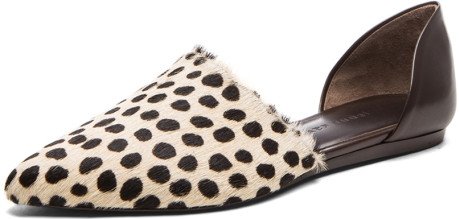 Are you more of an animal person than a people person? If so, these shoes will bring out your wild side. Whenever you look down, you'll be reminded of your love of animals. If you're a 90s kid, it can make you feel like a part of the Cheetah Girls. Don't lie, you always wanted to sing with them.
Price: $595 at store.jennikayne.com
---
3

Jeffrey Campbell in Love D'Orsay Flats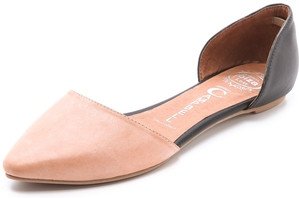 These shoes will make you feel like a brilliant ballerina. Just try to be graceful when you walk around in them. You don't want to ruin your elegant image. Wear it with a flowery dress in order to be as feminine as you can. Or, if you don't want to go overboard with the girliness, wear some leather pants and a dark shirt to balance out the pink.
Price: $90 at shopbop.com
---
4

Chinese Laundry 'Easy Does It' Flat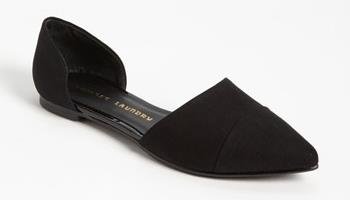 Black goes with everything, which is why it's such a popular color. Are you going out for your anniversary dinner? These shoes are perfect for playing footsie. Are you headed out to a night club with your girls? These shoes will help make your legs look amazing. Anywhere you're off to, these flats can follow.
Price: $45 at shop.nordstrom.com
---
5

Vamp by Steve Madden

Life isn't all fun and games. Most days, you're not going to head off on an adventure. While nights at the club are fun, you're going to be at home the majority of your week. These shoes are perfect, because you can wear them while completing your daily activities. They're casual enough to wear around campus or work, and comfy enough to keep on all day.
Price: $40 at lordandtaylor.com
---
6

Klub Nico Rosine D'Orsay Flats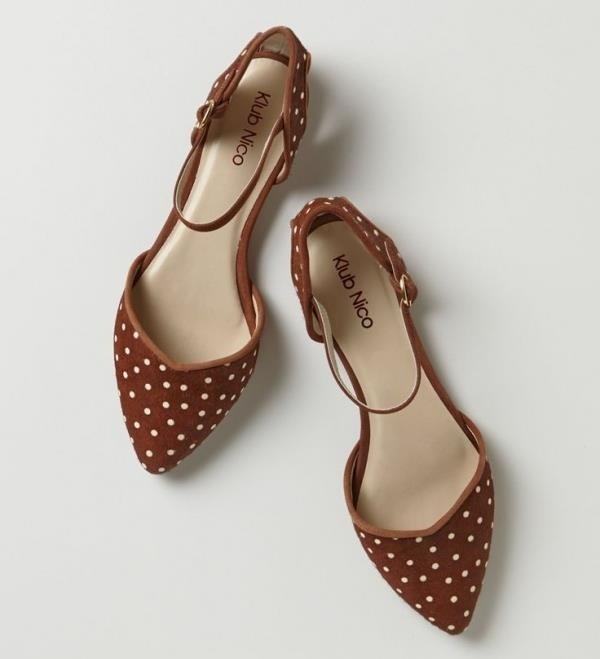 Look pretty in polka-dots! The design isn't original, but it's definitely fun. These flats come in brown, so you can wear them with virtually anything. Don't worry about not finding your size. These shoes will fit securely with a strap that wraps around your ankle.
Price: $128 at anthropologie.com
---
7

Vince Nina Suede D'Orsay Flat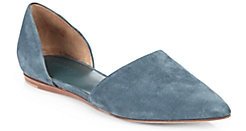 Don't let anyone step on your blue suede shoes! These are too pretty to get scuffed. You don't want to use your hard earned money to buy something so beautiful only to get them ruined. So watch where you step. Elvis would be proud.
Price: $295 at saksfifthavenue.com
---
8

Alice + Olivia 'Hilary' Flat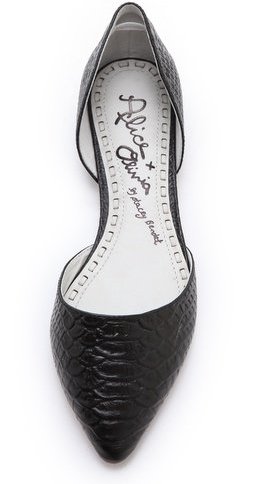 Just because you have a dress code doesn't mean you have to look like a clone. If you're allowed a little leeway, think about buying a pair of these flats. When you don't feel like strapping on heels, wear them to the office. They're professional, but the cutout sides give them some style. You'll look classy, while still being able to strut your stuff.
Price: $168 at saksfifthavenue.com
---
9

Gav by Dolce Vita

Some shoes are meant for special occasions. This pair won't go with every outfit, but when it matches, you're in for a treat. Any time you wear these adorably colored flats, people will stare. How could they possibly look away? If they don't ask you where you bought them, you know they're at least wondering it.
Price: $110 at djpremium.com
---
10

Steven by Steve Madden Saxon D'Orsay Flats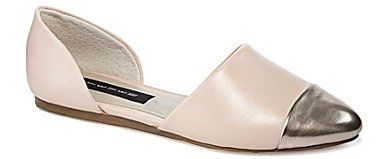 These flats will make you look amazing from your heels to the tip of your toes. The two different tones complement each other with their subtle color shift. You won't stuff these in the back of your closet. They'll be sitting by your door, ready to go at a moment's notice. How could you leave the house without them?
Price: $66 at shop.nordstrom.com
---
11

Seychelles Pomona D'Orsay Flats

The brighter, the better. Wear this coral colored shoe when you're ready to head to the beach. They're perfect for walking over the boardwalk. If you're stuck inside, you can still rock this look. It'll just remind you of sunshine and sand.
Price: $48 at zappos.com
---
12

Silvia Suede D'Orsay Flats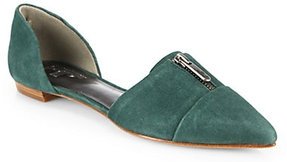 Zippers adorn jackets and boots, so why can't they fit on flats? These shoes, which come in green and grape, have a single zipper running down the center. It adds decoration to an otherwise simple look. Of course, the color alone is enough to cause a stir. It'll stop you in your tracks.
Price: $157 at saksfifthavenue.com
---
13

Corso Como 'Regal' Flat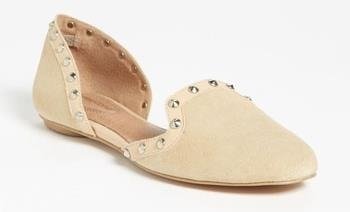 Nude, aqua, black, and red are your color choices. Once you decide which suits you the best, it's time to admire the studs that outline the material. They add a bit of sparkle to your footwear that most flats don't have. How could you turn these sunny shoes down? They're gorgeous, and their price isn't too high.
Price: $55 at shop.nordstrom.com
Your shoes are down low, but that doesn't mean that others won't notice them. Never leave home without dressing your best. Which of these flats are you putting on your shopping list?
More
---
Popular
Recent